Lord of the Rings Return to Moria is a seriously promising idea. Take the building-driven gameplay of Minecraft, Valheim, The Forest, and others, and mix it all with the dwarven world of Tolkein's epochal fantasy novels. Set entirely in the eponymous mine (though don't let Gimli hear you calling it that), Moria is focused entirely on the world and culture of the dwarves. A survival game where you drink ale instead of taking potions, and sing rowdy songs to replenish your stats, Lord of the Rings Return to Moria nevertheless follows the ill-fated LOTR Gollum, and perhaps has some work to do when it comes to stepping out of its shadow. Speaking exclusively to PCGamesN at Gamescom, developer Free Range outlines its long-term plans for Return to Moria, and a desire to move beyond the most recent Lord of the Rings game.
The first videogame set during the Fourth Age of Middle-earth, Return to Moria tasks you with rebuilding the titular dwarf city in the aftermath of the war against Sauron. As we saw in The Fellowship of the Ring, Moria lies in ruins, with packs of orcs and other monsters now fighting over the scraps. You dig, you collect, you craft – there's a wonderful moment when you break through the cave wall into an enormous subterranean town or dining hall. Return to Moria has everything on its side, and developer Free Range wants to build and iterate on the game for years to come.
"I want this to be a game that we're working on for the next decade," Free Range CEO Christopher Scholz says. "It's pretty open ended, and honestly, because some of the world is procedurally generated, it makes it easier for us to kind of really radically change the game post launch by adding cool new content."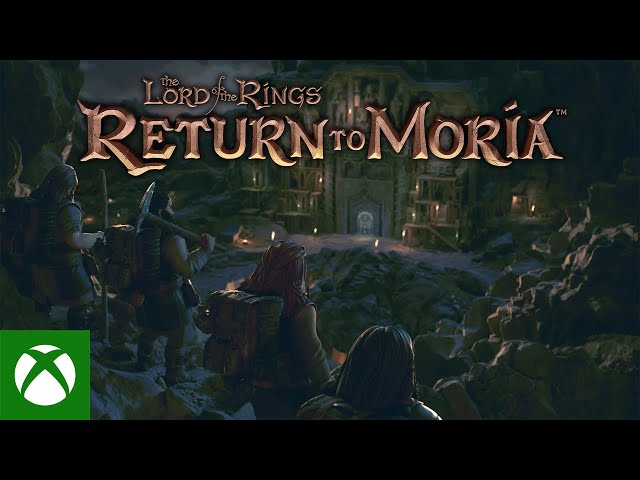 "There's a section of the world, me included, that wants the Bethesda, $300 million RPG, where some big cataclysmic event is happening. But for us, it's more Mandalorian-sized. We're hardly an indie-sized team, but we're telling a smaller tale. It's kind of liberating. Making it just about the dwarves and giving them their due, I think that's something people are going to love."
Every major landmark is hand-built and right where it's meant to be in Return to Moria, but procedural generation is used to create some of the other in-between areas where you can dig, collect, and craft. Free Range wants to make the game as "dwarfy" as possible, director Jon-Paul Dumont explains.
"The first lines of the game are John Rhys Davies, saying everything you know has been told by elves and Hobbits. This is the time for us, the dwarves, to tell our stories. We worked with a linguist to create an entire version of the dwarf language, a whole 1000 word vocabulary, and then we translated the voice scripts. Every mechanic of survival crafting is done in the dwarfiest way possible. There are no potions, there's ale.
"We've been working with four experts," Dumont continues, "including a Tolkein professor who does a YouTube podcast where he goes three paragraphs at a time through the Lord of the Rings. He's on episode like 260 and he's just getting to Moria. So we brought him on. We sent him the treatment. We didn't give him the pitch. We didn't sell him. We didn't show him any gameplay. We just sent him the treatment and said 'tell us where this is for you.'
"And so he had a couple of things. He was like, 'don't know about that' or 'this really fits, this really works.' And we were able to reshape everything. The most powerful thing in the Tolkien world is fellowship. And so those are the things he was really looking for to make sure that the story we were telling would slot into that."
So, a focus on dwarves, a close understanding of the world of Tolkein, and a plan to grow and build on Return to Moria for perhaps a decade. Free Range doesn't want to face the same problems as LOTR Gollum, and when asked whether the Lord of the Rings license has lost credibility, Scholz says the answer is to make "fun games."
"I think all we're trying to do is make the funnest game we can make. Yeah, I want to play that Bethesda game, and whoever ends up making that giant one, it's got a place in the lore, too. But our community already is f****** rad, and if you focus on fun, people will want to be a part of it."
We're not long now from the full Lord of the Rings Return to Moria release date. In the meantime however, you might want to try some of the other best building games on PC.