Thermaltake recently announced a whole range of products at its 2020 expo, from coolers, to memory, to peripherals. But the company has also announced a new L-shaped gaming desk, the ToughDesk 500L RGB Battlestation Gaming Desk (via TechPowerUp), which should be available for purchase in September. And it seems to take the 'giant mousepad' theme to a whole new level.
If you'd asked me what the largest mainstream mousepad was a decade ago, I'd have probably said some rare 90cm by 40cm Steelseries QcK XXL. Really large mousepads weren't on the radar so much back then. When you thought 'large', you probably thought of something maybe 40-50cm wide, just enough to make a 180 when playing with super low mouse sensitivity in Counter Strike. Now, apparently, a large mousepad means one that covers every inch of your desk, just like the ToughDesk 500L.
The mousepad isn't all that's noteworthy about the 500L, of course, but it does catch our attention. The RGB mousepad spans the entire surface of the main desk, and the side desk is surfaced with a similar, but non-RGB mousepad.
There are things going on beneath the surface, too. The desk is fully height adjustable between 70cm and 110cm, making it perfect for those of you that like a desk to stand, as well as sit, in front of. And while many desks are now height-adjustable, few of them offer height memory functionality. The ToughDesk 500L RGB Battlestation Gaming Desk can remember up to four height levels, which you can select via the control box on the front-underside of the main desk.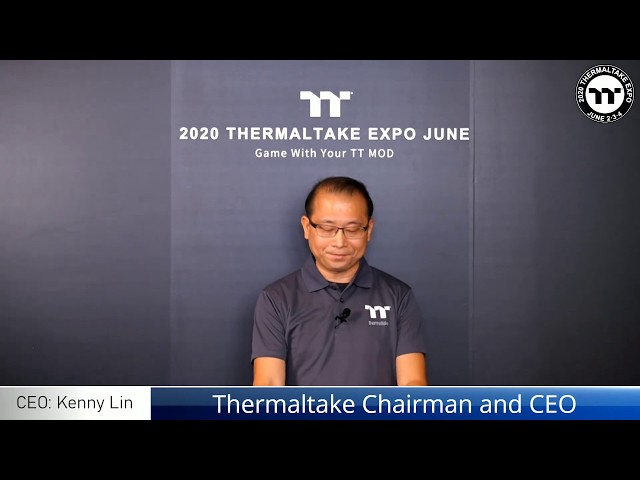 For those of you that enjoy all things flashy, the mousepad's RGB options might also be of interest. With seven dynamic lighting effects, and customisable brightness, speed, and direction of the lighting, you can have those lights pulsing just about however you want. (Solid colours all the way though, personally). And if you own other Thermaltake RGB or Razer Chroma products, the lighting can be synced to keep things nice and consistent.
Desks are one of those things that you never really expect incredible innovation from – and that you never really need such innovation from. A desk is something to place your screen and peripherals (and perhaps your PC chassis) on. But that doesn't mean there aren't improvements that can be made.
This Thermaltake desk's surface mousepad and height memory function gives just the improvements we might want in a gaming desk. And with it being capable of holding up to 330lb, you needn't worry about sturdiness. For those that are into such things, its RGB lighting is pretty nice, too, I suppose.