May 6, 2021 Blizzard has announced the release date and time for WoW Classic's Burning Crusade expansion.
Blizzard has officially unveiled WoW Classic's Burning Crusade expansion, and now we have a firm release date, too. We got a peep at the remixed content at BlizzCon 2021 with a shiny new trailer, alongside confirmation that it launches this year. There was even a joke or two thrown in before hand, if you were paying attention. Now Blizzard has announced that the MMO game's Burning Crusade Classic expansion launches worldwide June 1 at 3 p.m. PT / 6 p.m. ET / 11 p.m. BST.
Initially released back in 2007, the expansion focuses on a demonic faction called the Burning Legion. You head to an area called Outland to "flee the fel reavers who roam Hellfire Peninsula, dive deep beneath the swamps of Zangarmarsh to confront what lurks below, and clash with the demonic agents of the Burning Legion in the shadow of the Black Temple", as the leaked press release explains. You can take to the upcoming fight as a Blood Elf or Draenei. Blood Elves seek a new "source of the arcane power that once sustained them", and are aligned with the Horde. Draenei, meanwhile, are exiles from Outland who side with the Alliance.
After Blizzard's opening segment, we got some more information in a deep dive panel. You'll be able to grind your Blood Elf or Draenei in a pre-expansion patch. Much like WoW Classic, Burning Crusade's content will gradually roll out in phases – so you won't be able to gun this one.
Currently, the expansion is split into five phases:
Karazhan, Gruul's Lair, and Magtheridon's Lair raids
Serpent Shrine Cavern and Tempest Keep
Battle for Mount Hyjal and Black Temple raids
Zul'Aman
Sunwell Plateau
It's also up to you if you want to stay on WoW Classic, or move over to Burning Crusade. If you fancy it, you can access a previous snapshot of your character so you can play on both. If you want to play with your mates, you can also boost your character.
You can catch the trailer below: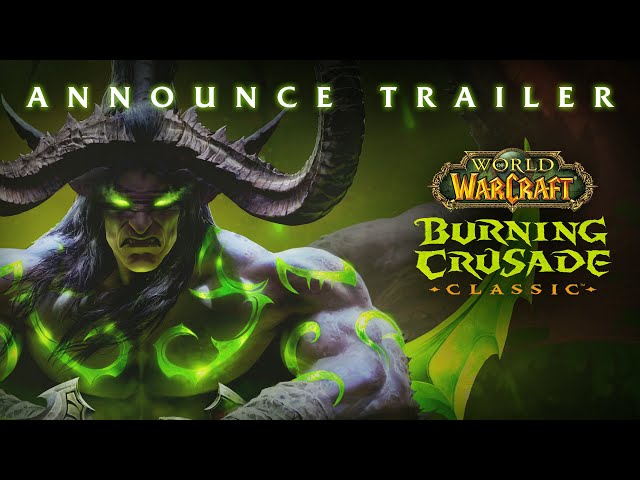 Blizzard has posted more information about Burning Crusade Classic over on the official site, including the specific release time for your region.