It's a good time to be a fan of fantasy RTS games. Age of Darkness: Final Stand comes to Steam Early Access very soon on October 7, bringing – as its name suggests – an epic battle against a nightmarish force to test your strategic mettle.
You'll have to beat back swarms of enemies, drawing on your mighty heroes' unique powers and building their skills tactically, to banish a life-sapping mist called the Veil from your territory and take back the light. The premise might sound simple, but Age of Darkness is a complex beast at its core.
Tens of thousands of enemies spawn each 'Death Night', pouring out of the darkness and onto your turf. More than 70,000, in fact, thanks to developer PlaySide's home-brewed 'SwarmTech'. Like an RTS or tower defence, you have to shore up your defences and deploy your best strategies to win, but there are survival/roguelike elements too in that the key to success lies in the game's replayability, and learning from defeat. Because you will be defeated, and you'll need to learn the lessons each time to devise a strategy that'll see you emerge victorious.
First, you have to decide how you'll battle the darkness. You can hinge your strategy on walling yourself in, bolstering your defences to hold out against the night's waves of foes until dawn breaks. By day, you can gather your resources, construct your buildings, and prepare for the night ahead. Or, you can go all out and meet the Veil head-on – a risky approach that holds the temptation of greater rewards, if you can recruit and develop your army quickly and shrewdly. While you won't be penalised for playing it safe, in Age of Darkness: Final Stand, those who dare win – and win big.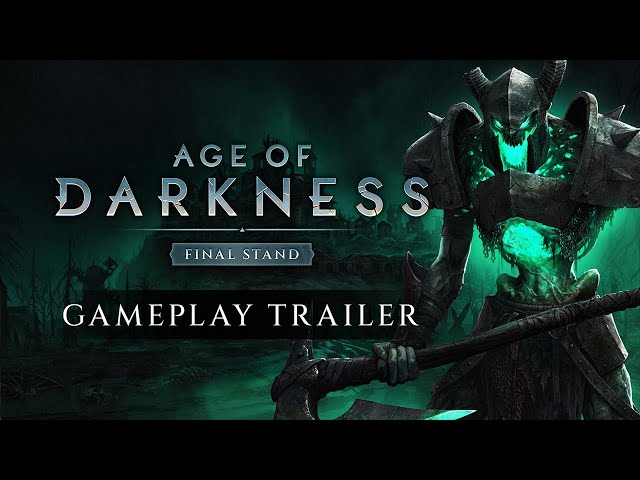 You have various options at your disposal to battle the darkness, which you can experiment with to devise meaningfully different approaches, making each playthrough its own distinct experience. Recruiting heroes, each of whom has their own unique skills, is vital, as you can unlock powerful special abilities by levelling them up. These can turn the tide of battle in a pinch, and in very different ways, depending on your hero and the skills you've nurtured.
You also get granular control over the game's mechanics, such as units' skill trees. There's a multi-faceted army skill tree with multiple progression routes through melee, ranged, and siege-based combat styles. For example, you can train your archers to become dab hands at scouting hard-to-reach spots, giving your side a real tactical advantage. You can foster your sentinels' rage to give them powerful healing buffs with every foe they strike down. You can more quickly get your ballistas where they need to be with speed boosters. But these skills don't come for free, and the most powerful might cost you more than the coins lining your lords' pockets.
Age of Darkness: Final Stand is also highly customisable through its challenges. In Early Access, it has five difficulty modes, each of which brings its own criteria – and a fixed number of save slots. Gulp. There are tide-turning modifiers known as Hardships, which come into play in the game's survival mode and can bend the rules in ways that'll throw some real curve balls at your strategy. They might make you try to survive the Death Night minus a hero, for example – a mighty tough ask given their importance in your approach. Or a Hardship might make you face the Veil's Death Fog – a living death that conceals enemies, drains your forces' life, and dampens your tactics – every single night.
Then there are randomised elements to grapple with. When the Death Night rolls around, you get slapped with a Malice – a random affliction that can really throw a spanner in the works of your plans. You won't know what it is until the Veil comes knocking, but you'll have to survive the long night while managing this extra threat. The good news is it works the other way, too. Survive until dawn and you get a pick of Blessings – another modifier that can conversely give you a helping hand against the swarms.
All of this takes place on a procedurally generated map, so there's a real emphasis on replayability in Age of Darkness: Final Stand. With all of the strategies to devise, skills to grow, challenges to tackle, and modifiers to handle, no two playthroughs will be the same – you have to adjust your tactics accordingly each time you take your fight to the darkness.
Age of Darkness: Final Stand launches in Steam Early Access on October 7, from developer PlaySide and publisher Team17. To dive in when it arrives, head to that link – and get ready to face the long night.