Albion Online is a medieval fantasy sandbox MMORPG with a crisp and striking visual style, classless combat system, and intense PvP battles. Gameplay isn't about quest chains – the world is yours to explore from the very start, and the adventures you go on are entirely your own. The focus is on players over quests, giving you freedom in what you do and how you do it.
Now is an especially good time to experience this freedom for yourself. The Queen update, out now, brings massive new features and big changes to Albion. The first big addition is an all-new Outlands map. This hardcore PvP area is now circular in design, with the biggest rewards awaiting those who venture closest to its centre. Larger guilds will be more equipped for this challenge, while smaller ones can bide their time on the outskirts. But success brings with it the prospect of attack from all sides.
Albion Online also gains swish new Hideouts. These offer a place for guilds to call home, outside of the major cities. These bases can be placed anywhere in the Outlands – just as long as you can build it before anyone attacks and destroys it – and are upgradeable. They harbour trading posts, crafting stations, banks, and farming spaces – what more could you want?
Anyone who's played Albion Online since its launch in 2017 will be familiar with battling for territory in 5v5 battles. Guilds would send five champions to fight on their behalf, while other members would stay back and offer some spirited moral support. In the Queen update this all changes thanks to new open-world battles where everyone can get involved. It better represents the game's slogan of 'Everybody matters' – and believe us, in territory battles they really will.
Don't worry, however – you won't find yourself with only a few mates facing the massive armies of more established guilds. The Queen update introduces two new massive-army deterrents in the form of the Smart Cluster Queue and the Zerg Debuff. The first kicks in when armies meet, calculating who is contributing what to the battle and allowing players from both sides into the cluster in as even a way as possible. It's a smart system that limits the flooding of an area with players, but it also means everyone still has the opportunity to enjoy a battlefield experience.
The Zerg Debuff, meanwhile, comes into play if a guild decides to bring an army bigger than 25 players. The debuff will be applied to all players on the team, and will scale for every additional player above 25. The system ensures that armies won't win through numbers alone, and must think strategically in order to balance numbers against nerfs, weighing up the pros and cons of the debuff to their particular team.
It's a much deeper setup that promises to make tussling for territories even more engaging than it was before. And fear not – if you loved the 5v5 battles of yore, the new Crystal League, in which you and four allies battle it out against another team, offer huge rewards in the form of Silver, Fame, and Season Points. All of these increase with each successive bracket, so it's well worth investing some time in. And if you enter a Crystal League match through an owned territory and win, you'll also get powerful territory upgrades that boost your guards, point generation, and gathering yield for the whole cluster.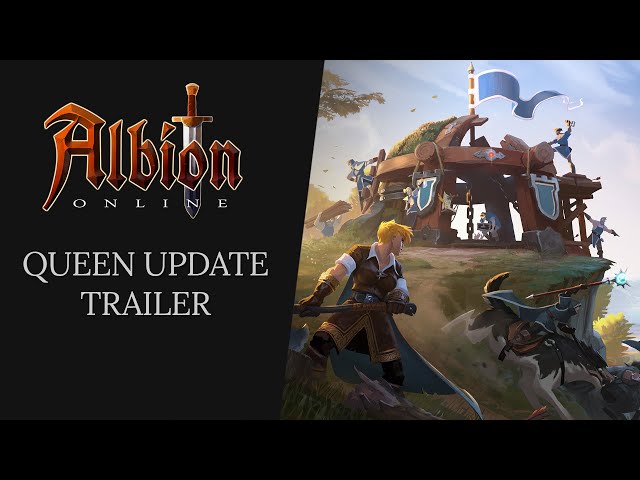 On the PvE side of Albion Online, the Queen update introduces the Avalonians, an ancient order with powerful magic which can be found in new 20-person Elite Randomized Dungeons. If just fighting players isn't for you, this allows you to have a large and involved raid with your guild. Adventuring with 19 others to take down enemies for epic loot and buffs to PvE Fame that last a whole week just feels right.
Albion Online's original take on the MMORPG genre is well worth a look, and MMO players of all levels can dive in and contribute to the way the game evolves. Best of all, Albion Online is free-to-play, so dipping a war-mongering toe in won't break the bank.