Dell has reconfigured, tweaked, and upgraded its Alienware m17 and Alienware m15 laptops into a gaming range that's thinner and lighter than ever before. These slim machines pack a punch despite their compact size and now come fitted with Intel 9th Gen CPUs, Nvidia RTX 20-series or GTX 16-series GPUs, and integrated Tobii eye tracking.
The m15 and m17 are now Alienware's thinnest and lightest to date coming in at just 4.7lbs and 5.8lbs, respectively. But despite the slender design the company says it was able to increase airflow and air efficiency on both models. The m15 is able to gobble up 20% more air as a result of the internal tinkering, and the larger m17 receives 25% greater airflow efficiency around its core components.
And fan size has similarly been increased to aid both the CPU and GPU in dealing with the heat – a welcome upgrade over the last gen models. Last year's Alienware m17 ran particularly toasty, hitting 99°C in our testing, so hopefully the new changes with Cryo-Tech 3.0 have addressed that issue.
The result of all that tweaking, according to Alienware brand guru Eddy Goyanes who we managed to catch up with at the show, is that both new 'Legend' aesthetic thin and light gaming laptops will confidently defeat their predecessors across Cinebench and 3DMark.
Desktop silicon: These are the best graphics cards today
However, without the figures in hand we don't know by how much. We'll have to put that to the test in our own benchmarking suite to see if all that cooling manoeuvring has truly paid off.
But it's not just better cooling that Alienware is hoping will make for major improvement over its last gen. The company has also introduced new power delivery systems for both the CPU and GPU to keep them "at the red line" under intensive workloads for longer.
"Our engineering team introduced what we're calling Hyper-efficient VR – for voltage regulation, not virtual reality," Goyanes says. "We're introducing eight phase graphics voltage regulation and six phase processor voltage regulation. So you might ask, 'well, what is that?' Well, it's going to enable our GPU and our CPU to run at their highest levels for an extended amount of time, longer than more traditional thin and light gaming laptops."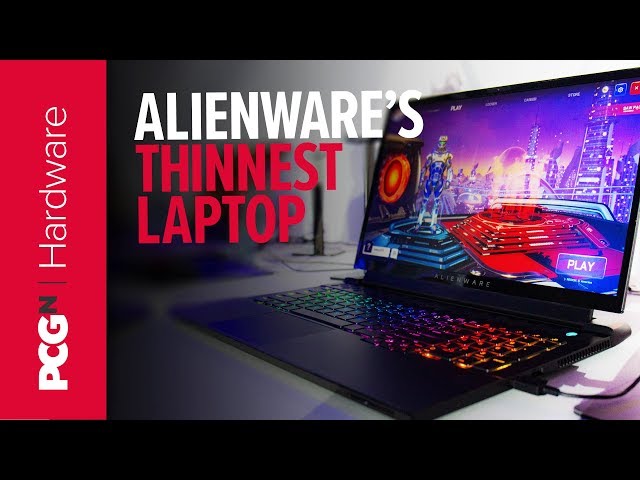 Both laptops are available with displays at either 144Hz, 240Hz, or, if you want to really go wild, there's even an OLED option available. Dell has also incorporated its latest Eyesafe blue light tech into the latest laptops, something that it's rolling out across much of its 2019 lineup. This tech manages to reduce eye fatiguing blue light all the while maintaining the panel's colour gamut. Wizardry.
They both also feature an all-magnesium chassis, thin bezels, a new keyboard, and, drum roll please, per key RGB lighting. Hallelujah.
"So it's a little more costly," Goyanes continues, "but magnesium alloy allows us to go thinner. It allows us to save weights, but we're able to maintain the structural rigidity that customers like so it's not going to feel like a plastic fluffy type of notebook."
The Alienware m17 and Alienware m15 will be out the door on June 11, with the cheapest model starting at $1,499. If core performance without the flair is more your style, Dell also announced the G3 15 over at Computex. This laptop brings a lot of that same Dell functionality as its bigger siblings but at a more budget-friendly price point.