We've heard a lot from AMD this last week over at Computex regarding AMD Ryzen 3000 and the AMD Navi RDNA architecture, but there's still quite a bit we don't know about the company's forward-looking strategy. But thankfully there's always another event or two going down that we can glean bits of information from, and the latest from the corporate world indicates AMD could be readying up to talk ray tracing strategy.
Ray tracing is a rendering technique that has long been held as the "holy grail" of graphics tech. That's because, if implemented just right, ray tracing can be used to create photorealistic scenes with accurate shadowing, reflections, and illumination. We're still not quite at the point of photorealistic gaming just yet, however, and so far only Nvidia has dedicated silicon in its GPUs to power such an experience.
But AMD has expressed interest in ray tracing, with the latest coming from senior VP of marketing, HR, and investor relations, Ruth Cotter, during the Bank of America Merrill Lynch 2019 Global Technology Conference yesterday. Or, for brevity's sake, the BoAML19GTC… yeah, it's not much better. During the talk the AMD exec briefly touched upon the company's upcoming products and a little on its eventual entry into the ray tracing market.
"I'm not going to steal Lisa's thunder on the live cast on Monday," Cotter says (via Seeking Alpha), "but we have said that we will share more about our Navi family of products as part of a live cast at E3. We'll also want to give you a little more information around our RDNA architecture and we're very excited about that as we think about PCIe 4, GDDR6, another architectural features that we will bring to that architecture that will be sustainable over multiple generations.
"And then, in time, obviously, we need to start to talk about what our ray tracing strategy is moving forward."
Ray trace today: These are the best graphics cards in 2019
AMD's CEO, Dr. Lisa Su, told the press at Computex that the company will discuss ray tracing in mainstream graphics in 10 days (via PCWorld). So we can expect to hear more from AMD's Next Horizon gaming event on June 10.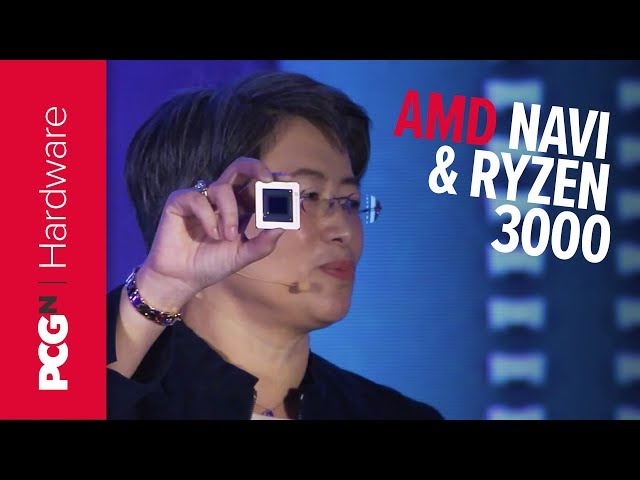 Ray tracing has become fairly ubiquitous in the game engine scene in recent months, and 2019 will mark the year that many engines roll out initial support for the feature. Unreal Engine introduced Microsoft DirectX Raytracing (DXR) support with 4.22, and Unity will support the feature by the end of the year.
Crytek's Cryengine is also set to offer its own implementation of real-time ray tracing later this year. This implementation is hardware agnostic, and an RX Vega 56 managed to render Crytek's Neon Noir demo at 1080p30.
You can tune in to AMD's official YouTube channel or check back on PCGamesN to keep up with the latest from AMD's Next Horizon Gaming event on June 10 at 3pm PDT at E3.
Can't wait for AMD ray tracing? Join the conversation over on Twitter or Facebook.