An Apex Legends YouTuber claims to have discovered a previously unseen finishing move in the game's files. The video from MokeySniper (which you can check out for yourself further down this article) seems to show off large parts of an uncompleted finisher for Mirage that never appeared in Respawn's battle royale.
As MokeySniper explains, most Apex Legends characters offer players a choice between three different finishing moves. The only exceptions are the most recent arrival, Octane, and Mirage, who are limited to two. The reasons for that are unclear, but a spot of datamining appears to have dredged up an unused execution animation.
In that animation, Mirage appears to pretend to fire two shots – one in front of him, and one behind his back – before twisting around and actually firing a shot over his shoulder. That's more or less in keeping with his somewhat sneaky personality, but it's also a throwback to a classic Batman moment – as pointed out on Reddit, Tim Burton's 1989 Batman film features a scene in which Jack Nicholson's Joker pulls off a very similar routine.
Of course, while you can see Mirage aping the Joker's moves, unlike his more trigger-happy inspiration, he doesn't fire a shot until the final moment of the clip.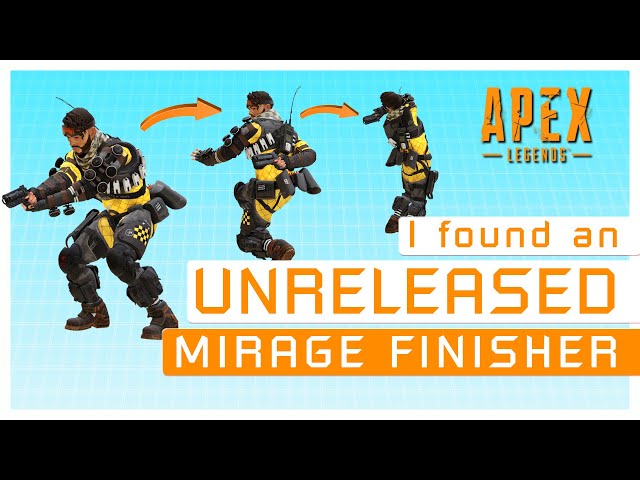 Also, as you can see in the video above, this is very much an unfinished clip. Mirage is lacking some of his finer detailing, and his unfortunate victim is still in greybox state. It's unclear why the animation hasn't been included yet, or whether it will eventually make its way to the game.
Related: Here's what we know about the Apex Legends roadmap
Despite getting off to a flying start, Apex Legends has floundered in recent weeks. That's in large part to a slow update schedule and an uninspiring battle pass, but Respawn seems happy with the pace it's set. It'll be interesting to see how much of the community will stick around to see what else the developer has in store.