It's difficult to choose the best gaming CPU in 2020 – there are simply too many great options. Unlike a few years ago, four cores and eight threads is now pretty standard even at the low-end. You can get affordable CPUs that dish out great single-core gaming performance not only in less intensive games like Fortnite, but also in many triple-A games like Call of Duty: Black Ops – Cold War and CPU-intensive applications that utilise all cores. All of this has meant there are more options than ever for those looking to create content, stream, play games, and use CPU-intensive applications for a pretty low cost.
Since AMD has decided to take the fight to Intel in terms of core count, even six-core CPUs are becoming more and more common thanks to this Intel vs. AMD battle. But despite the dominance of multi-core CPUs in today's gaming rigs, the difficulty in optimising games and applications for chips with multiple cores has meant we're still not seeing many modern game engines taking full advantage of the powerful CPUs many of us now have in our machines.
Having the best graphics card is still the best way to make games run as smooth as butter on your gaming rig. But that doesn't mean any old processor will do – you still need the best processor for gaming to get the most out of your graphics card, and we've rounded up our picks to place in the best gaming PC build.
Here are the best gaming CPUs:
AMD Ryzen 5 3600
The best gaming CPU is the AMD Ryzen 5 3600.
The AMD Ryzen 5 3600 isn't just a great gaming CPU with serious multi-threading chops, it's also incredibly good value. The previous Ryzen 5 2600 remains a solid choice for the value-oriented PC builder while stocks last and prices are low, but the Zen 2 architecture adds more than enough value to justify the latest and greatest chip. And while the Ryzen 5 3600X has a slightly higher clock speed than its non-X little brother, in games this translates to only a minute increase in frame rates for a decent chunk more money.
With a 15% IPC increase over second-gen Ryzen and Zen+, the Ryzen 5 3600 brings even more affordable gaming power to the mainstream market. At this price point, it doesn't just creep up close to Intel's gaming lead, it outruns it – and does so without demanding a bucket of power or pennies. And its multi-core/threaded performance makes it a great performer in areas other than gaming, too. There's a caveat to all this though, which is the following. If you're comfortable with overclocking, and if you're in it mainly for the gaming performance, then the Core i5 10600K below might be a better bet.
What we like

Great value

Fantastic single core performance

Multithreaded
| | |
| --- | --- |
| | AMD Ryzen 5 3600 specs |
| Cores | 6 |
| Threads | 12 |
| Clock speed | 3.6GHz / 4.2GHz |
| Socket | AM4 |
Read the PCGamesN AMD Ryzen 5 3600 review for our full verdict and score.
Ryzen 9 5900X
The best high-end CPU is the AMD Ryzen 9 5900X.
This 12-core, 24-thread beast is based on AMD's new 7nm Zen 3 architecture, and it's the best CPU you can get for gaming on a high-end setup right now. There is a more powerful Zen 3 CPU available in the form of a 16-core 5950X, but for gaming purposes, you're not going to see any tangible benefits from the $250 price increase.
Both the 5950X and the i9-10900K slightly edge it in terms of performance, but you can't beat the value for a CPU in the high-end range here. The AM4 socket means if you were previously team red you may not even need to splash out on a new motherboard, with Zen 3 support being given to last generation B450 and X470 chipsets in the near future via a BIOS update – although you'll have to make sure your motherboard manufacturer has – or is planning to release – an update. And of course, this chip's unlocked for overclocking, so you can squeeze out even more power if that's your cup of the proverbial – although you'll want the best CPU cooler rather than the stock cooler if you're going to overclock.
What we like

12 cores and 24 threads

Best value high-end processor

Future B450/X470 chipset support
| | |
| --- | --- |
| | AMD Ryzen 9 3900X specs |
| Cores | 12 |
| Threads | 24 |
| Clock speed | 3.7GHz / 4.8GHz |
| Socket | AM4 |
Intel Core i9 10900K
The fastest CPU for gaming is the Intel Core i9 10900K.
Intel's new Core i9 10900K is the world's fastest gaming CPU, but its painfully high price tag and TDP efficiency (or lack thereof) means it doesn't take the spot as the outright best CPU for gaming. But if money really isn't a thing for you, and if you have a monster CPU cooler then the deca-core from Intel is the best processor to pair with your high-end graphics card. This super speedy CPU would pair great with an NVMe SSD – check out our guide on how to install an SSD.
When it comes to GPU-bound games, which are the majority of the upcoming PC games, there isn't a huge amount of difference between the in-game performance of Intel's top chip and AMD's cheaper high-end CPUs, especially at 4K. It is a great chip from a technical and performance point of view, but as a value proposition – especially in the face of fierce competition from AMD – it's a bit of a tough one to recommend.
What we like

The fastest gaming processor around

Perfect CPU for the RTX 3080

Fantastic single core gaming performance
| | |
| --- | --- |
| | Intel Core i9 10900K specs |
| Cores | 10 |
| Threads | 20 |
| Clock speed | 3.7GHz / 5.3GHz |
| Socket | LGA 1200 |
Intel Core i5 10600K
The best CPU for overclocking is the Intel Core i5 10600K.
Intel's Core i5 10600K is a much better value proposition against the Ryzen 5 3600 and Ryzen 7 3700X than its predecessor – the Core i5 9600K – was. The 10600K is a genuinely great chip for the price, as it trounces over the 3600, 3700X, and often even the 3900X in games. Paired with the best PC case for airflow, it's also an overclocking beast.
Also: Pair your overclocked CPU with the best gaming RAM
The Ryzen 5 3600 still just about takes the title as the best gaming CPU because it offers better multi-core performance in CPU intensive apps, and because it's still a cheaper option, but the 10600K is justifiable if you have your eyes set on gaming alone. And if it's overclocking you're after, the 10600K is the best chip for it. It's super easy to get a few hundred MHz out of this processor, and this translates directly into frame rates, putting it close even to the 10900K. If you're in it purely for gaming and overclocking, the 10600K can't be beaten. If you have to choose between the 10600K and the 3600, ask yourself: am I comfortable slapping the best AIO cooler on and know how to overclock your CPU? If so, the 10600K is probably the best choice for gaming. If not, stick with the 3600.
What we like

Serious overclocking

Classic Intel gaming performance

Best mid-range CPU for Intel motherboards
| | |
| --- | --- |
| | Intel Core i5 10600K specs |
| Cores | 6 |
| Threads | 12 |
| Clock speed | 3.7GHz / 4.6GHz |
| Socket | LGA 1151 |
AMD Ryzen 7 3700X
The best CPU for productivity is the AMD Ryzen 7 3700X.
If you're after a mix of high-end multi-threaded computational chops, decent gaming performance, and great value then look no further than the Ryzen 7 3700X. It's a well-priced Zen 2 CPU that drastically improves on the overall performance of its predecessor, the 2700X, and yet requires way less power. Importantly it's also considerably cheaper than either Intel's or eight-core 9700K or i9 10900K.
But it's still got gaming performance that's comparable with Intel's top chips when you're gaming at 1440p or 4K. That makes it a great chip in productivity terms and a CPU with gaming performance that is practically indistinguishable from the Intel competition in any GPU-bound game.
What we like

Serious multi-threaded performance

Great value for a 16-thread CPU

Top gaming performance
| | |
| --- | --- |
| | AMD Ryzen 7 3700X specs |
| Cores | 8 |
| Threads | 16 |
| Clock speed | 3.6GHz / 4.4GHz |
| Socket | AM4 |
Read the PCGamesN AMD Ryzen 7 3700X review for our full verdict and score.
AMD ryzen 3 3300x
The best budget CPU is the AMD Ryzen 3 3300X.
Previously, the spot for the best cheap gaming CPU was reserved for AMD's Ryzen 5 2600, the predecessor to the current best CPU for gaming: the AMD Ryzen 5 3600. But AMD has just released the 'cheap as chips' Ryzen 3 3300X, and it's looking too tasty to leave off the charts on the budget end.
This 3rd-gen Ryzen processor is a four-core, eight-thread machine capable of boosting up to 4.3GHz, all at a low power cost of 65W TDP. Not only that, but it supports PCIe 4.0., giving it longevity above and beyond many of the current best CPUs for gaming. While its multi-core performance may still be slightly behind the Ryzen 5 2600, its single-core performance is much better – and that's what matters for gaming.
What we like

PCIe 4.0 support

Great longevity

Fantastic gaming performance for the price
| | |
| --- | --- |
| | AMD Ryzen 3 3300X specs |
| Cores | 4 |
| Threads | 8 |
| Clock speed | 3.8GHz / 4.3GHz |
| Socket | AM4 |
How to install a cpu
Here's our handy video guide on how to plug a CPU in to your PC. PCGamesN also has a full guide on how to install your new CPU.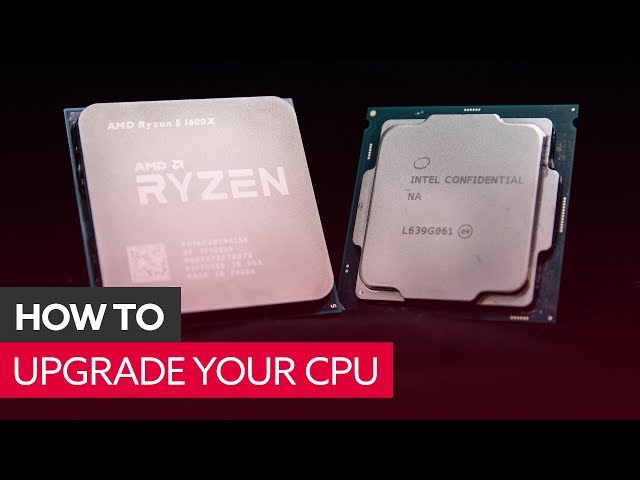 is the cpu important for gaming?
Although the GPU is the most important component when it comes to helping boost fps in games, a subpar processor will bottleneck your graphics card and prevent it reaching its full potential. That doesn't necessarily mean you need the most powerful chip in the world though, as the tax put on a CPU varies between games.
It's worth checking the system requirements of the games you plan to play, in order to help your CPU purchase.
intel or amd?
Where for most of our PC gaming lives we've been recommending whichever Intel processor suited your budget it's no longer that simple. And that's down to the engineering efforts AMD has put into creating its latest Ryzen lineup of CPUs.
AMD has made it very difficult to recommend an Intel processor as the overall best CPU for gaming, given the fact that you get so much more for your money with an AMD chip right now. That and the gaming performance delta between them is now so small as to be completely inconsequential.
At the mainstream end it's the six-core, 12-thread Ryzen 5 3600 for the win. It's a great-value, processing monster – enough so that the 3600X is almost irrelevant. The Intel Core i5 10600K is the best bet if you're only going to be gaming, though, and rarely expect to use intensive multi-core applications. If you're a dab hand at overclocking, the 10600K looks even better and should be considered even more favourably against the 3600.
The Intel i5 8400 comes close, but thanks to Intel's 14nm production woes, its pricing continues to fluctuate, making it not worth the money when the Ryzen 5 3600 is on the table. And, if you're doing serious PC work alongside your gaming hobby, its six-core, six-thread design sits behind the AMD chips in pure multithreaded computational terms.
At the high-end, the ten-core, 20-thread Intel Core i9 10900K has lost out to the Ryzen 9 5900X. The Intel chip is simply more expensive and only really offers a tangible performance difference in CPU-bound games. Of which there are few. But over time, as GPU power increases, that will change and the 10900K might really start to shine.
And on the budget end, the new Ryzen 3 3300X will deliver a great level of hyperthreaded CPU performance, superb single core performance for gaming, and great longevity thanks to PCIe 4.0 support allowing you to hook up the fastest SSDs, all for a pretty low cost. A bona fide bargain. But with the imminent launch of Intel's 11th gen chips, bringing with them PCIe 4.0 support for the first time on Intel and improved performance, watch this list…
CPU price list
Network N earns commission from qualifying purchases via Amazon Associates and other programs.