What was the Blasphemous 2 release date? The highly anticipated sequel to The Game Kitchen's grimdark Andalusian nightmare has finally landed, and we're just itching to get stuck into the divinely ordained mud, blood, and viscera that await us in this latest cycle of life and death. Below you can find all of the news and trailers that preceded its release.
It's been a couple of years since the release of Wounds of Eventide DLC, but we're still mulling over its surprise post-credits sequence. Thankfully, Blasphemous 2 is a direct continuation, so we can finally get some answers… and, let's be honest, probably more questions in the new PC game. Our Blasphemous 2 review can give you the full details of what you can expect in the game if you haven't picked it up yet, but we've also got everything you need to know about the Blasphemous 2 release date right here, including the trailers, story synopsis, and gameplay changes that took place.
Blasphemous 2 release date
The Blasphemous 2 release date was Monday, August 24, 2023. It's scheduled to release on PC via Steam, as well as PlayStation 5, Xbox Series X and S, and Nintendo Switch.
This was revealed via a release date announcement video on YouTube, and was also confirmed in writing on the Blasphemous website shortly afterwards.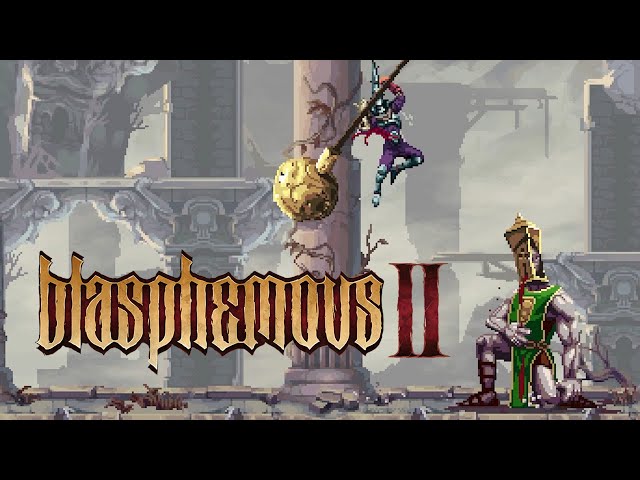 Blasphemous 2 Digital Deluxe edition
The Blasphemous 2 Digital Deluxe edition is available on Steam for $29.99 / €29.99 / £24.99. Alongside the base game, the Digital Deluxe edition includes the Blasphemous 2 official soundtrack and digital artbook, which is a big draw for long-time fans.
Blasphemous 2 story
Blasphemous 2's story is a direct sequel to its predecessor and takes place an indeterminate amount of time after the Wounds of Eventide DLC. The Penitent One has awoken once again, this time from what should have been his final resting place at the culmination of his pilgrimage.
The reason for The Penitent One's resurrection is for you to find out, but the Blasphemous 2 release date announcement trailer shows our final destination: a grand cathedral held aloft over a sprawling metropolis by three enormous statues, with a beating heart suspended in the sky above it. Held within this heart is the Miracle Child, a supposed symbol of hope to unite the disparate populace of the land on the cusp of birth. However, given our previous encounters with The Miracle, we're not convinced.
Blasphemous 2 gameplay
At its core, Blasphemous 2's gameplay follows in the footsteps of its predecessor: a punishing side-scrolling Souls-like chock-full of ornate environments to explore and malformed enemies to defeat.
As confirmed by Blasphemous 2 producer David Erosa, Blasphemous 2's gameplay falls 'closer to the classic Metroidvania genre' than its predecessor, offering a more expansive, non-linear map than the first time around.
Blasphemous 2's all-new weapon variety is another huge departure from the first game, and we've managed to take them for a spin. Instead of wielding the Mea Culpa exclusively, the Penitent One can use three different weapons in Blasphemous 2: Veredicto, a mace-like censer; Sarmiento and Centella, a dagger and rapier; and Ruego al Alba, a cleaving sword. Each of these weapons facilitates an entirely different playstyle, though you'll be constantly switching between them to reach the end of your journey intact.
The Penitent One himself is outfitted with broader customization this time around, with the opportunity to expand your base skillset and unlock additional abilities to aid in both combat and exploration thanks to Favours and their corresponding resonances. Of course, we'll be looking for all the help we can get to tear our way through The Miracle's twisted abominations and hapless victims.
Blasphemous 2 Spanish language option
Blasphemous 2 does have a Spanish language option available, as confirmed by the above trailer.
While the Seville-based development team took clear inspiration from local history, architecture, and religious iconography as inspiration for the land of Cvstodia, a Spanish language option for Blasphemous wasn't available until the Stir of Dawn DLC. It was well worth the wait, and immediately celebrated for its inclusion of Andalusian voice actors. A Spanish language option is a perfect complement to Blasphemous' world and atmosphere, and we're thrilled to see it available at launch.
That's everything you need to know about the Blasphemous 2 release date. Blasphemous is one of the best indie games for those of us partial to punishing platforming and ecclesiastical horror, but we've also got plenty of alternatives to tide you over in our list of the best horror games. Alternatively, you can't go wrong with taking our prime picks for the best PC games of this year for a spin.