The trailer for Creature in the Well is mesmerising. It's less than a minute long but evokes a mysterious world with an enticing story, and flaunts an intriguing game mechanic without a single word. Its heavy, industrial soundtrack is a mish-mash of metal striking metal, as a ball bounces erratically around a factory-like space. A tiny robot runs around, hitting the ball back and forth until the music reaches a crescendo. When the trailer ends, all is quiet, and a single ghastly, metallic scream echoes from a mountain, like nails on a chalkboard. Creature in the Well certainly has my attention.
Created by Flight School Studio, Creature in the Well is a top-down action adventure where you play as a robot on a mission to power up an old generator that lies deep within a desert mountain. You must restore power to each of the machine's facilities, navigating the challenges set by a giant, ancient creature along the way. In each metallic dungeon you play a game not unlike pinball, whacking glowing balls of energy about to complete the puzzle, and then you move onto the next one.
Although pinball-style mechanics are now at the core of the game, Flight School Studio's Bohdon Sayre explains that initially, Creature in the Well's bouncing ball wasn't even on the table. "Ironically pinball wasn't really one of the first references we used," Sayre explains. "I was playing a lot of Ballz and Rocket League at the time, and I think the very first pitch of the idea was 'a top-down game with simple Zelda-like controls, except you're playing air hockey'."
That idea developed into a ball that would bounce around an enclosed area. It was explosive, hectic, but not enough in itself to make a compelling game. Flight School needed to find a way to make it fun, which developer Adam Volker says was one of the biggest challenges during production. "It took us a long time to zero in on what kinds of puzzles players enjoyed returning to," Volker explains. "Luckily, we had a lot of great references like Breakout, Pinball, Rocket League, and other ball-oriented games, which we used as touch points for how games centered around a ball could be fun."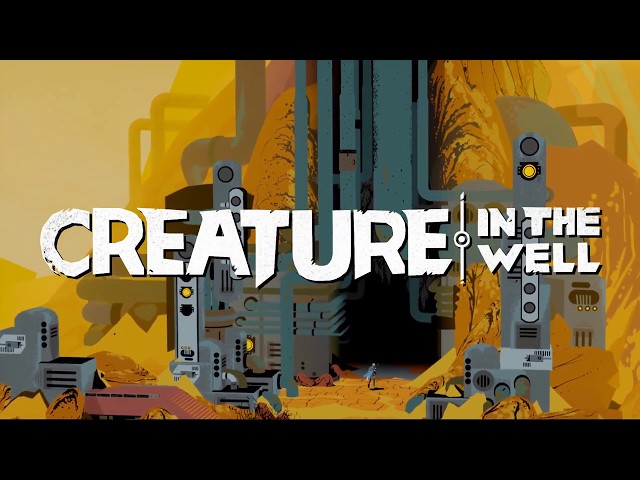 "We ended up making some very plinko-like rooms," Sayre continues. "And then started leaning into the pinball bumper-esque nature of the objects you were hitting. We appreciated the fact that the core of the game is non-violent, so we stayed away from any living 'enemies' or things you attack directly. But at the same time we still really wanted that awesome feeling you get from great characters with fun attack animations"
Just from the trailer, you can see the eye for detail that Flight School has in the animations. In one sequence as the robot is running across a bridge, a giant, metallic arm reaches out of the darkness and makes a grab at you, while two feline eyes stare out from the shadows.
Creature in the Well has a striking art style that maintains a colourful aesthetic despite its industrial setting. Due to the specific look and design of Creature in the Well, it was important that Sayre and Volker find the right engine. "The reason we chose Unreal Engine, the simple answer is that Bo said so," Volker jokes. "But, the more real, and less cheeky answer is that it's artist-friendly. Unreal has tools built into it that made achieving our style super easy, and duplicating and creating rooms to fill the dungeons a breeze."
"Unreal Engine has so many years of design, iteration, and production testing behind it that gives it a really solid foundation," Sayre adds. "I prefer it for the games we make because I find that I spend far more time focusing on the actual content and features of the game than on tools or systems.
"With only two of us on the project for most of production, I find it's important to design a game that goes with the grain of the tech already in the engine, and with Unreal there is already so much there to work with, and the artist tools feel really mature, with tons of helpful debugging features for when you need them."
None of the game's artistic charm was lost from 2D to 3D because of Unreal Engine's accessibility, even to artists who are new to making games. When working with Unreal, Volker could see his 2D art come to life in 3D and he could see his art in a new way. "The evolution of the way it looks was very fulfilling," Volker says. "The paintings I started with were very graphic, but I actually prefer the way the game looks now to the original concept art I had done. I wasn't able to create as much dimensionality in my drawings as I can in 3D in-engine, and being able to run around them is very satisfying."
Read more: check out the best indie games on PC
Not having to compromise on their artistic vision was very freeing for Flight School and this was the same for Creature in the Well's gameplay. The team felt that they had such a strange concept that it was difficult to imagine where the feel of the game would go. Working within Unreal Engine meant that they could create the frenzied pinball gameplay they wanted.
"You have lots of visions in your head about what the game should or could feel like along the way," Sayre says. "I feel like we got really close to the charge-em-up, ball-controlling mastery gameplay that we were aiming for. It's incredibly rewarding now to watch people play the game and pick up on something that we feel has never really been done before."
Creature in the Well is due for release on PC later this summer. Unreal Engine 4 development is now free.
In this sponsored series, we're looking at how game developers are taking advantage of Unreal Engine 4 to create a new generation of PC games. With thanks to Epic Games and Flight School Studio.