With cyberpunk games being all the rage right now, it seems only fitting that Crossout – Targem Games and Gaijin Entertainment's free-to-play, post-apocalyptic action-MMO – gets its own dash of neon-infused, ultra-techie flavour.
Crossout's latest content update brings cyberpunky mayhem to the game's vehicle-torn wasteland through the 'Syndicate' – the new faction on the block that gives the update its name. Before the game's plague-induced apocalypse, the Syndicate head honchos were part of a Pan-Asian corporation called 'Neon Dragon', which was all about implants, prostheses, and AI tech. But the end of the world can change things. The Syndicate's now a secretive, closed society defined by a strict hierarchy and specialist tech: we're talking augmentations, 'smart' weapons, and advanced energy storage devices. Oh my.
The good news is they're willing to share this high-tech kit – but you'll have to earn it. The faction's arrival heralds the Crossout battle pass's new season and through completing its Syndicate faction tasks you'll get access to its gear, which includes a whole batch of new car parts for modding your battle machines (and fuelling your cyberpunk dreams).
One example, the 'Yokozuna' heavy cabin, brings a launchable drone that buffs nearby allied vehicles' power, while another called 'Jannabi' harnesses the energy you generate while you're drifting to give its mounted weapon some serious kick. That's helped by some new 'Camber' light wheels, perfect for executing said drifts. And there are more: a new contact weapon can burn through an opposing ride's parts like a hot knife in butter, while an autonomous drone ('Yaoguai') can rain fire on great chunks of the map.
Enemies thinking of deserting the battlefield will find their efforts thwarted by a new 'Enlightenment' tracking system, and a shiny new 'Omni' rolling chassis lets you craft machines that can 'drive' in any direction. Finally, and as you can see in the trailer below, a legendary 'Kaiju' mounted cannon boasts a punch fuelled by a whopping 11 energy units. Sure, you'll lose some drive speed while the Kaiju's doing its thing, but we're pretty sure you won't miss it.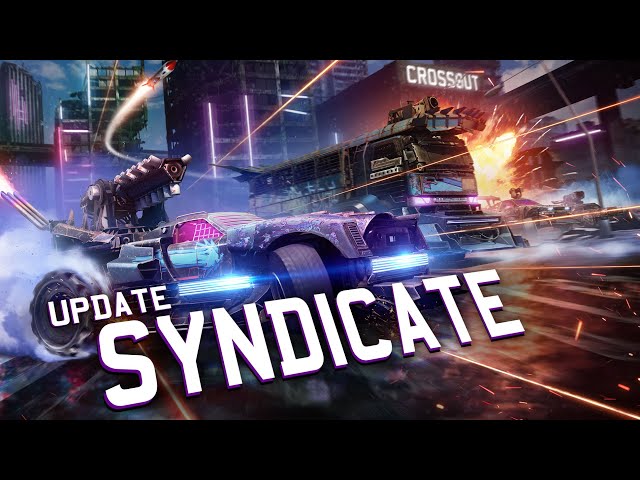 As you might gather if you're unfamiliar with the game, Crossout is all about crafting the ultimate battle machines from thousands of parts to tear about the wasteland in, ripping into some PvP combat on the way. Syndicate's latest cyberpunk goodies will no doubt add some techie sizzle into the mix, with scope for new pick-'n'-mix customisation blown wide open.
The Syndicate brings more than just vehicle gear, though. The faction has carved out a spot to call its own in the wasteland, which means a brand-new map: the 'East Quarter'. Expect megapolis slums peppered with neon signs, high-rises, and abandoned rust buckets. In its middle is a dried-out channel, which you can drop into to set up ambushes and dish out some mayhem. But you'll need to keep a sharp eye out for motion detectors and surveillance cameras dotted around its grimy streets; the Syndicate won't take kindly to your trespassing.
More broadly, the latest update revivifies Crossout with its first infusion of non-western inspiration. Syndicate meshes Japanese and Korean corporation themes with cyberpunk to inject a fresh new angle into the game. Cyberpunk 2077 fans who enjoyed tearing around Night City's neon-soaked streets in a custom set of wheels might be tempted to dive in.
Crossout's Syndicate event, which you can try for free, has now landed and runs until April 30. There's a lot to check out, so we'd recommend heading to the Crossout website for a full rundown of what the new update brings.