Duke Nukem 3D, the FPS game classic launched in 1996 and inspired by Doom, now has a fully playable VR version that supports the Meta Quest 2, perfect for bubblegum aficionados and fans of other shooter stalwarts like Shadow Warrior and Blood, which now have VR support too.
Developed by Team Beef, a group of modders committed to adding VR to a range of PC classics, Duke Nukem 3D VR is still in its initial stages, meaning that aiming is achieved through head movement rather than controls. Nevertheless, it's compatible with Meta Quest 2 and fully playable, with Team Beef saying its members will continue working on the port as a "side project."
You can play Duke Nukem 3D in VR thanks to Team Beef's RazeXR release, which adds virtual-reality support to a variety of games using the Raze Engine – itself a modified version of the Build Engine that powered several shooters and Doom clones back in the '90s. Team Beef says RazeXR is capable of running Blood (the horror FPS from future Shadows of Mordor creators Monolith), Redneck Rampage, and 3D Realms' own Shadow Warrior, among others. You can see it in action in Duke 3D thanks to YouTuber 'GamerTag VR.'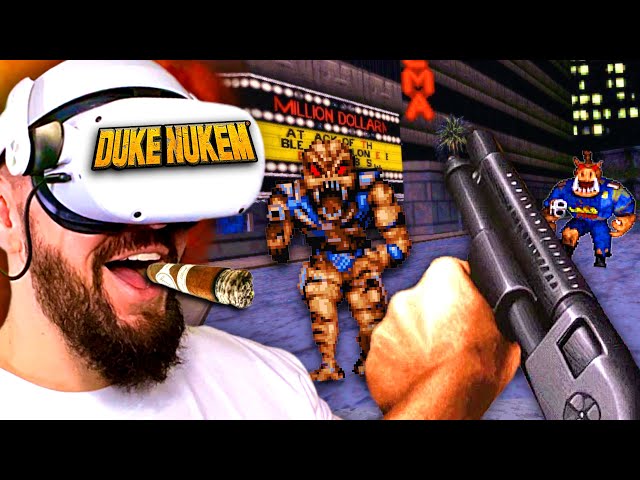 At the moment, if you want to try Duke Nukem 3D VR, you need to subscribe to the Team Beef Patreon, though the modders say the project will eventually be made available for free. The team is also working on VR compatibility for Star Wars games Jedi Outcast and Jedi Academy. You can get RazeXR, and start blasting LARD hogs in Duke Nukem 3D, here.
Make sure you have the best VR headset if you're jumping into the virtual reality world, or perhaps take a look at some of the other best VR games. Alternatively, if reading about Duke has you feeling all nostalgic, try some other great old games still available on your PC.