EA Sports FC 24 has just revealed the new front cover for the sports game that marks the split between EA and FIFA, and it's getting some not-so-savory online reactions. While EA Sports FC promises to be similar in quality to the FIFA games that came before it, the front cover definitely isn't looking great.
EA Sports FC 24, the new name for the series of soccer games now that EA and FIFA have split, is gearing up to reveal more and more ahead of a release later this year. To get things in motion, EA has unveiled what the Ultimate Edition cover will look like, and it's (mostly) deserving of the absolute dragging it's getting online.
Featuring 31 players from across the globe, including David Beckham, Marcus Rashford, and Erling Haaland, EA has forgone the FIFA days of a cover that features a handful of players and instead opted to make it clear front and center that despite the name change, almost all of the licenses it had when the series was called FIFA still remain.
This is a smart move, and even the framing of the name as EA Sports FC 24 makes it feel like the classic FIFA games, which should hopefully mitigate any confusion about the brand split.
The problem is, a lot of these faces look absolutely awful. Granted these aren't in-game models, but they still look frightful. Andrea Pirlo is in the top right, bearing what I can only describe as a thousand-yard stare. At a glance none of these are that bad, to be honest, but a quick zoom-in and looking at one face for more than five seconds makes it clear that something just feels off. The new in-game footage looks a lot better, though, which tells me that, in motion, EA Sports FC will be fine.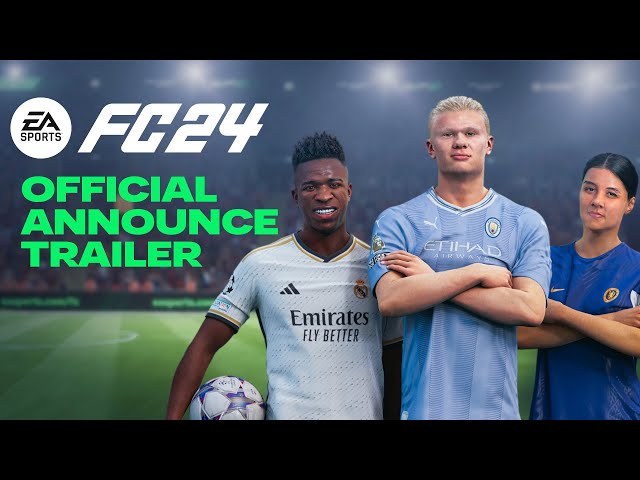 To be fair, Marcus Rashford and Erling Haaland look pretty good, but so many of these facial expressions are still weird. This is just the Ultimate Edition mind you, so not every copy will have all these players on it.
I don't think this is indicative of the final product – only time will tell on that front – but these facial expressions are both the stuff of nightmares and utterly hilarious.
In the meantime, we've got a list of the very best football games (that's soccer for American readers) you can play on PC right now, alongside some essential multiplayer games too, if Ultimate Team was where you spent most of your time when playing FIFA.