Our Elgato Facecam Pro review arguably targets a niche collective of online users, as the webcam caters directly to budding professional Twitch streamers and content creators alike. That's not to say casual gamers won't be impressed by the electric eye's 4K 60fps capture capabilities and array of settings, but its lofty price point and chonky stature mean I can't recommend it to everyday PC gamers.
Admittedly, $299 feels like a lot for a webcam, but the Elgato Facecam Pro is undeniably premium. I'd go as far as to say that it's not technically just a webcam, as its specs, abilities, and software make it a stand-in for a pricey camcorder. Sure, it isn't a standalone device, and hooking it up to a rig or laptop is mandatory. Nevertheless, this isn't a basic PC peripheral, meaning it's hard to compare it to alternatives that serve a more casual purpose.
In terms of sheer capture power, the Elgato Facecam Pro is one of the best webcams on the scene. Just like the Razer Kiyo Pro Ultra, it has more in common with a DSLR setup than a conventional cam, and that'll appeal to those of you considering pairing the former with something like an Elgato Cam Link. Not to sound like a broken record, but if you're not looking to invest in a setup that rivals what the Twitch pros use at home, you're better investing your money elsewhere.
To help you zoom around this review, I've included a few handy links to specific sections:
Elgato Facecam Pro specs
As you'd perhaps expect, Elgato goes all out when it comes to Facecam Pro specs. Armed with a Sony Starvis 4K CMOS sensor and a premium autofocus lens, this 60fps beast punches harder than most capture peripherals. Its wide 90° field of view will satiate streamers and creators trying to fit more into the frame, and its 10cm to infinity focus range suits a bunch of scenarios.
Here are the Elgato Facecam Pro specs:
| | |
| --- | --- |
| | Elgato Facecam Pro specs |
| Resolution | 4K |
| Frame rate | 60fps |
| Image sensor | Sony Starvis CMOS |
| Field of view | 90° |
| Focus | Auto |
| Microphone | None |
| Price | $299.99 / £299.99 |
I'd normally delve into mic specs when testing a webcam for review, but the Elgato Facecam Pro doesn't have one. In a way, this makes sense, as its target audience would probably rather use one of our best microphone picks. That said, the Razer Kiyo Pro Ultra comes with audio capture capabilities, so you might have gripes with the Facecam Pro's reluctance to provide the same.
In terms of connectivity, you'll need a free USB-C port to hook up the Facecam Pro. Annoyingly, Elgato doesn't include a USB-A cable or adapter in the box, so you'll have to source your own if your rig doesn't have the connection type (or if it's preoccupied). Just keep in mind that you'll have to use a USB 3.0 port to prevent any incompatibility shenanigans.
Elgato Facecam Pro design
Let's address the elephant in the room, as the Elgato Facecam Pro is the size of one compared to other webcams. All necessary, of course, as there's a lot of tech squeezed inside the peripherals hardy plastic shell, but its presence will undoubtedly dominate the top of your gaming monitor.
Personally, I think the big, boxy design of the Elgato Facecam Pro is charming in a way. It reminds me of BD-1, everyone's favorite droid companion from Star Wars Jedi: Survivor, but it does feel like it's staring into my soul as I write this review. Unfortunately, unless I want to banish it from my desk area, I'll have to put up with it peeping at me, as it doesn't wield any sort of privacy shutter or guard. That's a biggie for anyone who uses DIY means to prevent cyber snoopers, as this isn't the kind of product you want to stick washi tape onto.
The webcam comes with a monitor mount that attaches via a standard quarter-inch tripod thread, so you could theoretically pop it on something like a ring light. That level of functionality isn't particularly unique, as even budget options like the Streamplify Cam boast support. Still, it's extremely handy and necessary if you've got a specific streaming setup layout, as the included clip isn't going to cling onto anything that isn't a screen.
Elgato Facecam Pro features
We've already covered the fact that the Facecam Pro is a 4k 60fps monster, but it's got an impressive range of features to boot. There's a reason I keep saying it's like a DSLR camera, and that's largely because you can similarly fine-tune focus, exposure, and white balance. I'm not saying this is unique to Elgato's pricey peripheral, but we're talking about more than your standard slider.
The Facecam Pro's autofocus options are worth highlighting in particular, as you can select either center-weighted or spot metering. Put simply, the former uses the center of the frame to automatically adjust, while the latter looks for a specific object on a plain backdrop. This naturally helps prevent any blurry blips caused by focal automation, and it works a treat in practice.
The same applies to the webcam's auto exposure settings, which are a godsend if you're looking for a quick fix. Of course, you can also switch to manual and play around with shutter speed, provided you know what you're doing. I actually found myself dabbling with those settings to eliminate grain in my poorly lit office and managed to balance things out a bit. This is completely optional given how great the auto modes are already, but being able to take the wheel is why there's a 'pro' slapped on the end of the product's name.
Elgato Facecam Pro quality
For the price, you'd perhaps expect the Elgato Facecam Pro to produce great results out of the box, but that's not really how these things work. Just like a professional camera or camcorder, or any other webcam out there, you'll be able to harness the device's true quality potential by putting in a bit of setup effort. Simply put, if you bother to ensure you're capturing an adequately lit environment and dial in the settings mentioned above, you'll be treated to fantastic quality that cheaper alternatives can't achieve.
I'm perhaps preaching to the proverbial PC enthusiast choir, as seasoned Twitch streamers are likely already aware of the effort and craft involved with the hobby/career. However, that doesn't make it any less prevalent to mention, as you'll be majorly underwhelmed if you think this webcam will magically produce professional-grade footage.
Used properly, the Facecam Pro is sharp, vibrant, and handles lighting effectively, while burying that typical grain associated with webcams is easy to achieve. Admittedly, many of the webcams I've used in the past are half the price, but I've often hit a wall in terms of quality, despite using ring lighting and other optional enhancements.
Elgato Facecam Pro software
You don't have to use Elgato's Camera Hub with the Facecam Pro, as OBS Studio is my personal go-to app. That said, the company's specific software provides you with easy access to all the cam's bells and whistles, and you'll need to use it to tinker with automatic modes.
Thankfully, Elgato Camera Hub features a relatively clean layout, so you shouldn't any trouble navigating through. If you're planning on using a third-party app in conjunction, there's a handy button that trims off the footage preview, something that'll come in handy if you have multiple windows purposefully haunting your desktop already.
If you've got a playful side, you might also vibe with the Camera Hub app's selection of AI-generated backdrops. Powered by Nvidia Broadcast, the backgrounds aren't groundbreaking, but it'll give you another reason to mess around within Elgato's bespoke software.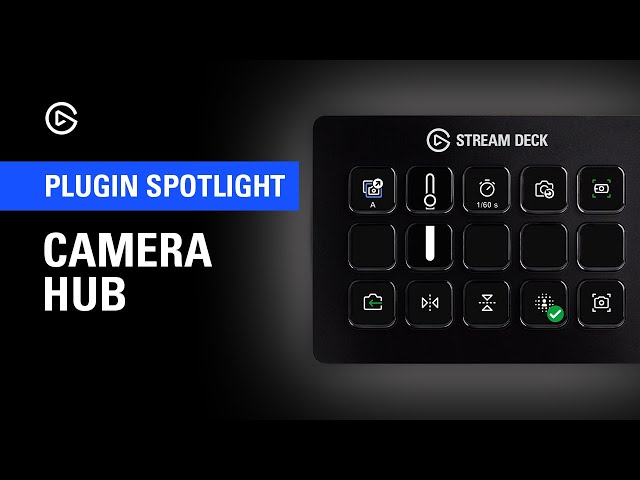 In addition, the Elgato Facecam Pro also plays nice with the company's Stream Deck add-on. That's perhaps an understatement, as support for Camera Hub helps the app transcend the digital realm and exist on top of your desk.
You can tweak settings like shutter speed and ISO by pairing the Stream Deck with the Camera Hub, and the Audio Mixer model's dials double up as a way to use the pan and zoom feature. I sadly haven't got the interface to hand for testing, but adding tactile interaction tickles my brain in the right way, not to mention it'll comfort DSLR users that are used to messing with buttons and dials.
Elgato Facecam Pro price
The Elgato Facecam Pro costs $299, so it's more of an investment than an ordinary peripheral upgrade. The main question you should ask yourself before throwing down that sort of cash is: "Do I need a 4K 60fps webcam?" If the answer is no, then there are plenty of other options out there that'll do the trick, like the original Elgato Facecam.
Let's just say you're already hellbent on picking up a $300 webcam, should you opt for the Elgato Facecam Pro? Well, the short answer is yes, but only if you're not bothered about the lack of a built-in microphone or privacy shutter. Otherwise, I imagine many streamers will be eyeing up the Razer Kiyo Pro Ultra if they're not fussed about 60fps.
Elgato Facecam Pro verdict
Ultimately, the Elgato Facecam Pro is a webcam built with serious streamers and content creators in mind, and pulls serious punches in the premium peripheral ring. You could say it hasn't got much competition yet, as even the Razer Kiyo Pro Ultra can't manage 60fps. Closer rivals are sure to emerge in the future, but for now, your choice of cam kaiju will be dependent on whether you need high frame rate capture or the subtle extras included with Razer's offering.
Pros:
High quality, 4K/60fps capture
DSLR-like tuning experience
Great optional software
Cons:
Lacks integrated microphone
No privacy filter
Pricey
Where to buy the Elgato Facecam Pro
The Elgato Facecam Pro is available worldwide, but only directly from Elgato itself. Here is the best price for it right now:
Elgato Facecam Pro alternatives
If the Elgato Facecam Pro doesn't sound perfect to you, then check out our best webcams guides for other options.
Elgato Facecam Pro review
The Elgato Facecam Pro is a premium webcam with extraordinary 4K 60fps capabilities, but it lacks a few comforts and commands a high price.