Every year Konami and EA battle it out to produce the best football game on the market, and every year a similar story unfolds: FIFA has the licences, but PES wins on the gameplay front.
The battle of PES 2019 vs. FIFA 19 takes those differences to new extremes, especially as Konami has now lost the UEFA Champions League licence to FIFA – ouch. To combat this, Konami has doubled down on what has set PES apart from FIFA over the past few years, which is the fidelity of its gameplay.
While both games are great in their own ways, and diehard fans of either game will be hard to sway, most of us only have the time and money to spare for one new football game every year. So, of course, the question is FIFA 19 or PES 2019.
To help make up your mind we'll compare this year's new entries across a few key categories – authenticity and presentation, gameplay, and modes – to see which title emerges victorious. Here's how FIFA 19 compares to PES 2019.
Authenticity and presentation
One of the main reasons so many people pick FIFA over PES every year is because it offers official licences for the biggest clubs and leagues in the world, particularly the Premier League. This year, EA has bolstered its offerings with the UEFA Champions League, which is arguably the most sought after piece of silverware in football.
Basically, if you want to play as your favourite club in career mode, or play out iconic derby days like El Clásico or Manchester United against City, then FIFA 19 has the lot – including kits, stats, relevant commentary, and stadiums to really sell the occasion. Want to take Pompey to the Premier League? You can do that in FIFA 19. Want to win the treble with Chelsea? You can do that too.
By contrast, a Manchester derby in PES 2019 will feature Man Red and Man Blue, while a Madrid derby will be a clash between MD White and KB Red White. There are a few officially partnered clubs from each of the big leagues that help tie PES 2019 to real-world football: FC Barcelona, Liverpool FC, Arsenal FC, FC Schalke 04, AC Milan, Inter, AS Monaco, Celtic, and Rangers are among the some of big clubs available in PES 2019.
PES 2019 does still include a number of real-world players, making it possible to boast a front-three of Sané, Kane, and Higuaín despite none of their clubs being in the game – they'll even have realistic stats and faces. PES 2019 also made up for the loss of the UEFA licence by grabbing a slew of new franchises, including the Danish Superliga, Portugal's Liga NOS, Belgium Pro League, Swiss Super League, Scotland's Ladbrokes Premiership, Superliga Argentine, and Russian Premier Liga (exclusive to PES 2019).
As PES 2019 is available on Steam, you can also mod it to include all of the clubs and kits imaginable, which fans have been doing for years now. It can't match the visual quality of FIFA 19, and nothing can solve PES 2019's bland commentary, but if you really want to see your club represented in the game then it's possible.
Gameplay
So what about the actual football? This is where PES 2019 excels and has done for a few years on the trot. Put simply, PES 2019 delivers a more realistic, fluid, and better paced footballing experience than FIFA 19, one where scoring a goal feels worthy of celebrating rather than something that happens every minute. There's real toil involved in breaking down an enemy defence, where one wrong pass or poor first touch can open your team to a dangerous counter-attack.
You won't breeze past opponents with 10-0 scorelines in PES 2019, but you'll score some of the most breathtaking goals committed to screen thanks to the game's superior ball physics and improved animations. Strikers contort their bodies in myriad ways depending on where the ball is coming from. From controlled chip shots and rising strikes, to 25-yard curlers that bend their way around a wall of defenders and into the top corner of the goal, you have what feels like limitless freedom in how you take your shots.
Additional passing animations work in tandem with AI that contextually knows what type of pass to play, whether that's pinging it out wide with the outside of the boot or a measured, side-footed through ball. The increased attention given to animations has had the biggest impact on the quality of PES 2019's goalkeepers, who no longer flap at easy saves or crab-walk instead of dive. Keepers are still absolutely useless when they come off their line, though, so not everything is perfect.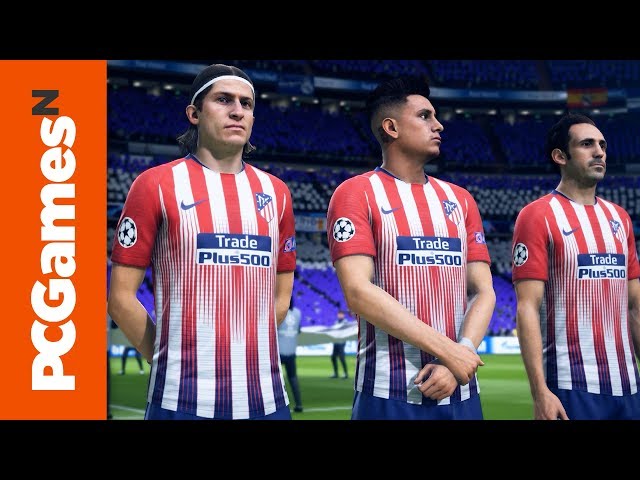 Ball physics and an increased sense of physicality double down on the series' trademark sense of weight with the only niggle being that the referees are a bit too keen to award fouls, which can be frustrating when you definitely got the ball.
FIFA 19 has made a few changes this year as well, but it's still very much an arcade interpretation of the game. As ever, you can ping the ball around the field with laser precision without ever having to take a touch first. This creates games that are always open, frantic, and full of goals, which is fun, but unconvincing when compared to the sport as it's actually played.
Significant changes to how pace works mean you can no longer ping the ball out to a winger like Bale or Biabiany and rely on them carrying it all the way to the byline uncontested. This slows down the gameplay of FIFA 19 a little, but not much. Likewise, small tweaks have been made to battling for the ball so that more is taken into account than just the strength stats of both players involved.
The last gameplay change comes in the form of the new Active Touch System, which gives you a lot more choice about how you receive the ball and allows for some devious traps, feints, and flicks.
The biggest changes to be found are in the menus where heaps of new tactical tools have been added so that would-be managers can tune their teams to perfection. You can get your fullbacks to invert their runs or loft balls in from the corner, ask your defence to press aggressively whenever an opposition player takes a heavy touch, choose how many players you want to send forward for corner kicks, and manually decide the depth and width of your team across the pitch.
Ultimately, FIFA 19 makes a few small adjustments to its gameplay that refine and improve on last year's offering, but fans have been asking for substantial changes for years now, so these tweaks may not be enough for some.
Modes
FIFA takes the plaudits with ease when it comes to what game modes are available, with a main story, a wealth of online modes, and a bunch of wacky one-off match types that are hit-and-miss.
The key new addition is House Rules, which add rule presets to standard exhibition matches, ranging from a Survival Mode that has you lose a player every time you score a goal, to No Rules where studs-up, two-footer horror tackles are fair game and you'll never have to bend your run to stay onside.
The Journey, which is FIFA's story mode, also returns for its third iteration. This time around you can switch between three different characters, each with their own career goals, personality, and story. It's not an essential mode, but it adds even more ways for FIFA 19 players to extend their enjoyment of the game, it also providing a welcome change in tone. With the Europa and Champions League cups also available in the game, both as separate tournaments you can play with your friends, it's impressive just how much /footballing/ EA has managed to cram into FIFA 19.
FIFA 19 Ultimate Team still has the edge over PES 2019's MyClub where presentation, simplicity, and polish are concerned. But MyClub has a few impressive features that are sorely missing from FUT, such as being able to hire skill and position trainers to develop your squad further. MyClub is also finally getting an answer to FIFA's Team of the Week by having Featured Players with boosted stats and skills based on their recent real-world performances.
While PES 2019 can't hold a candle to FIFA 19 with regards to how many game modes it has, it does boast a career mode that could give Football Manager a run for its money when it comes to simulations and stats. It might take some time to get used to the obtuse UI, but spend some time managing a club in PES 2019 and you won't be left wanting for ways to monitor, track, and develop your team. Charts and reports are available for everything from player development to wage breakdowns, making it easy to identify shortfalls in your system or budget. The addition of proper transfer negotiations rounds off the whole package, letting you conjure up the perfect contract, which is a lot more exciting than it has any right to be.
FIFA 19 vs. PES 2019 review
So, should you buy FIFA 19 or PES 2019? Konami takes the crown this year despite losing the UEFA licence. PC players can patch in the clubs with ease, meaning the only real difference between the two is the presentation, gameplay, and modes on offer. FIFA 19 certainly wins on the presentation front, with slick and clean menus, authentic broadcasting overlays, and realistic cinematics.
PES 2019 has more detail and and features in its MyClub and career modes, but it can't match the sheer number of ways you can sit down and play FIFA 19, be it through hilarious new rule sets, customisable tournaments, or The Journey story mode.
That's two in favour of FIFA 19, but the reason PES 2019 wins overall is because its gameplay is as close to the real deal as football games have ever got. Even if some of the club names are risible, PES 2019 just feels so much more like football when you're playing it, and by adding to its package in meaningful ways off the pitch, PES 2019 has managed to outwit rather than outgun EA's behemoth.