The two most recent Final Fantasy games collide today with the launch of a limited-time collaboration between Final Fantasy 14 and Final Fantasy 15. From today until May 27, FF14 players will be able to meet up with FF15 protagonist Noctis and unlock a series of rewards.
The event, dubbed A Nocturne for Heroes, sees Noctis arrive in Hydaelyn in the Regalia, Final Fantasy 15's iconic car. Once there, he joins the Warrior of Light in a series of battles, and you can check out his moves in the trailer for the event (which we've embedded further down this article).
As well as getting to battle alongside Noctis, players can reap a handful of themed rewards for taking part in the event. You'll earn the keys to the Regalia, which will act as FF14's first four-person mount (and you'll even get to call shotgun when you head of on your own trip). There'll also be Noctis-themed cosmetics, allowing players to change their clothes and hairstyle to match the crown prince's soft emo-boyfriend aesthetic.
Beyond that, there's a Noctis card for Triple Triad, and there'll be Orchestrion rolls featuring music from throughout FF15's soundtrack.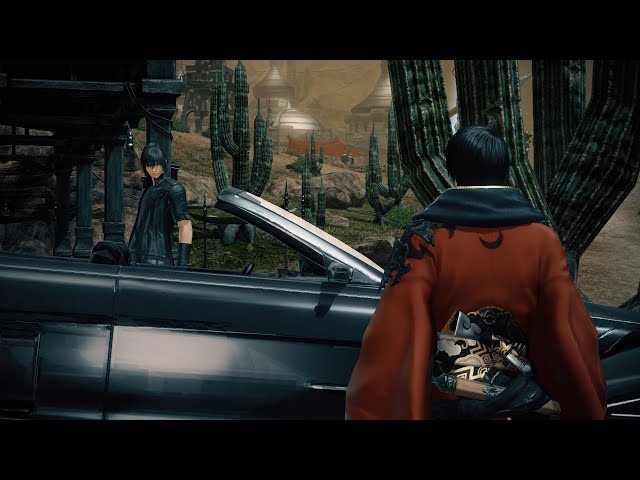 To participate in the event, you'll need to be level 50, and to have completed "The Ultimate Weapon" quest. To kick things off, you'll need to find Kipih Jakkya on the Steps of Nald in Ul'dah. There were a few issues with the event earlier this morning, but those seem to have been resolved.
Related: What to expect from Final Fantasy 16
It's a busy time for FF14 right now. Its third expansion, Shadowbringers, is just around the corner, bringing with it the controversial new dancer class, and you've only got another week to celebrate easter and unlock the Spriggan armour set by finding the Hatching-tide hidden egg locations. Sadly, there's no chocolate attached to those quests, but we're not here to tell you what you can and can't gorge yourself on during this holiest of weekends.