How does the new Fortnite Buried Treasure work? Fortnite treasure maps have made their way into the game as part of patch v8.01, which is especially fitting given the pirate theme of season 8. As we'd expect from Epic's battle royale booty, following the directions to the treasure bags you oodles of legendary loot. To help you out with finding top-tier gear, we're going to take you through it step-by-step. So avast ye, landlubbers!
Fortnite season 8 began with a bang – although that could well be all the cannons – with new named areas and a massive volcano to name just a few. There's also the new Fortnite Party Assist function that gives you the chances to get the rest of your party to help you out with your weekly challenges. But at launch, we were still waiting for the Fortnite Buried Treasure item that was teased in the first trailer.
But, back to piracy. Buried Treasure is the first thing that comes to mind when we think of pirates, so it's a natural addition to the game. However, if you're lucky enough to pick up the legendary item required to find the loot, you still have a few more hoops to jump through. So all hand hoy! This is how the Fortnite treasure map item works.
The Fortnite Buried Treasure functions as legendary loot so you'll be able to find it as a pickup as floor loot or in chests, but you won't see them often. Also, only one map can be active at the same time, so it doesn't look like it will be a matter of multiple players going after the same loot.
But if you do find one, you can start your voyage by activating the map, the same way as you'd use an item or fire a weapon. That will emit a red line every time you click on the map, which points you in the direction of the Buried Treasure. Then – provided you're not killed on the way – once you're close to your goal you'll see a beam of golden light above where X marks the spot. Go here and use your pickaxe to dig your way to a hefty stack of legendary equipment – we got a Chug Jug, legendary shotgun, legendary Scar, and a couple of other handy items in our first one.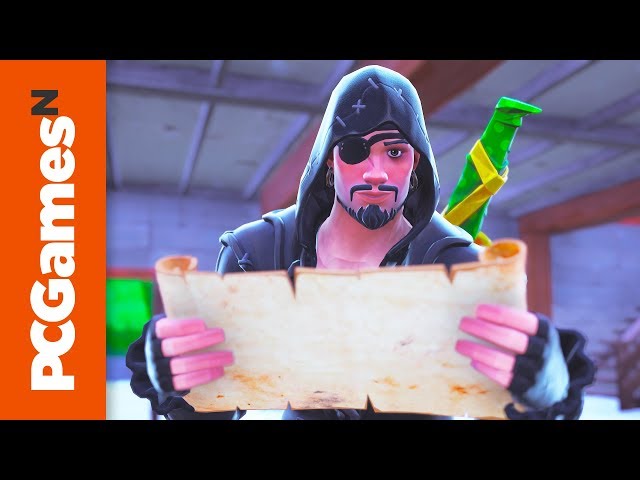 And that's how the Fortnite treasure map works. There's more where that came from when it comes to Epic's battle royale game from us so, to better ingratiate yourself with your crew mates, here's where all the Fortnite pirate camps are located. In the meantime, try to be a benevolent quartermaster and share your loot with your crew, maybe?