Never let it be said that risk-taking is entirely dead in the world of game development. Released in March this year, Generation Zero is a cooperative action game set in rural Sweden in an alternate 1989. Machines of unknown origin roam the streets, and much of the local population has gone missing.
Far from the action-packed blockbuster chaos of Just Cause, the series for which the open-world game experts at Avalanche are probably best-known, Generation Zero's vibe is ominous and eerily quiet. It gets under your skin. Think Everybody's Gone to the Rapture meets The Terminator. Yes, really. Sneaking and running away are encouraged, but if you do want to take on and success against your mechanical oppressors, combat needs to be tactical and precise. Generation Zero asks you to be a scalpel, not a sledgehammer.
If it's all a bit much for you, or if you fancy coordinating such exacting guerilla tactics with your fellow humans, you can join with up to three other players to cooperatively take on the machines, making for a completely different experience.
Sounds good, right? Bold, too. And yet it's fair to say that Generation Zero didn't quite meet expectations at launch. That's why Avalanche has been hard at work ever since on a raft of improvements, listening closely to the community for ideas.
The free Rivals update, which landed near the end of last month and added a new mechanic to the open world: machines can now become 'rivals' and evolve, becoming stronger when they defeat you (Personal Rivals) or when you've killed a lot of other machines in a region (Regional Rivals). They can continue to level up, becoming more deadly and dropping a new tier of 'experimental' weapons with unique effects.
These include variations on: the Klaucke 17, which can trigger a small EMP explosion; the Grg m/49, which can fling two grenades in a single burst; and the Pvg 90, which gains a railgun upgrade with increased muzzle velocity and penetration – the upshot of this is that you can hit multiple enemies with one shot. Satisfying stuff.
Other new features since launch include player item storage, challenges (objectives with unique rewards), and bikes for you to ride around the beautiful world of Östertӧrn like you're one of the kids from Stranger Things – but that's nothing. Generation Zero now has its first major piece of story DLC: Alpine Unrest.
The game has grown since launch, with many community wish-list items addressed
Set in December 1989, a month after the population vanished, the mystery at the heart of Generation Zero now leads you to Himfjäll, an abandoned island off Sweden's east coast. Boasting a (formerly) popular ski resort, the rest of Himfjäll is largely unexplored and dusted from coast to coast in snow. Arguably it looks even more hauntingly beautiful than the base game, with screenshots showing derelict chairlifts silhouetted against a cold moon and a ski hotel wreathed in mist. New story and side missions await you there, promising answers and a chance to meet the first survivors of the machines' attack face-to-face.
As you might expect there are a host of new dangers, including the deadlier and more tenacious Apocalypse-class machines. Designed specifically to hunt down human survivors and not confined by civilised norms, these machines wield exceptionally cruel yet effective weapons, such as biochemical machine guns and flamethrowers.
That said, the machines' arsenal isn't the only one that's expanded. You can expect to find a number of new toys with which to tackle these terrible new foes, including the KVM 89 Squad Automatic Weapon, and less destructive collectables to flesh out the story of Himfjäll, such as dictaphone journals and character biographies.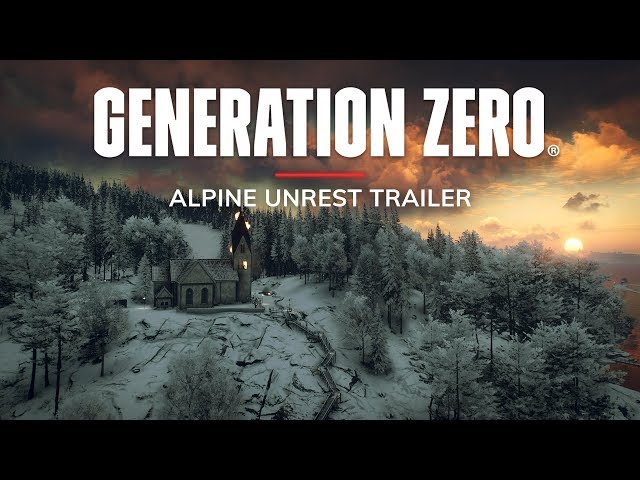 So if you're a lapsed Generation Zero player, or were intrigued by the spooky setting in the run-up to launch but decided not to get involved, now's a great time to take another look. The game has developed massively since launch, with many community wish-list items directly addressed, and is set to get its most comprehensive and exciting new update yet.
Future updates will continue to be influenced by the community, and will include regular and free quality-of-life patches as well as more significant paid DLC.