We've known about GTFO for a while. We first caught wind of the four-player survival shooter in 2017 when it was unveiled at The Game Awards. We then got a better look at GTFO when it hit Steam in Early Access at the tail end of 2019. It's a tense and atmospheric co-op experience that meshes Alien-style horror with Left 4 Dead multiplayer. It's also being worked on by some of the Payday 2 developers.
GTFO developer 10 Chambers Collective doesn't plan on staying in Early Access for too long, though, and is already thinking about a full release. "We are trying to not be in Early Access for too long, so we're aiming for about a year," co-founder Svante Vinternatt tells PCGN. "We haven't released any Early Access games before, so this is a new experience for us."
That's not to say that Vinternatt thinks work on the game will be done after a full launch. Come March 31 the horror game will get an update – or, as the studio calls it, a 'rundown'. The next one includes ten new expeditions alongside more weapons and enemies. As Vinternatt explains, that's the style of update the studio wants to persist with.
"With the way we are creating GTFO with rundowns, even if we go to 1.0, it doesn't mean 'okay, this is the content and now we're done'," he explains. "We want to keep on developing new rundowns even after 1.0. That's the essence of the game, even if everything is not there. That's also part of the plan, adding continuously more enemies, more objectives for living environments, and some new content, and so on."
There are, however, some particular features Vinternatt wants to add before the game is ready to leave Early Access. "So the main stuff that we are working on getting in for before 1.0 is progression, like customisation and matchmaking," he tells us. "But then also making it stable and adding some features that we feel are essential before performing 1.0."
The big question mark over the global economy right now is COVID-19. The games industry's coronavirus response has seen everyone shift to working from home in a bid to help stop the disease from spreading. That's seen development schedules being tweaked to accommodate the situation. That in mind, we ask Vinternatt what effect that's had on the team and, in-turn, GTFO's development.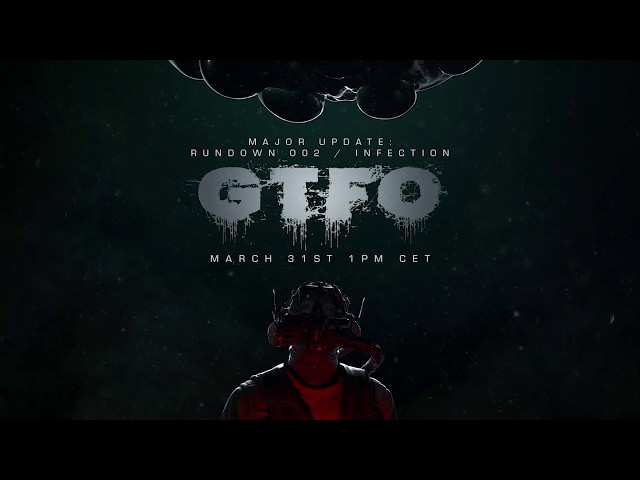 "There are people [who are] sick, I don't know if it's corona or not, but they will have to be home with their families," Vinternatt says. "We have small kids, too, so it's not just putting them in daycare and that's it. If there's some kind of symptom, even though it might not be corona, it's better to be safe than sorry. So they're taking care of their families rather than working and we fully support that.
"We're used to working from home – everyone right now that you're playing with is working from their own homes. So in that sense, it's not affected. But, only being a nine-man studio, If someone gets sick, that kind of affects the studio as a whole when it comes to everything. So that's also a disclaimer, we always have deadlines that we try to work towards, or aims and goals, but if someone gets sick that kind of tampers the whole production. But that's just how it is sadly."
If you'd like to check out the latest GTFO update, then Infection launches March 31 at 12:00 BST/ 4:00 PDT/ 7:00 EDT/ 11:00 GMT. If you're looking to read more about the upcoming PC game first, though, then you catch Imogen's GTFO gameplay thoughts on the site. If you'd like a selection of horror games, then we have that, too.