The latest episode of Guild Wars 2 Living World Season 4 is upon us. Taking place after the catastrophic loss in Thunderhead Keep, War Eternal's story sees the commander's allies gather to honour the fallen dragon, Aurene. As the sixth and final episode in the season, it's bringing a bunch of what can only be described as 'very good stuff'. Said good stuff includes a new map, weapons, mounts, and much more.
The biggest and arguably best of these is War Eternal's location. Rather than a single region with a unifying theme, this place is a grand mix of different biomes, all squished into a single head-spinning area. That makes it sound condensed, but it's actually a sprawling mass of weird weather and tricky geography. There's a blue-tinged Underworld-like section, with jagged rocks that'll put shivers up anyone's spine. There's a section based on the Fissure of Woe, where the ground smoulders and the trees burn non-stop. And there's even a lovely forestry glade to cleanse the palate. These familiar biomes have fallen straight out of the mists – and just might make you misty eyed too.
That's not all. War Eternal also introduces a new legendary greatsword. It's called Exordium, and changes shape based on the skill you're using. So, for instance, if you're going for a thrust attack, Exordium turns into a pointy medieval-looking pike. When you unleash a whirl attack, meanwhile, Exordium briefly becomes a scythe. This malleable blade is a transformative pleasure, and one you'll get more than a few kills with.
Let's not forget the new mount, too. Ladies and gentlemen, please welcome the Skyscale. As the second ever flying mount in the game – the first being the Griffon from Path of Fire – the Skyscale opens the airwaves up to you. It can gain altitude by ascending rapidly, hover in mid-air, and even do a barrel roll so you can evade projectiles. If the Griffon handled like a speedy jet, then the Skyscale is more like an attack helicopter – but even better because it breathes fire.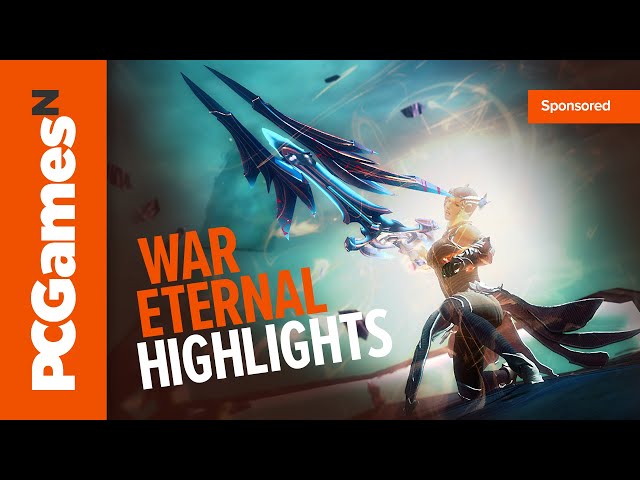 There's far more in War Eternal to see, so we've made a video to show off exactly what it contains. Give it a watch to see its best features in action.