The latest episode of Guild Wars 2's new Living World story, The Icebrood Saga, is upon us, bringing with it a whole swath of new content, including a new zone, new masteries, new gear, and more besides. To help get you up to speed, we've put together a dramatically narrated new video. In it, we run down the major story and gameplay developments in new episode, Whisper in the Dark, and meet a trio of terrifying new strike bosses.
The blizzard which descended at the end of the prologue to The Icebrood Saga has lifted as the latest episode begins, allowing the Commander and their allies to venture to Jora's Keep, a Vigil camp. Here they find only piles of frozen corpses and sinister, whispering voices in the air. The entire area is subjugated by Jormag's subtle manipulations, and our heroes must resist the unsettling influence of the Ice Dragon to uncover the dark mysteries of new region Bjora Marches. It does not sound very jolly.
The region is a wind-swept tundra at the foot of the Shiverpeaks, the ancestral homelands of the Norn. It's is a mix of craggy mountains, sparkling fjords, and shadowy coniferous forest. All manner of dangers lurk here, chief among them the ghoulish Boneskinner, a skeletal beast that prowls the forests. There are more blunt threats abroad also, including the Icebrood Construct, a titanic ice golem that all but ignores the diminutive player characters in its single-minded pursuit of destruction.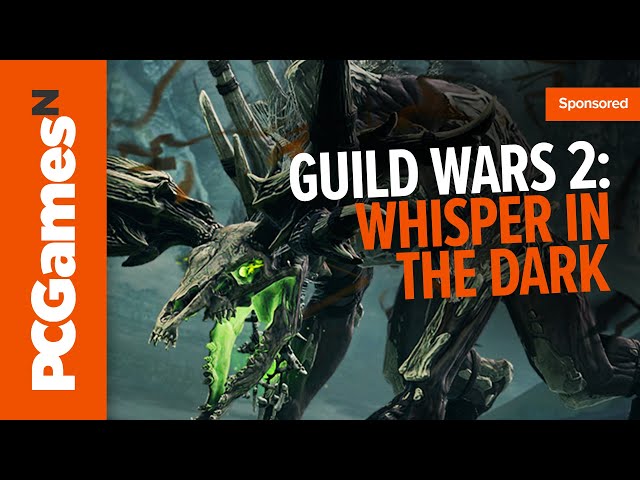 Whisper in the Dark features three new strike bosses on a weekly rotation: the aforementioned Boneskinner; The Fraenir of Jormag, the most senior of the Svanir, together with the gigantic Icebrood Construct; and finally the Voice of the Fallen and the Claw of the Fallen, an ethereal pair of Kodan warriors who fight in perfect synchronicity.
Four new masteries give you the tools to deal with these threats. Raven Mastery will help you uncover those aforementioned dark mysteries, and three Essence Manipulation masteries in Vigilance, Resilience, and Valor provide significant buffs. These will allow novice players to take on the formidable new Strike mission bosses, while veterans can transcend their previous limits and explore new strategies.
Meanwhile new loot, which includes the introduction of Tier 2 Ancient Boreal weapons, gives you even more reason to fight on against the odds.
There's plenty more detail in the video, so give it a watch to catch up on everything new in Whisper in the Dark. Happy hunting, heroes!