The world of Half-Life is typically quite somber. Particularly in Half-Life 2, after the invasion of the Combine, there's an air of desperation and bleakness. Gordon Freeman, Alyx Vance, G-Man – these iconic characters inhabit a world on the brink of collapse, a quasi-Soviet City 17 full of abandoned houses and festering sewer pipes. So imagine a totally different version of the Valve FPS game, with rock music, swords, dual wielding, and Gordon Freeman with his shirt off. Imagine Half-Life – the characters, the weapons, the enemies, even the dialogue – but with all the mechanics and style of Capcom's Devil May Cry 5. And imagine you could play it right now. Welcome to Devil May Crowbar.
Essentially an overhaul mod for DMC 5, Devil May Crowbar replaces Dante with Gordon Freeman, Virgil with the G-Man, and Nero with Dr. Kleiner. And these aren't just simple reskins. Mod creator 'Sparky1j' works with a team of collaborators to record original dialogue for every character.
The impersonations are spot on (Gordon, in case you were wondering, speaks via the automated voice of the HEV suit) and all DMC's signature guns and swords are replaced by Half-Life-themed equivalents. Ebony and Ivory, for example, become Half-Life 2's pistol and magnum.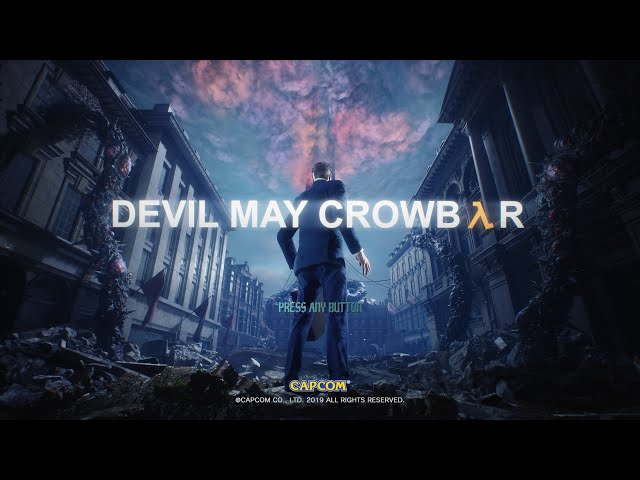 Even the enemies have been replaced. Throughout Devil May Crowbar you will battle Combine stalkers, Antlions, and gigantic versions of the City 17 Civil Protection. Oh, and when you activate Devil Trigger, you will now transform into Machinima icon 'Gorgeous Freeman,' complete with rippling six pack, underpants, and not much else. Also, the G-Man's 'sword' is his briefcase.
Available to download and play right now, if you want to try Devil May Crowbar, you'll first need a legitimate copy of Devil May Cry 5. After that, you can find the mod right here.
Big Half-Life and DMC fan? Try some of the other best horror games ever made. Similarly, if you've got the nostalgia pangs for Valve's iconic shooter, you'll want to play some of the best old games that you can still run on PC.