Once upon a time, 'first-person shooter' didn't mean shiny realistic graphics, stealth sections, or heartfelt stories behind dreadful deaths. It meant a burly protagonist with a gun surrounded by enemies you had to tear apart. Saibot Studios wants to take you back to that time with its new game Hellbound, a '90s FPS 20 years after the '90s.
What does that mean? It means that the studio is combining the modern aesthetics of smooth, glossy shooters with the speed, level design, and generally gory violence of titles like Duke Nukem 3D, Doom, and Quake from the '90s to create something new. Something called Hellbound.
Tobias Rusjan, game director at developer Saibot Studios, has been telling us about the making of Hellbound and why games like this are still in demand despite many major studios moving on to modern interpretations of the genre. "Fans of these games as kids are still gaming and feel nostalgic about old-school gameplay" Rusjan says. "Players miss games focused on action, where everything was just about shooting stuff, quick reflexes and big f***ing guns."
He may very well be right, as in recent years there has been a revival of these games with Ion Fury, Doom (2016), and Strafe. As it happens Hellbound's level designer Leonardo Pellegrini worked on Ion Fury in the same role.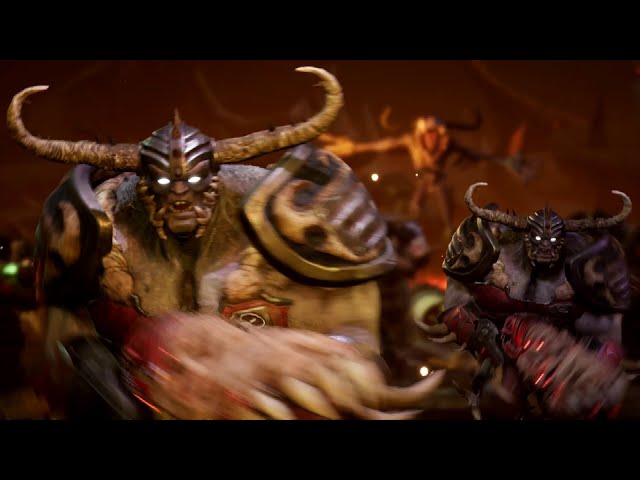 But let's start with what we all know to be the most important aspect of any FPS – the guns. For a shooter like this, Rusjan's goal "was to keep the mechanics simple, like the classics" and to achieve a "unique visual appeal". If you look at Hellbound's guns they're "made using metal combined with demons' parts, like skin and bones" to make them look truly "badass".
Although the team at Saibot Studios is small, their target quality goals are high. Unreal Engine offers a number of features to help small teams hit high standards, such as the Blueprint system. Blueprints are one of the best-known features of UE4 – a visual scripting system enabling even non-programmers to create gameplay elements that you'd normally need a coder to make, and with a quick turnaround. "Creating organic levels with a ton of different props that run at 60 frames per second was a big challenge for the Hellbound's single-player campaign," Rusjan says. When your maps are big and filled with highly detailed assets, Blueprints helps make them feel full and vibrant.
The original '90s shooters were really fast-paced and demanded a lot from your reaction times. "We went through a lot of iterations to find the right movement feel. In their beginnings, FPS games were very fast and responsive", Rusjan says, emphasising the importance of speed in Hellbound. To get the feeling just right Saibot "had to extend the character movement component a lot to achieve the movement feel of games like Doom and Quake, especially when dealing with things such as strafe-jumping and wall sliding."
Saibot choosing to make Hellbound in the Unreal Engine made sense, not only because of its creation capabilities, but also because of its long history with shooters. Back in 1998, Unreal wasn't an engine, it was a shooter that gave its name to its engine. "Even though UE4 is a multipurpose engine now," Rusjan says, "its shooter roots are a great baseline to develop FPS games. In our opinion, Unreal is the best engine for making shooters, period."
You might have noticed that we haven't really talked about the story, or the premise of the game. Although there is a cool story and a reason our hero Hellgore is beating up bad guys, extensive lore isn't in the style of the '90s influences. It's more about achieving seamless combat with a story knitted in, rather than the other way around. "Even though the stories in games like Doom and Duke Nukem could be summarized in a single sentence, their narrative elements contributed a lot to set their tone and their main character's identity."
But don't get Saibot wrong – the team certainly has a sense of humour when it comes to their boy Hellgore's character arc, "We want Hellgore to have his own personality and style so he can enter into this pantheon of one-dimensional heroes with grace!"
Hellbound will launch sometime later this year. You can learn more on its Steam page. Unreal Engine 4 development is now free.
In this sponsored series, we're looking at how game developers are taking advantage of Unreal Engine 4 to create a new generation of PC games. With thanks to Epic Games and Saibot Studios.