Holstin is a love letter to classic, old-school Resident Evil and Silent Hill that also integrates the light-driven themes of Alan Wake and yet feels fresh and distinctive on its own merits. A psychological horror game coming to Steam, Holstin is one of the most exciting games I've played this year, and you can try it out for yourself right now thanks to a free Steam download.
Holstin's environments immediately shine with hand-drawn pixel art and smooth animation; it looks so good, in fact, that I was stunned to realize that you can rotate the camera for a full 360-degree view, something you'll need to do to uncover hidden secrets in the environment. The demo offers a unique glimpse of the game – developer Sonka notes, "While the events happening in this demo are considered canon, this particular gameplay bit will not be included in the actual game."
As you start to wander through the dark house of the demo, the dynamic lighting system comes into play. The eerie '90s Polish town of Jeziorne-Kolonia is infested with puddles of filthy slime, from which burst forth harmful, red, tree-like growths. These block your path but retract when exposed to light, and you'll actually see them melt away in real time as you slowly open a door to let light flood into a room.
With just one fuse to hand initially and a single lightbulb between several lamps, you'll have to carefully switch on the lights in certain parts of the house to gain access to new areas. Holstein's fully realized physics system also allows you to freely move many small objects and even push some heavier furniture, changing the way light spreads through the environment and opening up new paths to explore.
The game is voiced in Polish, which only further helps to sell the environment alongside the haunting soundtrack. The few characters I've encountered so far – including stern overseer Anita, mysterious cupboard-dwelling child Maciek, and jovial security guard Wodnik – all left me wanting to find out more about their nature.
Just revealed and also playable in the currently available demo is a teaser sequence for the game's combat. If I wasn't already impressed by the game's ability to look good in a full 360 degrees, seeing the camera swing in behind protagonist Tomasz's shoulder for third-person shooting reminiscent of the more recent Resident Evil 2 remake would have definitely sold me.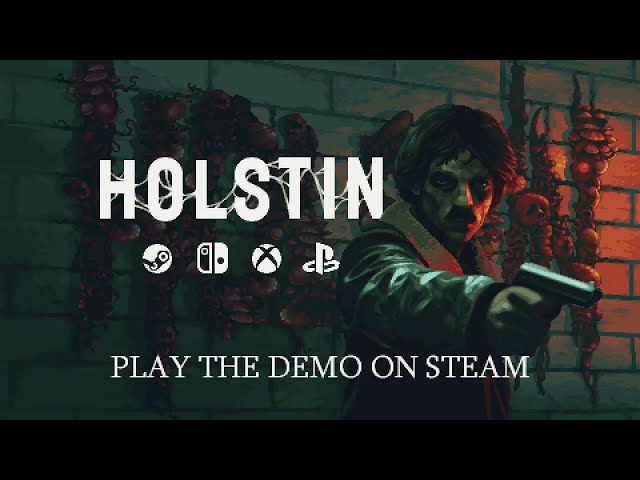 Whether you're a fan of classic horror games or someone looking for new and exciting entries in the genre, Holstin is absolutely worth your attention. You can download the free Steam demo now, which is set to introduce a third sequence later this year, or add it to your wishlist to keep track of it. Sonka has also announced that it'll be coming to PlayStation 4 and 5 alongside the PC release.
We've also rounded up the best indie games on PC for your perusal. If you'd prefer something a little less spooky but still packed with puzzles, have a look through the best adventure games and see what you can pick up.