Gravity can be such a pain. It's so selfish, always holding you back and dragging you down. Thank goodness, then, for the proliferation of games which take issue with that pesky weak force. Hoverloop is the latest in a long line of aggressive anti-grav games – one that stretches back into the mid '80s, but was popularised in the '90s by racers like F-Zero and Wipeout – to turn its nose up at the tedious notion of surface friction.
Not A Company's entry into this pantheon ditches circuits to focus on multiplayer arena combat. In it you pick from a lineup of drones with unique abilities, then duke it out across ten different game modes. You can play solo or in four-player splitscreen – online multiplayer will follow when the game leaves Early Access later this year – against your friends or take on groups of enemy bots as a team.
"Think of it as the lovechild of Unreal Tournament and Rocket League," Not A Company founder Philippe Mesotten tells us. "In deathmatch, for example, you have to shoot everything that moves. Not only does your kill count matter, but also how you made those kills. You win the match by getting the highest viewer count of all the players and you get that by doing spectacular upside-down kills, quadruple kills, aerial shots, you name it!"
Each match takes place in one of Hoverloop's futuristic, neon maps and, like a puck on an air hockey table, your drone glides swiftly through the glossy levels. If you want to get fancy, you can even partake in a graceful aerial stunt or two.
This 'The Running Man but with curling stones' fever dream is being assembled by a small, two-person team, but punches above its weight visually thanks Not A Company's adoption of Epic's Unreal Engine.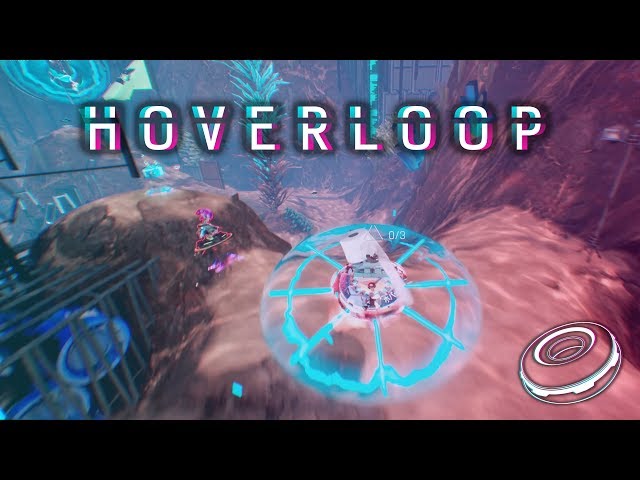 "It gives tiny development teams a huge range of tools to create games that are not only fast, but also perform beautifully," Mesotten explains. "The extensive Blueprint system lets artists like me create reusable, modular art and even game mechanics. With it, I can take an idea in my head and turn it into a playable game, which I would probably have struggled a lot more with using C# or C++."
What kinds of ideas are being manifested, you ask? Well, before each match, you can pick your favourite drone accessories like skins, hats, and trails. There are menacing Viking helmets, and pretty pink bows, but to make the most intimidating impression you'll want to pick the giant toilet roll that leaves a few loose sheets flapping behind it in the breeze.
"Well, it is necessary to have it handy to wipe away all those puny losing enemy tears!" Mesotten points out. "And it's my favourite hat!"
We wholeheartedly approve of this use of resources. There's still a little way to go, however: Not a Company's successful Kickstarter campaign raised €15,000 in 2017, and the team launched it via Steam Early Access in January. The game's vocal community has helped hammer out some of the kinks, too.
"Starting off with a very wonky movement system," Mesotten recalls. "We used lots and lots of inputs and iterations to try and nail it. And I think, with their help, we finally got it right. Some people also like to play the game and make huge lists of bugs which they post. Who needs a QA department?"
Competitive type? Check out the best multiplayer games on PC
Not A Company has plenty of ideas for Hoverloop in the future, including an inverted gravity mechanic that lets you jump seamlessly from ceilings to floors. But if you want to jump in now, you can play it for free on Steam.
Hoverloop is available in Steam Early Access now and is free to play. Unreal Engine 4 development is now free.
In this sponsored series, we're looking at how game developers are taking advantage of Unreal Engine 4 to create a new generation of PC games. With thanks to Epic Games and Not A Company.