You've probably heard of I Am Bread. A truly original breakout hit of 2015, you played a literal slice of bread on an utterly weird journey to become toast, featuring crossovers with Team Fortress 2 and that other play-as-weird-thing classic, Goat Simulator.
I Am Fish is the latest title from developer Bossa Studios, and with four plucky characters with different abilities, plus an art style and storyline straight from a Pixar film, it seems we can expect more depth in the gameplay and even more charm. As the title hints, you are (a) fish, and you've been forcibly separated from the friends you made in a pet shop fish tank. In a bid for freedom and friendship, you'll make your way from the charming cul-de-sacs of Barnardshire, the smallest county in England, to the open ocean, where you hope to reunite with your pals.
Such pals are cheerful and courageous Goldfish; kind-hearted Pufferfish, who can inflate into a ball and roll across land; bitey and unpredictable Piranha; and Flying Fish, who can glide through the air even while they pretend to be 'above it all'. Each can navigate the world in different ways as you seek to get the gang back together.
The notorious difficulty of I Am Bread came through a set of esoteric controls in which the player moved by manipulating the corners of the titular slice individually. I Am Fish will present a similar level of challenge but the controls will be simpler and more intuitive. During your bid for freedom, you'll navigate sleepy Barnardshire in a variety of vessels from fish bowls to janitors' water buckets by swimming against their walls to impart momentum.
Your mastery of simulated physics is the difference between escaping to the ocean and flopping around on the street as you navigate real-world obstacle courses, such as packed nightclub floors, suburban gardens full of trampolines and swimming pools, or even the local sewers. Check out the new 'o-fish-al' reveal trailer below: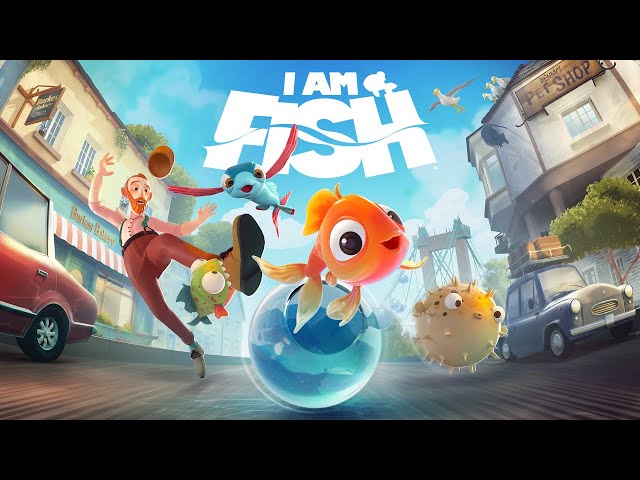 If you'd like to see the game in action, head to Twitch, where a number of major streamers will be playing I Am Fish over the next few days, including Dan TDM (going live at 12.30pm Pacific / 8:30pm BST on May 27), Lirik (live at 3pm Pacific / 11pm BST on May 28), and DrLupo (live at 8pm Pacific on May 29 / 4am BST on May 30).
And if you're ready to explore a bright and colourful world from the natal serenity of a goldfish bowl yourself, we're thrilled to share that we're partnering with Bossa in raffling off a whopping 1,000 keys to an exclusive playtest of I Am Fish. This will run from June 1 to June 15. Take a look at the widget below – each action is worth one entry into the raffle, so be sure to complete them all for your best chance of winning.