Just over one year ago, Jack J Williams, a seasoned data scientist in the UK's finance industry, quit his job and decided to apply his skills to help his fellow League of Legends players. His goal was to change the esports scene for the better, empowering gamers to make better picks and learn as they played.
At the time, his father had some words of encouragement as he assured him that "at least when it doesn't work, you'll have a real job to go back to." Flash forward to today, and Jack is now the CEO and Chief Data Scientist of his brainchild company, iTero Gaming. Having released the iTero Drafting Coach on the Overwolf platform, the dream of an app that helps LoL players make better draft picks and significantly improve their win rate has been realised.
So how did the idea get from a simple seed to a flourishing app? And how can the iTero app help you maximise your performance when competing in LoL? We've dug into the history of the company and its founder to find out.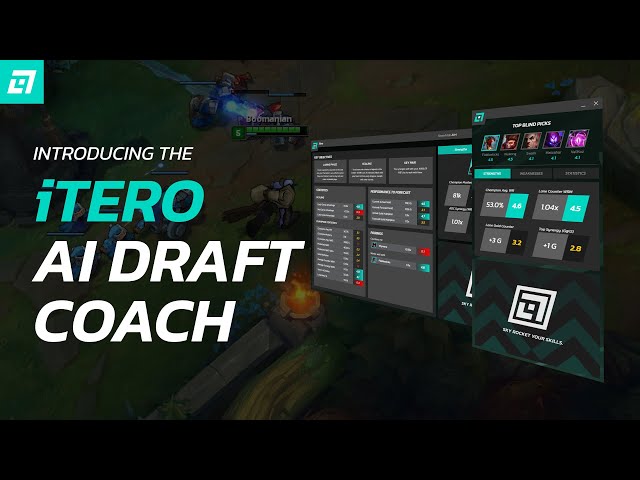 Early obstacles
Creating an app from scratch is no easy task, but with years of experience in both LoL and building AI models, Jack's initial idea soon began to take shape. His original plan was a tool purely for professionals, designed to boost the performance of esports teams by optimising their draft picks.
The first real problem was finding early adopters. "I started out working with some big names in esports to build the models and demonstrate their potential," says Jack. "But even though our pilot showed significant promise for in-game performance, there simply wasn't enough funding in the ecosystem to justify working on it full-time."
At this point, Jack saw that he could either stick around until the esports market embraced in-house data scientists, or widen the appeal of the app and take on new staff with a range of skills from UX to marketing, building something that would serve the everyday LoL player.
Building momentum
He was still considering his options when he was approached by Kesem Fine, a Business Development Manager from Overwolf. Overwolf already had several LoL-specific apps on their platform and were well-versed in helping creators build their own apps, but Jack's algorithm presented them with something unique. "We have many different LoL apps in the store," says Kesem, "but Jack's idea and technology was something brand new, with a unique value proposition for our audience."
Jack was happy to learn that using Overwolf's platform to develop an in-game app for LoL made development much more approachable, but Overwolf had an even better suggestion.
"Kesem helped me apply to the Overwolf accelerator program," recalls Jack, "and after I got in, they set me up with a frontend developer to create the app and a designer to make it look great; all I had to do was the stuff I do best – develop the AI."
Less than three months later, the iTero app was ready to go. The launch in 2022 allowed everyday LoL players to utilise the app's unique algorithms, meaning that the soft-ceiling most players hit eventually can be surpassed with ease. Practice makes perfect, but the iTero app was designed with the view to help players once they feel they've gone as far as they can go on their own. With the app as your companion, you can turn your LoL game up a notch.
Signs of success
The iTero app gained traction immediately, with over 75k active users just a few months after launch.
"Progression in League of Legends is a numbers game," explains Jack. "Giving players a 5% higher win rate may be all that takes them up to Diamond this season." If you're looking to make that jump from good to legendary, the app might just give you the boost you need.
iTero the company now has four employees and big plans for the future. iTero the app is available currently on the Overwolf platform. Once downloaded, it will automatically run alongside your League of Legends game, suggesting creative and statistically-driven picks before you start and rewarding you with heaps of valuable information during and after play.
If you want to try out iTero for yourself and level up your draft game, you can download it for free from the Overwolf Appstore.