April 19, 2019 All screenshots and the full video are now available to view.
Nearly 30 screenshots allegedly depicting Left 4 Dead 3 have now been released to the public, after being teased yesterday. YouTuber Tyler McVicker said that the images will be shown off in a video he would be releasing today, which he's now done – and you can check out the video below.
In a tweet yesterday, McVicker, who is known for his in-depth coverage of Valve and its games, said that "a video on nearly 30 leaked screenshots from Left 4 Dead 3 will be released tomorrow at 09:00 EDT [06:00 PDT, 14:00 BST]." McVicker's Patreon backers had access to the new video at time of writing, and now this first possible taste of Left 4 Dead 3 has left the paywall and is now viewable to the public.
The images show off what McVicker states was likely intended to be "an original level" of Left 4 Dead 3, "built within the assets set of the [Counter-Strike: Global Offensive map] Dust II remake, being themed around a Middle-Eastern Kasbah."
The images within the video depict a large castle with enhanced lighting based on where you are in the level under a broken skybox, but McVicker says that they are "likely one of the largest looks we're ever going to get on Left 4 Dead 3." You can now check out the full video here: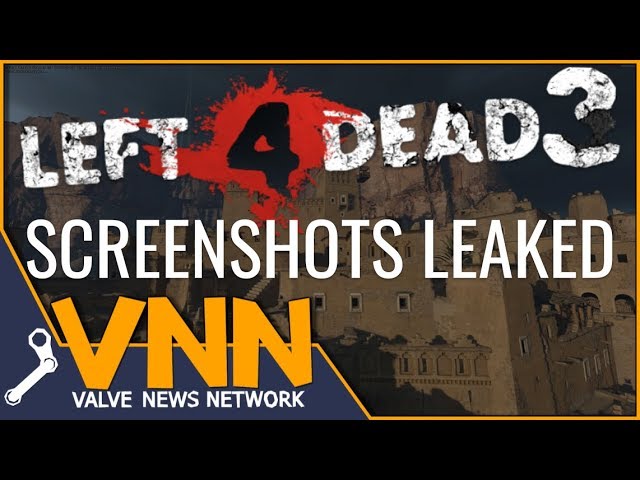 The screenshots in the video are reportedly from a 2013 version of the game built in the Source 2 engine, and it's widely believed that L4D3 was cancelled in 2017. Even if that weren't the case, the game would have had to have been in development for more than six years at this point, and with the upcoming release of Back 4 Blood – a zombie horde game made by the original creators of the Left 4 Dead series – I imagine we'll never get a better look at where Left 4 Dead could have gone next.
Related: Here's everything we know about Left 4 Dead 3
McVicker has previously discussed what Left 4 Dead 3 could have been on his channel, and says that goes into a few of the changes that would have been made. The game would have featured eight playable characters with individual strengths and weaknesses, and would have offered crossplay with VR. For now though, all we've got are 29 screenshots without a single zombie in them.