Logitech has announced the Logitech G Adaptive Gaming Kit, a collection of buttons, switches, and hook and loop pads that can be easily configured to suit a variety of accessibility requirements. Connecting to Microsoft's Xbox Adaptive Controller, and with a price tag of $99, the kit will allow a greater number of people to access and enjoy today's best videogames.
Microsoft launched the Xbox Adaptive Controller just over a year ago. The device features a vast array of inputs for all sorts of devices, 19 in total, each one capable of connecting to a switch, button, or other peripheral for a full range of inputs. Logitech's Adaptive Gaming Kit takes this game-changing venture one step further, and is comprised of a selection of useful inputs compatible with the XAC for just $99 (£90).
"The big opportunity we saw was to address the barriers to entry for the accessories people needed to get the most from their XAC," the press release reads. "For example, the cost of individual buttons can start at $40 each and go up from there, which can quickly become complicated and expensive. As leaders in the gaming space, we believed our engineering, design and manufacturing teams were uniquely positioned to help solve this problem.
"With a shared vision to bring a greater level of accessibility to all gamers, the team at Logitech G jumped into action to design a product we thought could help."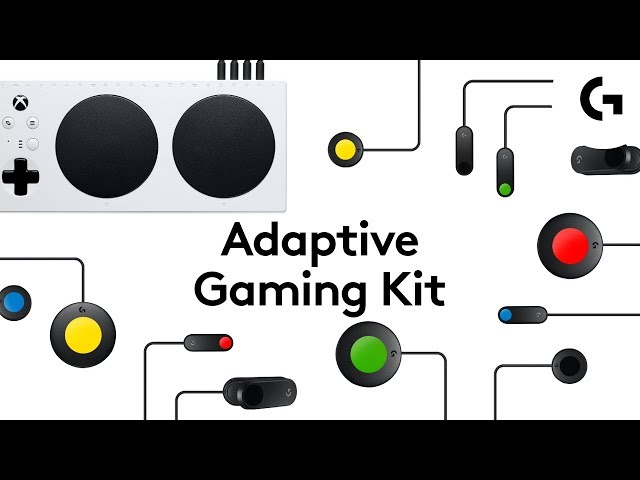 The Logitech G Adaptive Gaming Kit includes:
Four light touch buttons
Two variable triggers
Three small buttons
Three large buttons
Rigid hook and loop Game Board
Flexible hook and loop Game Board
Labels
Hooks and ties
Logitech also sought advice from some of the most well-recognised charities and games accessibility specialists going when building the Adaptive Gaming Kit. These include Cherry Rae, SpecialEffect, and The Able Gamers Charity.
The Logitech G Adaptive Gaming Kit is currently listed over on the Logitech G website as "coming soon", so keep an eye out there for availability. The Xbox Adaptive Controller required is available for $100 over on the official Xbox website.