Many puzzle games put you under undue pressure to solve their mysteries, and that's probably not what you want after a long day of work. Call us traditionalists all you like, but we much prefer having as much time as we need to pick apart a game's toughest head-scratchers, thank you very much. Most of the time we just know we could have got to the solution if it weren't for an overzealous timer throwing us off.
The Sojourn is a wistful puzzler that understands exactly this. Timer-based puzzles have their place in the genre, yes, but this is a soothing indie experience that proves those cogs behind your eyes can work without spinning out of control. In an abandoned space with only the tinkling of stringed instruments and expressive statues for company, you're handed the tools to unravel this enigmatic narrative in your own time. Bliss.
"We're going for a more relaxing, spiritual experience," Niels Koojiman, head of marketing at Iceberg Interactive, tells us. Your ambling walking speed feels as if you're walking through mystical treacle, but it forces you to acclimatise to the thoughtful pace of this peaceful world, now inexplicably deserted as it falls languidly into place in front of you.
Unreal Energy
The crux of The Sojourn's conundra lie within the dark world, an alternative reality that plunges its soft, pastel shades into the deepest midnight magentas. You'll glimpse this other world when you step into the flames scattered across the game. It's not just the colour of the environment that changes, however: smooth battlements become jagged, pulsating with an unearthly energy. Cryptically, and counter-intuitively, Shifting Tides call this space, "reality."
Ominous forces aside, we need this alternative world to progress as it imbues the light world with the bridge we need to cross a chasm. The flame we've absorbed gives us an energy bar that's exhausted not by time, but movement. On the occasions we encounter a tricky puzzle, or realise our approach is wrong, we can stand motionless, letting everything fall into place in perfect, lazy concentration. When its riddles do get harder, The Sojourn allows you the space to enter a trance-like, meditative state.
It's the game's subtle audio design that shifts a lot of the weight that comes with achieving a sense of calm through mentally taxing tasks. But Aria Esrafilian, team lead at Shifting Tides, tells us, "the key is to combine mechanical satisfaction, music, sound effects, and visuals to deliver a flow that is seamless while being thought-provoking throughout. Unreal Engine allowed us to have full control over the timing of the player's experience, tweaking almost everything with proper curves and algorithms."
The team utilised sound cues, sound classes, sound mixes, and other tools that UE4 offers to orchestrate a very different sensation and atmosphere when you enter the dark world. "There are lots of musical cues, effect ducking, pausing, and other controls trigger throughout your use of that mechanic," Esrafilian says. "This makes it sound wildly different from when you're not using that mechanic even though you might not consciously note the transition, which is exactly what we're going for."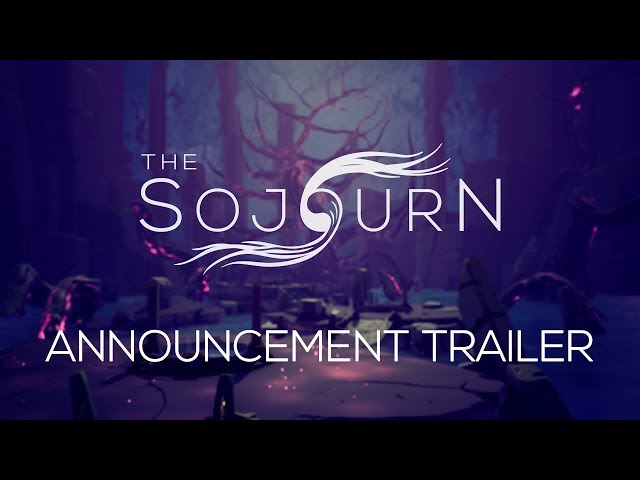 The Dark Zone
Unreal Engine didn't just assist on the audio side, but helped in transforming The Sojourn's visuals to realise its darker reality, too. "One of the most powerful aspects of UE4 is the amount of freedom and control it gives to developers across different disciplines, especially in the visuals department," Esrafilian says.
"By utilising its robust rendering engine and combining its versatile particle, material, and post-processing systems – combined with Blueprints – we could continuously establish our creative vision in-game."
Alternative worlds: Sojourn through the best indie games on PC
In The Sojourn, the puzzles exist beyond getting from A to interdimensional B. Like countless indies, this is a game heavily inspired by thatgamecompany's Journey, specifically its mastery of show-don't-tell storytelling. Redolent of Everybody's Gone to the Rapture, beams of light eagerly guide you through the world. Statues of families enraptured by familial bliss – long gone by now – punctuate your gradual trudge. It's up to you to fill in the narrative gaps; it's like an optional narrative puzzle where story is the solution.
"The game really respects the player's intelligence." Koojiman says. "That's what we enjoyed about Journey: there was not a story literally being told, but as with The Sojourn, the story itself is the experience."
The Sojourn releases summer 2019 on Steam, PS4, and Xbox One. Unreal Engine 4 development is now free.
In this sponsored series, we're looking at how game developers are taking advantage of Unreal Engine 4 to create a new generation of PC games. With thanks to Epic Games and Shifting Tides Studio.