The original Microsoft Xbox Elite controller was a masterpiece in high-end PC paddery, even if it was actually designed primarily for a console audience… And the Xbox Elite Series 2 has built upon that heritage to create arguably the best controller for PC gaming ever made.
I only say 'arguably' because whenever I say anything about gamepads someone pops up to geeksplain how actually I think you'll find the Steam Controller is a far superior piece of tech that tries to do more than a standard gamepad, and you're just not using it right, and are obviously not smart enough to put the effort into getting the most out of The Gabe's wonder pad.
I mean, they're wrong. It's a poorly built controller that's trying to do some smart things, but can only ever deliver a poor facsimile of the level of command a dedicated controller would be able to offer. But there's a level of contrarian superiority that seems to stem from the pain people go through in order to 'master' the Valve pad, and they just won't shut up about it. How can you tell if someone owns a Steam Controller? Don't worry, they'll tell you.
But I digress… It's been a bizarrely long while coming, but finally Microsoft has shipped the Xbox Elite Series 2 controller and it's a doozy. It's still strange the company has announced the next generation of Xbox games consoles launching next year, and has still decided to release a new $180 (£160) version of the Elite gamepad despite there likely being a whole new design coming with the Xbox Scarlett console in 2020.
You won't hear me complaining, however, as I'm a PC gamer and this is hands down the best PC pad around right now. And until Microsoft go all out on the Series 3, once the next-gen consoles have launched, it's going to stay that way. There are already a host of third party controllers that have the same, or similar, functionality, but the Microsoft build quality on display in the Elite Series 2 gives it a feel you don't find elsewhere.
| | |
| --- | --- |
| | Microsoft Xbox Elite Series 2 |
| Connections | Xbox Wireless, Bluetooth, USB-C |
| Battery | Built-in |
| Battery life | Up to 40 hours |
| Haptic feedback | Impulse Triggers and rumble motors |
| Audio | 3.5mm jack |
| Weight | 345g |
| Price | $180 | £160 |
So, what's changed with the new pad compared with the last-gen offering? The Microsoft engineers have re-tooled the insides of the Series 2, tidied up and added different connection offerings, improved the triggers and thumbsticks, and basically tuned the experience to a higher level.
The key physical differences are those thumbstick and trigger improvements. The triggers now have three different levels of depth to them, instead of the previous dual configurations. That means you can now have a full length travel, allowing you greater analogue throttle control for example, a half-length setting, and a super-short actuation that makes the trigger feel more like a regular bumper button.
A hair-trigger, so to speak.
That's a relatively basic change, but the tweak to the thumbsticks has a much more immediate impact. One of the few places where the original Elite controller fell down was in the thumbsticks. The replacement policies for the Elite controller was excellent, but still the frustration having to RMA an expensive pad because the thumbstick had shaken loose was a pain. The new thumbsticks feel a lot tighter, and not only because of the adjustable tensioning system on offer.
They feel more sturdy and robust, but they also come with three distinct stiffness settings. On the most aggressive setting they require more force to shift, making movements more deliberate and making it quicker to return to centre. Though never loose, on the lightest setting the sticks are more reactive to smaller movements of your thumbs, and can potentially be more accurate. Though also require more concentration too.
The other big change is the battery. No longer will you have to go fishing down the back of the sofa for a spare AA when your pad's batteries run dry, because the Elite Series 2 now contains a ~40hr rechargeable pack installed inside the controller.
That can either be seen as a blessing or a curse – it means you don't have to carry spare AAs around with you, and you can plug, charge, and play all at the same time, but it also means that should the inevitable happen down the line and the inbuilt battery starts to lose charge it's going to be a lot tougher to replace.
There's a handy little dock you can sit your pad atop to charge, or you can wire directly into your PC via a USB-C cable. You can even keep the dock in your carry case and wire through to have that act as your charging dock. How cute. Keeps the dust away when you're not using it too.
The other changes are a lot less exciting. You can now have three, rather than two, profiles saved to the controller – three seems to very much be the magic number for the Elite Series 2. +
The paddles on the rear of the controller require a little more pressure to actuate, so you'll find them clicking less often if you put the pad down somewhere. And all the buttons and profiles can be configured wirelessly via the Xbox Accessories app… so long as you have the latest version of Windows 10 that is.
You still get the magnetically attached, changeable thumbstick heads, and D-pad, though the offerings are different than with the OG Elite. There used to be a pair of long-boi thumbsticks to use on the Elite, but with the series 2 you only get one of them, a single domed head, and a pair of wider heads.
And sadly they're not interchangeable from generation-to-generation.
But that's not such an issue, because honestly I don't think I would recommend anyone who has bought an Elite pad, and are happy with it, to make the 'upgrade.' Don't get me wrong, I still think the Elite Series 2 is an excellent gamepad, and personally I think it's now the best PC controller you can buy. But only because it's exactly like the OG Elite only more so.
The original was so good that so long as your pad is functioning I don't think you're really going to get a lot from making the switch. The new features do make it objectively better, but the core functionality and feel remains the same… which is to say, great. The built-in battery is way more convenient, the added trigger setting, and the extra tensioning of the thumbsticks is handy, but that all feels kinda cosmetic.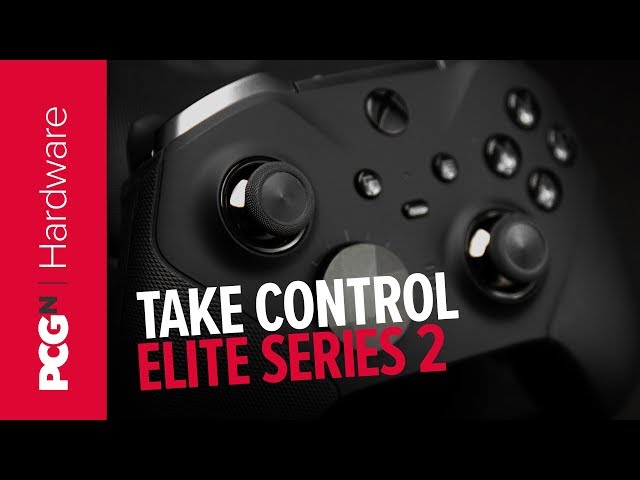 That might sound like I'm being negative, but it's only because I'm such a fan of the original pad. It was so good a host of peripheral makers, from Razer to Nacom, have tried to emulate it, even to improve on it, but none have managed to best the solidity and comfort of the Elite.
And that still stands with the Microsoft Xbox Elite Series 2 controller, it's taken all the best bits from the original, absorbed the extra features third party pads have come and offered, and created the absolute best PC controller around.
Microsoft Xbox Elite Series 2
The Series 2 is the best PC controller you can buy, but it's very much evolution rather than revolution. If you're already rocking an OG Elite then I would struggle to recommend it as an upgrade.