No Man's Sky Beyond is here, the next chapter of Hello Games' epic sci-fi sandbox – and it brings with it a host of incredible new changes, that really shake up the game. That includes everything from turning the game into a full MMO to complete VR support, with overhauls to pretty much every part of the experience.
No Man's Sky is now very different game, and Hello Games has released the full No Man's Sky Beyond patch notes to prove it. It's hard to point a finger at the biggest changes being made to No Man's Sky in this Update 2.0 – as Hello Games calls it – but one of the most significant game-changers (literally) is the relaxing of inventory requirements.
Previously No Man's Sky was a game infamous for requiring players to constantly go back and forth between their ship and the resources they needed – now inventory limitations have been relaxed, so players can carry "near-unlimited quantities" of any substances they require – specifically, the storage slot limit has been raised from 250 to 10,000. That's quite a change.
Another welcome change is to the Sentinels. Previously these guardian robots would take offence whenever you so much as looked at a rock near them, now Sentinels have become "less frequent and less aggressive" so players can mine without interruption. The overheating mechanic for the mining beam has been reworked too, so you actually get more rewards for pushing the beam harder.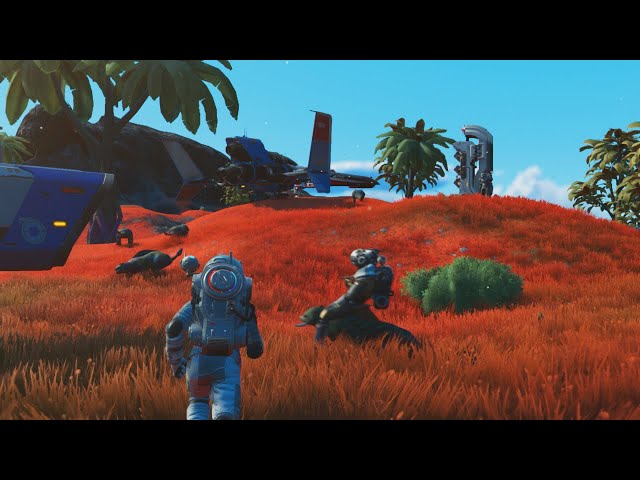 Other welcome quality of life issues addressed by the patch include being able to move already-installed technology, being able to install that technology in stages – much like repairing – instead of all at once, and optional automatic rechargers for starship thrusters.
There's a load of new NPCs wandering the galaxy, and dialogue has been improved – both the words and the dialogue boxes themselves. NPCs will actually explore and interact with the environment now – for example, they will sit in chairs. You can sit in chairs, too. Phew. You'll even be able to find NPCs on planet surfaces now, too.
You can check out the full patch notes here, which are pretty sizeable. Nearly every part of the game has been tweaked in some way, so if you've been holding off heading back in – now might be the time to give No Man's Sky another chance.