Once upon a time there were no gaming keyboards. We know, we know – but try to imagine. People used basically the same limited array of dutiful beige rectangles, regardless of how they spent their time with their personal computers. Office workers, Britannica Encyclopaedia CD-ROM enthusiasts, and Monkey Island aficionados alike, all clattering away on the same basic bro boards.
The landscape looks very different now of course. But amid the rapid pace of change that's seen high-end mechanical switches, kaleidoscopic RGB backlighting, and macro functionality become increasingly commonplace, we haven't had all that much chance to take a knee and wonder: what makes a gaming keyboard better suited to gaming than the basic models gracing office desktops and, indeed, our own setups of yesteryear?
With that in mind, let's take a look at some of the key features of a gaming keyboard like the OMEN Sequencer, and break down what they do, how they work, and the advantages they'll give you in games.
There are five things to consider before taking the plunge and buying a keyboard:
N-key rollover
You'll see this a lot in gaming keyboard specifications, and it sounds a bit more mathematical and complex than it is. Essentially, rollover means the number of key inputs that your keyboard can understand when pressed at once – think of it like polyphony on a synth. Not so long ago, in the days of Windows XP, many keyboards still didn't have a rollover higher than two. If you're playing a shooter, you're inputting separate key presses for each direction of movement, reloading, crouching, jumping, and more – two keys at a time is limiting.
Gaming keyboards eradicate the possibility of inputs not being registered by over qualifying themselves – you only have ten digits, and thus realistically ten inputs at once unless you decide to play patty cake with your keyboard. An N-key rollover registers all inputs, regardless of how many are pressed simultaneously.
Anti-ghosting
Further to that end, anti-ghosting works on all fronts to make sure no inputs are missed. That might include hardware limitation to read simultaneous key presses, software limitation on the PC to interpret them, or a limitation with the communication protocol between the two. Anti-ghosting has your back so you don't have to worry about any of these problems. You couldn't say that about the beige wonder you used to navigate '90s floppy disks with.
Response time
If the terms we've covered until now are all about making sure your key presses actually register, response time measures the speed they're registered. While there are a few different factors that control this – such as the amount of travel on the key, and the switch type – response time is usually a reference to polling rate.
How many times does the keyboard check for inputs per second? If a board has a 1000HzZ response time on its specs, it'll check 125 times every 8ms. That'd cover even Franz Liszt.
Why does it matter in games? It depends on the genre, but most competitive titles offer an advantage to players who can input their commands quicker than anyone else. If your brain's going faster than your opponents', you want your keyboard to carry over that advantage in response time.
Macro keys
Using a macro key on a keyboard equipped with them allows you to fire off a string of inputs with one press. First you need to record the inputs you'd like saved to the macro button – perhaps a keyboard shortcut for 'Build Archery Range' in Age of Empires II, Shift+; by default. Once done, every time you hit the macro key the game will register all the key presses needed to fulfil the command.
Modern gaming keyboards have about 20x the circuit density of entire computers from the seventies, and part of that computational heft is onboard memory that can handle surprisingly long strings of commands – believe it or not, you could even record a macro to race a lap in Forza, or complete a Trials run.
The benefits are obvious: speedier inputs, less wear and tear on your precious fingers, and show-off appeal.
Mechanical switches
Prior to the gaming keyboard revolution of the 2010s, nearly all keyboards you'd find hooked up to a PC were membrane keyboards. Underneath the keys on this design lurks a pressure pad, or membrane, laid out over a flat surface. Press the key, exert pressure on the pressure pad, register an input. Simple.
Before membrane keyboards ruled the roost though, mechanical switches were often found on computer keyboards. As we've looked for higher performance from our gaming peripherals, they've made a massive comeback in recent years.
On a mechanical keyboard, every key covers an individual spring-loaded switch. Switch types vary and are often color-coded to indicate differing levels of feedback, 'click', or tactility.
Where they beat membrane boards for performance is in precision of input and rollover, however. Since a membrane pressure pad is one piece, by design it'll struggle to make sense of several inputs at once. A mechanical board's switches are all individual, so precise inputs are a cinch.
Optical switches have evolved this technology even further, keeping the same characteristics as their original mechanical counterparts, but changing up how the input is received. Instead of metal contacts banging away for a physical input and degrading over time, optical switches use a laser to register a click, reading your keypresses faster and preventing some of the usual wear-and-tear.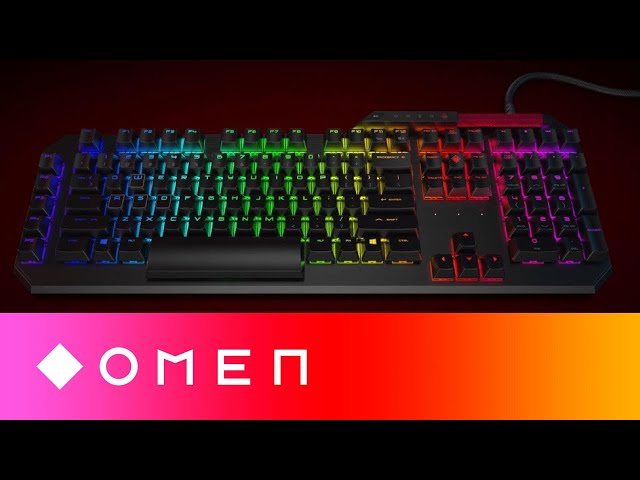 Different gamers will want different things from their keyboard – esports aficionados need the fastest response times, for example, while MMO maestros pack as many macro keys in as their fingers can reach. But choosing any one of these features doesn't have to come at the expense of another when you go with a keyboard like the OMEN Sequencer.
You can get your hands on the Sequencer gaming keyboard over on the HP Store today.
All these features are brought together in the OMEN Sequencer. Boasting five macro keys, n-key rollover with 100% anti-ghosting, RGB backlighting, and the firm's own optical-mechanical Blue switches, every aspect has been designed for gamers.