Overwatch has launched its eagerly-anticipated new map, the Cuban-themed Havana, and it's the game's latest escort map. The map has been on the PTR for a little while, but it's launching now on the live server for the first time.
It's been rumored for a while that Overwatch's next update would take it to Havana, and it seemed to be suggesting a brand new Overwatch Archives Event. This may be still to come, but for now players will have to make do with "just" a new map to play Escort on – making sure a truck of rum barrels gets to their destination at the Don Rumbotico rum distillery.
The Overwatch Havana map comes as part of the game's latest patch, which brings Overwatch up to version 1.35.1.1. While the new Escort map is obviously the highlight, the update also includes two new Legendary skins to celebrate the Overwatch League 2019 All-Stars. These skins will be available from now, May 7, for two weeks – until May 22. They include 2019 Atlantic All-Star Mercy and 2019 Pacific All-Star Lúcio.
As the patch notes explain: "Battle your opponents through the alleys until you reach the Don Rumbotico rum distillery, a once little-known local treasure that has recently earned international acclaim. Finally, guide the jalopy through the distillery to its destination at the Havana Sea Fort, a historical landmark recently purchased by an anonymous financial group and closed to the public."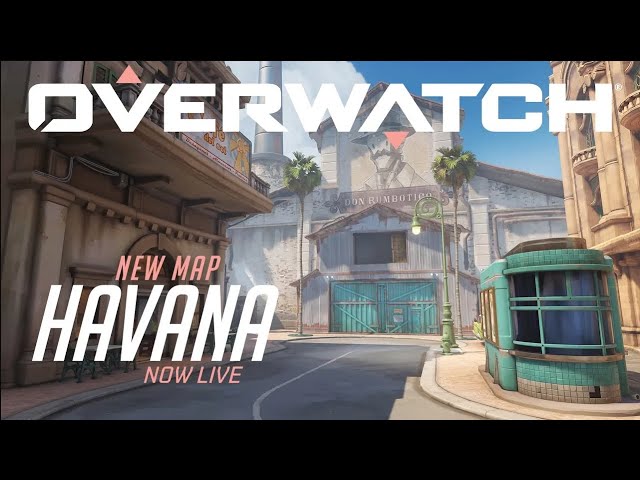 There are only a few bug fixes with the new patch, and they're mostly focused on Havana – presumably an update for the version on the PTR.
Fixed text errors on Taller de Sebastián and several posters
Fixed a bug where players would slide along the bottom of the pillars and the wall corners on the second floor of La Euforia
Fixed an issue where players could become stuck on the Yucca plants
Got to watch out for those Yucca plants.
Related: Here's a refresher on new hero Baptiste's abilities
For the past two years, Overwatch Archives events began in the second week of April and ran until the end of the month, and players were expecting Havana to be the focus of the next one. Obviously the event is a little late now, but it's entirely possible Blizzard could spring it on us this month instead. Whether it'll be based around Havana, though, is up in the air again.