February 25, 2020 Overwatch's Mardi Gras event is officially live.
It's official – Overwatch has a Mardi Gras event. It's a low-key affair, as the early leaks suggested, offering no more than a small selection of challenges for some unique new cosmetics (the emphasis is really on the experimental 3-2-1 role lock), but those options do include a snazzy new Ashe look. Here's how to unlock the Mardi Gras Ashe skin, and all the other unique cosmetics.
In-game rewards for Ashe's Mardi Gras Challenge are simply tied to wins, whether they be in Quick Play, Competitive, or the Arcade. Three wins will get you new player icons with a seasonally dressed Ashes and BOB. Six wins gets you a Carnival mask spray. And nine wins will get you the Epic Mardi Gras Ashe skin, complete with decor for BOB, too.
A bunch of new sprays are tied to Twitch drops, too. All streams under Twitch's Overwatch tag are eligible. Two hours of streams will get you a Hammond spray, four hours will get you a Torbjorn and Brigitte combo and Zenyatta, and six hours will get you McCree, Reaper, and Lucio. All the sprays are properly Mardi Gras-themed, though sadly it looks like the other heroes aren't getting the full skin treatment yet.
All the rewards are available until March 9.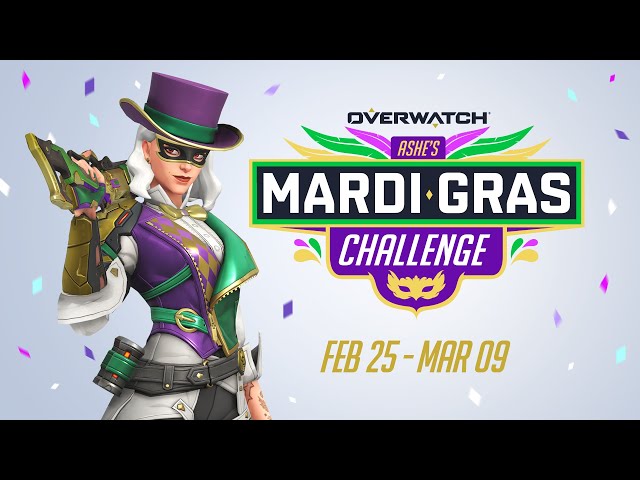 Meanwhile, the Overwatch 2 release date is looming at some point in the distant future, but you can follow that link for details on everything we know so far.