The Overwatch Summer Games 2018 are here and – of course – that means there are a whole host of new skins and cosmetics to unlock and enjoy. The event just went live and is scheduled to run until the end of the month, concluding on August 30. The event also sees the return of Lucioball, this time set in a new arena so you'll have some fresh scenery in which to kick the ball around.
Blizzard has teased out a bunch of the best new skins over the past week, with Waveracer D.Va making a particularly strong impression in the early going. (You can't argue with boardshorts and ocean mech patterns, I suppose.) The men of Overwatch aren't blessed with anything quite so sexy as last year's Lifeguard McCree, but Fastball Zenyatta and Gridironhardt certainly bring a sporty cool factor to those respective characters.
The game's going all in on puns this patch, too, as the developers have finally renamed Buccaneer Junkrat to Bilgerat. Cabana Ana also suggests a bright future for fans of wordplay.
Perhaps more significant than any of the summer items, this patch also sees the support rework go live. That means Mercy nerfs and buffs for just about everybody else with a healing option. No surprises, since these changes have been in the PTR for a good while, but they're now here to shake up the live game.
But hey, you're probably here to see the new stuff – check out the highlight trailer below, and keep on scrolling for a closer look at all the coolest options.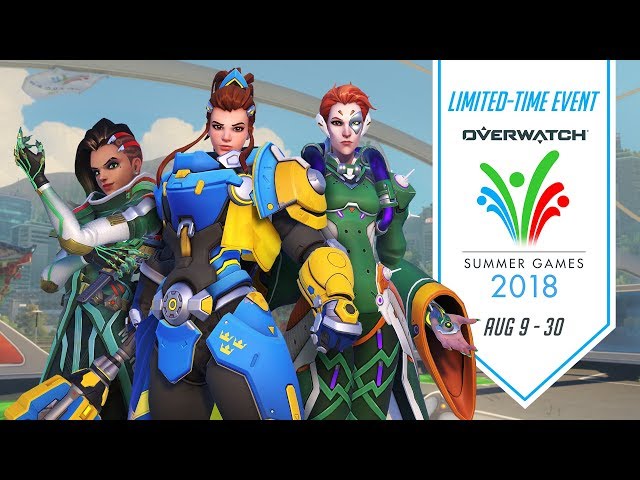 Summer Games 2018 legendary skins
Waveracer D.Va
Cabana Ana
Catcher Winston
Fastball Zenyatta
Gridironhardt Reinhardt
Lacross Roadhog
SUMMER GAMES 2018 Epic SKINS
Mexicana Sombra
Tre Kronor Brigitte
Ereannach Moira
We've just seen the launch of Wrecking Ball, but it's never too early to start speculating about more new Overwatch heroes. Follow that link for an entirely likely, realistic, all-but-guaranteed breakdown of what's coming next.