Overwatch fans have been wanting a faster moving meta for a while, and now developer Blizzard may just have answered those prayers. The company has announced some big changes coming to the team shooter in the "early February" 1.45 patch, starting with Hero Pools.
From the start of the upcoming Season 21, some Heroes will be disabled from competitive play for a week at a time. The goal of this system, Blizzard says, is to "allow the meta to change weekly and see more hero diversity in matches". The company states the Hero rotation will be decided by the design team, not an algorithm or by random picks, and that it will be seen in competitive play only, not arcade or quick play. This means it will also affect the Overwatch League, but Blizzard hasn't yet explained precisely how.
The development team continues: "Depending on how it performs, [Hero Pools] may not persist past that season. We are also going to keep a close eye on this system to see if the hero pool rotation cadence should be changed (e.g. weekly, daily, by match)."
More broadly, Blizzard says it is "looking to implement more frequent and impactful balance updates with the intention to deliberately change the meta". As part of this, a new main card is being added to the Play screen known as the Experimental Card. This appears to be a form of midpoint between the live game and the game's testing server, the PTR. The Experimental Card is a place for players to test out provisional balance changes – nerfs, buffs, and the like – while still progressing and earning loot boxes.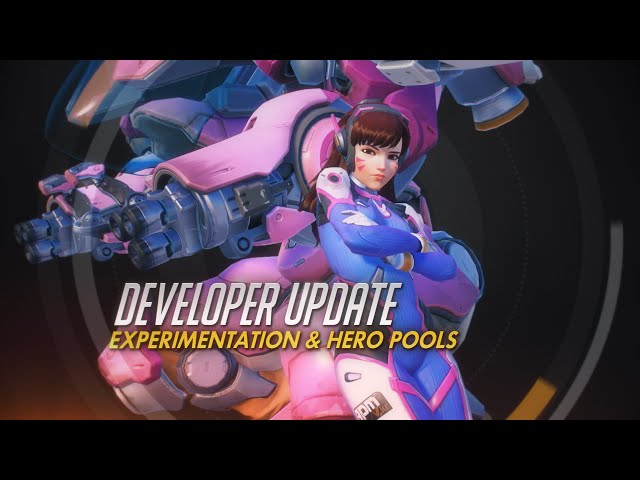 "Unlike the PTR, the Experimental Card is not for bug testing," Blizzard says. "Instead, it will be used to experiment with balance updates, game modes, or changes to rules that we are investigating internally. While some of these features will reach live, the content within this game mode is not guaranteed to be released."
Finally, the update will include some "quality of life" tweaks and improved anti-cheat measures, though these are yet to be detailed.
For more on this topic, check out our analysis on how Overwatch Hero Pools will completely change the game.