Postal 3 is an unusual game. Lurid, vulgar, and deliciously dedicated to poor taste – just like the rest of the Postal series – it's even been disowned by co-creator Running With Scissors. After vanishing from Steam, apparently owing to issues with Valve, surrounding digital-rights management (DRM), Postal 3 is suddenly back. If you want to sample this interesting piece of gaming history, and the semi-official connecting tissue between Postal 2 and Postal 4, now's the time.
Postal 3 was developed by a variety of studios including Akella and Trashmasters, who were contracted by Postal creator Running With Scissors in 2006, following the launch of Postal 2. A satirical, gory, freeform FPS game in the vein of the rest of the Postal series, it's often derided by fans and even Running With Scissors itself – to this day, if you click the Postal 3 section on Running With Scissors' official website, it takes you to Rick Astley's 'Never Gonna Give You Up' on YouTube.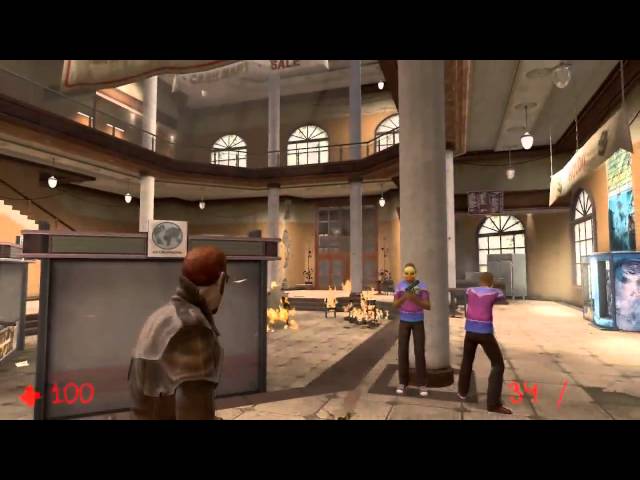 According to Running With Scissors, Valve removed Postal 3 from Steam "due to issues with DRM." Now, however, the notorious shooter is back on Valve's store. Despite its reputation, Running With Scissors says people should be able to play Postal 3 if they want.
"Months ago, Valve removed Postal 3 due to issues with DRM," Running With Scissors says. "Despite being a dark chapter in the series, people should still be able to check the game out if they want. We did what we could to make it happen. Featuring 100% less DRM (and a couple less crashes) for new and existing customers, Postal 3 is now back on Steam."
Running With Scissors has also made some changes to Postal 3, aimed to improve performance and replace missing files. Custom map-making has been made easier, and the base version of Postal 3 now features the – ahem – Fart Gun DLC by default. With regards to DRM, Running With Scissors has previously made strong statements about Denuvo Anti-Tamper, calling it a "punishment to the consumer."
If you want to play some more classic shooters, check out the best old games you can still get for your PC. Alternatively, Postal fans will want to try the other best sandbox games in the world.