The newest PlayerUnknown's Battlegrounds patch notes are up, ahead of Season 4 which kicks off next week – and it looks like there are some pretty huge and exciting changes in store for players. Upgraded graphics for Erangel, Survivor Pass 4: AFTERMATH, and new mechanics are just some of the things you can expect to hit the battle royale very soon.
The PC Update 4.1 Patch Notes, uploaded to the PUBG site today, welcome players to the new season with a breakdown of the raft of new content heading to the game. First and foremost is the focus on the "infamous island" of Erangel – it'll feature a graphical overhaul (an idea of which you can see for yourself in the video below), new complexes, plus "some revelations as to the island's combat-scarred history." Intriguing. This follows on from news that there is now PUBG official lore, just revealed yesterday.
The new Survivor Pass: AFTERMATH also looks impressive, featuring "skins and items from the island's broad history" and "over 100 rewards to unlock by completing a variety of missions and leveling up your pass". Also new to the pass is "a cooperative mission system where players can work together to complete mission goals and earn rewards. The mission change system has also been improved, allowing players to use BP to swap out more missions than before." AFTERMATH will run for 12 weeks, between July 23 and October 15.
The patch notes cover a lot of other changes coming to PUBG in detail, but highlights include an improved mission change system, which will let you "swap out up to 3 daily missions per day for free. BP can be used to swap out additional daily, or even weekly missions." Players who manage to complete all three of the daily missions can get a new set for 1,500 BP.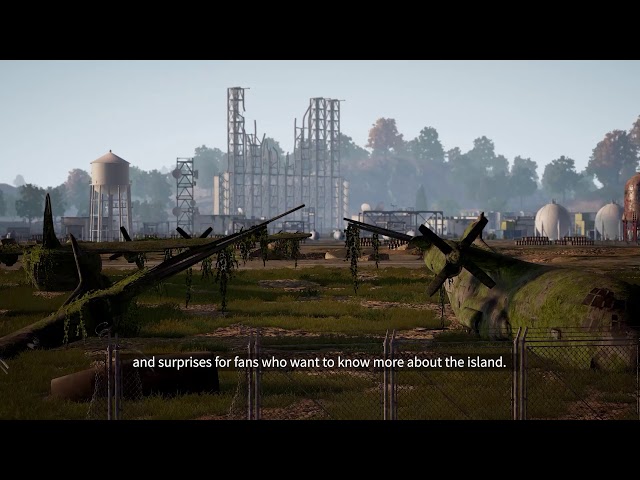 There are also "equal opportunity looting" rebalancing adjustments, new vehicle features such as auto-acceleration (like auto-run) – and even a playable turntable in Erangel. You can turn it on to delight nearby players with some tunes. Or destroy it, your choice.
Related: Get a look at PUBG's anti-cheat efforts
If you're keen to delve into the updates in detail, head over to the PUBG 4.1 update patch notes and get a good look at those before-and-after shots of Erangel. The results look pretty impressive.