Making it to three years as a live service game is no easy feat. Plenty of would-be hit titles have come and gone in the time it has taken for Raid: Shadow Legends to establish itself as one of the mainstays of the RPG genre, and the future has never looked brighter for the game.
Developed and published by Plarium Games, Raid: Shadow Legends first arrived on the scene in July 2018, bringing high fantasy role-playing to mobile devices via Android and iOS systems. The game's gorgeous graphics and in-depth turn-based combat system captured the attention of gamers and critics alike, with the story-driven campaign written by historical fiction writer Paul C.R. Monk drawing players into an immersive adventure across the land of Teleria.
The campaign was seamlessly tied to the game's multiplayer features, which allowed players to face off against each other in the PvP Arena or team up in clans to take down fearsome Clan Bosses. It was through these features that players discovered the depth of Raid's champions – player characters that could be customised into over a million different builds.
There are more than 300 champions to collect and play with, each with their own unique skills and development options. You can also combine champions to create new ones, using materials acquired by completing different objectives in the game's various modes. How you build your champion roster is up to you, but the key to success is experimentation and finding the right balance of champion types that works for you.
As Raid gained momentum, Plarium partnered with a huge number of online content creators in a savvy marketing campaign that made it an overnight household name among gamers. In January 2020 the game came to PC, greatly expanding its audience and offering a whole new way to experience Raid. Best of all, it's still completely free.
The PC version enhanced the already impressive visuals, adding such transformative features as parallax occlusion effects, new character animations, terrain animations, motion blur, and an unlocked frame rate. In addition to the customisable graphics features, PC players also had the option to carry over their progress and purchases from the mobile versions of the game and switch freely back and forth between the two versions without missing a beat.
Joining the Raid
With the game already boasting such a rich history, it can be intimidating to get started in Raid: Shadow Legends – but fear not, it's never too late to join the fight. The game is surprisingly accessible and thanks to the many innovations and improvements that Plarium Games have made since launch, there's never been a better time to start creating your legend.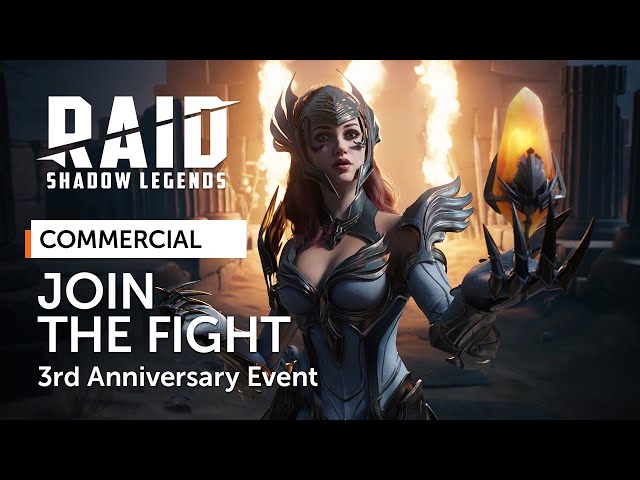 To help you skip some of the grind, you can use the promo code POWERSTARTER to access a starter pack which will help you advance through the early stages of the game. This loot drop includes 150 auto battles and 150 energy refills to help you get powered up quicker. Additionally, you'll get instant access to epic champion Tallia, a magic affinity champion from the Sacred Order faction. Tallia is an exceptionally strong champion who will put you on the fast track to success in your early Raid adventures.
Start playing now and you'll arrive just in time to enjoy the third-anniversary festivities taking place over the next month. Hosted by the character Arbiter, third-anniversary events will be held both in the game itself and on the official Raid: Shadow Legends social media pages. Plarium is clearly committed to adding new content to the game too, so you can bet that the world of Teleria will only get bigger as time goes on. All the third-anniversary activities will end on May 14, 2022, so don't delay – download Raid: Shadow Legends today.