It's been a controversial year for Rainbow Six Siege. New operator mechanics like Lion and Finka's globally activated gadgets drew the ire of fans and pros alike, who saw the easy-to-activate abilities as requiring no skill, risk, or tactical knowledge. Year 3 has also seen the introduction of loot boxes to the game, and even a couple of seasonal events, which have also proved divisive among the hardcore community.
Ubisoft Montreal has managed to ride out a disastrous launch and grow the game from a concurrent playerbase of a few thousand to hundreds of thousands. But with such an expanded audience, the addition of eight new operators every year, and a burgeoning esports scene, the task of pushing the game forward without upsetting anyone is harder than ever.
The latest title update for Rainbow Six Siege, Operation Wind Bastion, attempts to provide a mix of old and new with Moroccan operators Kaid and Nomad. The former can electrify objects with throwable Rtila Electroclaws, offering a strong alternative to Bandit, while the latter introduces an entirely new mechanic to the game: knockback.
We caught up with Ubisoft presentation director Alex Karpazis at the Season 8 Pro League Finals in Rio de Janeiro to ask about the state of seasonal events and loot boxes, how the team have balanced the new operators, and when the Year 4 reveal will happen.
PCGamesN: What do you hope the Wind Bastion operators will add to the meta?
Alex Karpazis: With Wind Bastion we continue our something old and something new format. We've got Kaid with his Rtila Electroclaw – he's a variation of Bandit, to deepen that selection when you want to deny a hard breacher. Then we have our something new with Nomad and her Airjab. That actually displaces people, which is something we've never tried before in the PvP side of the game.
How have you balanced Nomad's new ability?
It's something that we took very seriously. We followed the three Cs: character, control, and camera. So when you get knocked back you understand where it's coming from, what has happened, and where you are. We had a dedicated team for this, it was technically challenging, but we spent a lot of time making sure it felt fair and it's still a very good tool for Nomad to work with.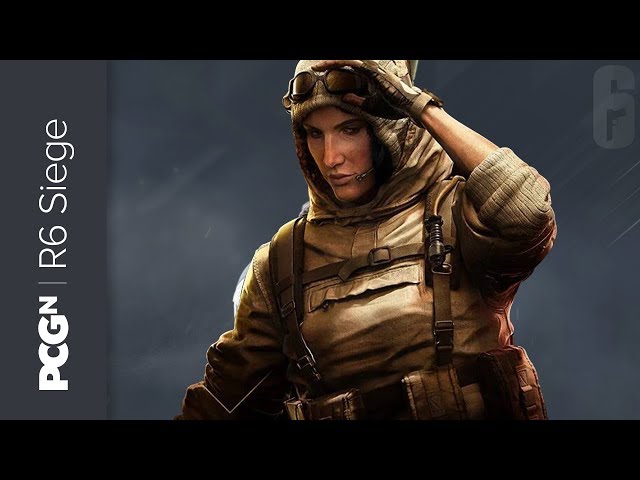 Is Nomad designed to offer an alternative to Capitão?
Capitão has the same role, where he likes to displace someone who is anchored, but he has a little bit of different utility as well, which is to deny an area when someone is planting. Nomad, however, can be aggressive so you can push out people who are anchoring, but she also has the ability to stop people from flanking. They have different situations where they excel.
Do you think Kaid's shotgun will be nerfed quickly?
Right now we're just super interested in how players use it. With Kaid's entire kit – he's a three armour, so he's meant to be stuck at home defending the site rather than roaming around taking people out with his shotgun.
How will Bandit remain important after Kaid's release?
We've seen teams take a Bandit and Kaid at the same time just to have complete denial
There are a bunch of options right now. We've seen teams take a Bandit and Kaid at the same time just to have complete denial of hard breachers. But then there are the strengths and weaknesses of how you want to play a site: if you want to defend hatches you will absolutely want to pick Kaid. However, Bandit-tricking is still going to work and it's a great tool for sites with garage doors like Consulate and Chalet. There's also the kit difference, where you have the three speed and one armour Bandit, and the opposite for Kaid, so depending on how you want to play as a team you're still going to have plenty of options.
There was discussion about Thatcher's ability changing. How will this affect Kaid and Bandit?
When we develop a new operator we try to make sure that they work in the current meta with their current abilities, then we try to project ourselves to the near and long-term as well.
What can you tell us about Year 4?
You'll learn a lot more about Year 4 with the Six Invitational that's coming up.
Are you changing how you handle updates to keep up with other multiplayer games like Fortnite?
We've actually stepped up the amount of updates that we do. We used to have one or two patches per season, but now we're doing three or four. We also have more title updates and more test servers that are available for players. So we know that players like to have more content and like to get eyes on stuff faster and faster – we're moving towards that.
Is there any concern that these new operators represent a power creep in the meta?
We are always testing our operators, always getting feedback internally from the pros as well. We have pro sessions where they play with the operators. So it's always something that we make sure that we test as best as we can, and then once it gets out there into the hands of the players we can monitor how the new operators are being used, what their stats are like, and then make adjustments if we need to.
Are there any plans to change how you handle seasonal events in the new year?
We're still learning about events and what our community wants to see from them
Right now, we're still learning about events and what our community wants to see from them. So we're taking all that feedback into account and we're planning what we do with this information for next year.
There has been a lot of criticism about new loot packs, are you happy with the current system?
We've been changing it. So we had our Sunsplash Packs earlier this year, and then we brought out the Crimsonveil Packs, which we designed so that people could get more free packs and have more fun with the items that we're introducing. We're constantly listening to our community about this.