I recently wrote a story about how Redfall has three players on Steam. Yes, really – you can't even fill a four-stack during certain times of the day because so few people are playing Arkane's vampiric FPS adventure. Yet, when I looked up the game's global search to get some extra context, Google's Keyword Planner spat out a number that genuinely shocked me. Redfall's global monthly search volume has sat at around an estimated 250,000 since July, which, while nothing compared to the likes of Diablo 4, Starfield, or fellow May release Zelda: Tears of the Kingdom, is enough to make you take notice.
That led to one question: why? Why is Arkane Austin's vampire game misfire still seemingly attracting a good bit of attention? Do people care about Redfall? Will we see an uptick during spooky season? It's a rabbit hole that Alice would be proud of, producing question after question that I've been stewing over for the past few days. My conclusion? Much like Cyberpunk 2077 before it, players want to see what Redfall could have been.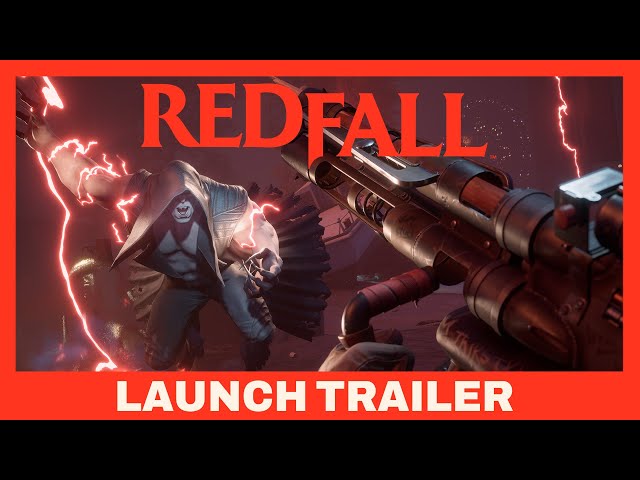 One of the obvious reasons I think many had at least some interest in Redfall was because it's an Arkane game. Renowned for several of the best immersive sims and action games to ever grace our virtual universe – Dishonored, Prey, and Deathloop – the studio's pedigree, in this case, was arguably more of a curse than a blessing.
If you think about Cyberpunk 2077, it's a similar story – CDPR has given us The Witcher game series, yet for many struggled to hit that same high bar with the initial launch version of Cyberpunk. When you love a studio and its games, you want each new adventure to be amazing. Given Arkane's caliber, I still want to see what Redfall would look like if it had lived up to its full potential, and it feels like a lot of other players do, too.
But that's no easy feat to pull off at this stage. Arkane has confirmed that the team is still actively developing Redfall, and the game's second update dropped on Friday, October 6. It's substantial, fixes a lot of bugs, and is a good step in the right direction, but how do you pull a CDPR and properly breathe new life into Redfall? "Idris Elba," I hear you cry, but if Arkane is to turn it around and revive this sorry-looking sleepy Massachusetts town, it'll need more than just a Solomon Reed or Johnny Silverhand up its sleeve.
Redfall was always going to struggle from the get-go, with marketing that failed to inspire and some mixed messages about what the game actually was. Was it an immersive sim? Was it Left 4 Dead with vampires? With Starfield on the horizon and no considerable pre-launch hype around Redfall, the game felt too confused to be anything but dead on arrival, despite studio director Harvey Smith suggesting he wasn't concerned about it getting lost in the mix among Microsoft's other first-party releases.
A huge part of Cyberpunk 2077's 'redemption' story stems from the buzz that has surrounded the game despite its lackluster launch. Edgerunners, the Netflix anime spinoff, brought waves of players back on board at the perfect time, given that it had been spruced up by numerous patches. The Phantom Liberty trailer, released well ahead of its launch, showcased both Elba and a whole new story that had its hooks in me from the start.
CDPR has now told three major Cyberpunk stories since the game's arrival, and that just makes the franchise feel alive. In Night City itself, there are tales just like David and Rebecca's lurking around every grimy corner, making Cyberpunk a vibrant game that is now teeming with more life and excitement than ever. You want to dive in and play it because, despite the initial issues, the tantalizing kernels of greatness just keep luring you back in.
Redfall, by comparison, doesn't have that spark – where Night City bested its demons, Redfall remains plagued by them. While I'm hardly suggesting Microsoft and Arkane jump to create a Redfall Netflix show (I hear those are expensive), CDPR has proven that goodwill can come from igniting interest outside of the game.
But strong marketing and transmedia storytelling can only take you so far: Redfall needs a major overhaul, akin to Cyberpunk 2.0. I'd argue many of its systems require a ground-up refresh, and even with that level of upgrade, an expansion like Phantom Liberty would perhaps be the only thing to draw in new and old players in significant and sustained numbers.
In my Redfall preview, I praised a lot of the character systems, with Layla's elevator ability and stunning purple energy visuals looking especially sick. Arkane suggested that we could chain all of the characters together to produce some wild feats, but technical issues marred that multiplayer experience, in turn ruining a core element of the gameplay. There's the skeleton of something special there, but we need to dust off the cobwebs. Throw in a few more characters with new abilities to vary things up a little, and we could be on to a winner.
I don't know about you, but I'm still looking for that next Left 4 Dead. While I can get my horror multiplayer game fix from the likes of Dead by Daylight or Texas Chainsaw Massacre, nothing quite quenches my thirst for zombies, blood, guts, and gore. With spiritual successor Back 4 Blood coming and quickly going, there's surely a gap just begging to be filled. I think Redfall can do that, but the journey to get there won't be easy.
I'm aware that a lot of this could be read as 'hopium,' as we say in the League of Legends world, but I really, really wanted to get into Redfall. I've written at length about my love for Vampire The Masquerade – be it Bloodlines or the ill-fated battle royale, Bloodhunt – and I really wanted to see a cool new vampire game on the block.
But CDPR has proven that even the most controversial of game launches can be turned around. Cyberpunk 2077's progress over the past few years demonstrates that if the funding and understanding are there from the top, the vision is there from the creatives, and all parties involved remain steadfast in turning it around, it is possible to reach the glittering pot at the end of the metaphorical rainbow. If any studio has the ability to follow in CDPR's neon-drenched footsteps, it's Arkane. The studio just needs the support from above to get there.
So I ask: can Redfall be the next Cyberpunk 2077? Press 'X' to doubt, but I hold out hope that the stars align when a new wave of darkness swallows Massachusetts once more.