Even before it left early access on the Epic Store, Satisfactory was empowering people to build their dream machines. Now available to the world, we're seeing all manner of complex contraptions and ornate architecture emerge from Coffee Stain Studios' open-world construction game: railway tracks cutting straight through mountains, waterfall bases that would look right at home in a Bond film, and kinds of ultra-efficient factories that would put the world's biggest manufacturers to shame.
And hey, the world's biggest manufacturers don't even have to deal with constant threats from hostile wildlife. AMD and Nvidia might take slightly longer to make their graphics cards if there were a nest of flying crabs nearby, waiting to pounce on workers at break time.
But how exactly are Satisfactory players able to turn steel beams and crude oil into their own sprawling factory floors, where non-stop conveyor belts and intricate circuitry converge in automated wonderlands? What were the challenges in realising a world filled with moving parts, where generators chug and assembly lines stretch to the horizon? These are the questions we're posing Coffee Stain CEO Johannes Aspeby.
Satisfactory uses Unreal Engine 4. For Coffee Stain, it was an easy choice. The studio has been working in the Unreal Engine ecosystem since around 2010. "Our first game, Sanctum, was a mod for Unreal Tournament," Aspeby says. "Then we made it as a demo for UDK [Unreal Development Kit] when that was released, and finally UE3 [Unreal Engine 3] for the Steam release. It's been our weapon of choice for a very long time." Observing the results of that ten year-long education, the versatility of Unreal Engine becomes abundantly clear.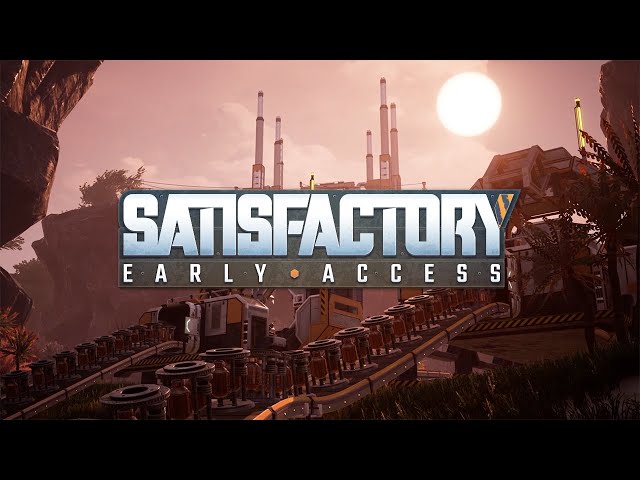 Whether it's powering 2011's Sanctum – a first-person tower defence game about fending off hardy aliens – or providing the foundation for 2014's A Story About My Uncle, in which you swing and tumble through exotic locales using a plasma grappling hook, every iteration of Unreal Engine is about pushing back the limits on budding creatives.
Let's not forget the most bizarre union between Unreal Engine and Coffee Stain: 2014's Goat Simulator. That the same developer can go from giving you control of a problematic ruminant who causes chaos for the local populace by stealing clothes and summoning the occasional demon, to handing you the keys to your very own factory floor five years later in Satisfactory, truly represents the flexibility of UE4.
Of course, each project is not without its particular challenges. Aspeby explains that one of Satisfactory's was just getting it to run smoothly, what with the huge number of objects present. "We actually had one player who has played the game each day on the same save since it was released, and he couldn't load the game anymore because there were over two million objects in the world." There are limits, just like with any game engine, but it's reassuring to know that players have to put in this much work to find them.
The sheer number of tools you've got to play with unsurprisingly opens up all kinds of avenues, and with each update, the scope only grows. The most recent added freight trains. Not only can you incorporate them into your mass production loop, using them to haul vast quantities of resources, but you can also hitch a ride for scenic tours. Seeing your very own train pull away from the station you built for it is like watching a very fat, very fast child leave for their first day of school – but it's better, because it's making you richer rather than poorer.
Speaking of which, what, for Aspeby, is the most rewarding part of developing Satisfactory? "The most rewarding part is now. I get mind-blown every week just by seeing how far some people have taken the game and their creations. We're not only seeing huge and optimised factories but also way more wacky stuff. Just last week there was this person who had built a huge tanker! In chemical terms, it triggers your endorphins, instead of the more common adrenaline-based games."
There are parallels to draw between players fine-tuning their factories and Coffee Stain fine-tuning its relationship with Unreal Engine. Just as an experienced player knows what to expect from their construction in terms of honing a production line's efficiency, so too have Aspeby and his team reduced unpredictability in development. "I can't say that it surprised us really, since we've worked with it so much already. We kind of knew what we were getting and that's why we chose it."
There are many construction games, but few of them exist on the scale of Satisfactory, where players craft elaborate multiplexes and then get to marvel at them running up close in first-person. Coffee Stain's decade-long history with Unreal Engine has turned it into a well-oiled machine. It seems only fitting the studio would make a game in which players get to build exactly that for themselves.