Satisfactory, the first-person factory-engineering simulator from indie studio Coffee Stain that looks like a bit like No Man's Sky meets Factorio, has just received a big consignment of goodies. The game's first update includes some exciting features and additions that will help you unlock the full potential of your industrial imaginings.
In a video update (which you can see below), Jace Varlet, community manager at the studio, reveals that, now the experimental stage of the game is stable, players can try out some cool new features in the main version.
The most exciting of these are the all-terrain exploration vehicle, which can scale near-vertical surfaces and looks like a super souped-up dune buggy, and the Nobelisk detonator, which you can use to explosively eradicate any and all things standing between you and your dreams of factory finesse. Oh, and you also get a gun – a really big rapid-fire rifle kind of gun. Need I say more?
Next is the "highly-requested" conveyor lifts. These let you lift stuff – like, uranium and copper sort of stuff – vertically, and transfer them over to other belts, helping you to get rid of the 'spaghetti' network cross-conveyor belting you might have been cultivating thus far. The update also adds two new resources for you to get mining: quartz and sulphur. These open up a raft of new opportunities through their own research and milestone chains, and push you to get out and go hunting for your ore.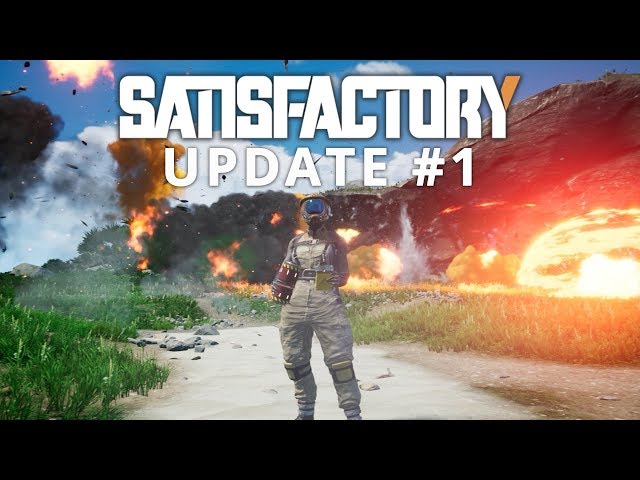 An in-game map and radio tower follow, putting the power to keep track of your resources much more in your hands. Want to reveal more of your surroundings and taste of some resource rewards beyond your FICSIT Inc-approved bubble? Build those towers high! Maybe you'll end up FICSIT employee of the month. I was kidding about that last bit, but yeah, you should stop losing all that stuff.
Are you a building buff? Check out the best building games on PC
Other changes include newly-opened localisation, meaning that anyone in the game's player community who wants to pile in with help translating it is now welcome to. The studio is repalcing the game's roadmap, working on one that will function a lot better than the previous. More than satisfactory for one update, I think.