The latest Sea of Thieves update is here – Legends of the Sea and its patch notes are both ready for your pirating pleasure. The central theme of the update comes in a set of journeys that celebrate the game's best-known players, but we're also getting the return of Gilded Voyages and a new way to earn a whole lot of extra gold.
You'll now find the NPC Umbra at the Lagoon of Whispers, and she'll ask you to find those Sea of Thieves easter eggs that commemorate the game's most memorably community moments. Clues for each relevant story have been added to the Bilge Rats reputation tab, and completing the commendations will get you a new set of themed tattoos and the usual doubloon rewards.
Gilded Voyages also return, courtesy of Duke in your local tavern. Each player can choose a single Gilded Voyage from Duke's stock, which will set you on a quest that gives you a massive amount of treasure – but these voyages are time-limited until the game's next monthly update.
For double gold, you can now deliver many treasure types – specifically Captain's Chests, Villainous Skulls, Crates of Exotic Silks, Chests of Legends and Ashen Chests of Legends – to the Masked Stranger at The Reaper's Hideout. (Expect a whole lot of PvP at that location now, too.)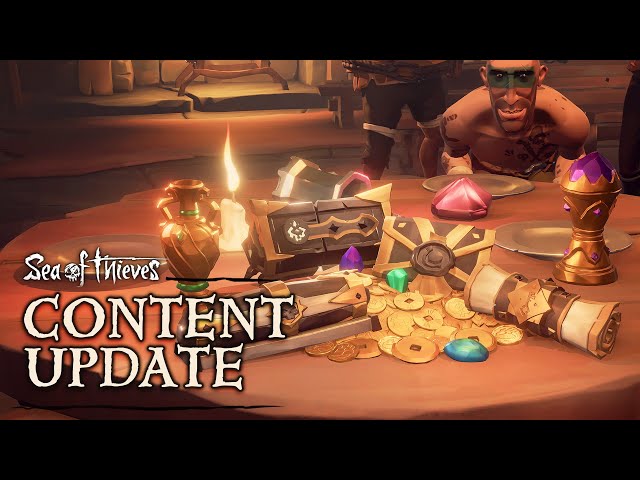 You can get a broad overview of the new content in the trailer above, or full detail in the patch notes on the official site. There's also a whole bunch of new standard and premium cosmetics, and as one of the world's last remaining Kameo: Elements of Power fans, I am extremely excited.
Rare's pirate adventure remains unique among the world's multiplayer games, and continued content updates have helped keep the seas worth sailing all this time.