There's no dancing around the subject, this Skyrim mod will allow you to waltz. Over the years there have been hundreds, if not thousands upon thousands of mods made by Skyrim fans, improving or adding their own flair to the game. In this case, you'll now be able to dance the night away as much as your Dovahkiin's heart desires.
This 'Dovah-Waltz', as creator Hoamaii calls it, is a mod that lets your character waltz lightly around the room. It's probably one of the more graceful activities a Dovahkiin has ever done, and rather amusingly, there is a little bit of story included in its introduction.
Your Dovahkiin is, of course, more comfortable with a warhammer than anything else, however after noting that all the maidens are upset at the lack of activities to wear nice dresses for, you learn to dance. You're a little clumsy and stiff, but the girls of Tamriel are just that little bit happier now. This may be among the best mods for Skyrim I've seen just on the entertainment value of the backstory alone. Having a little fun with a mod is what they're really all about, so helmets off to Hoamaii.
Things to note may include that this mod is only in third person, so no looking lovingly into the eyes of your partner. Two, if you partner isn't the same height, your model or theirs may stretch a little. It's only polite to be accommodating, right?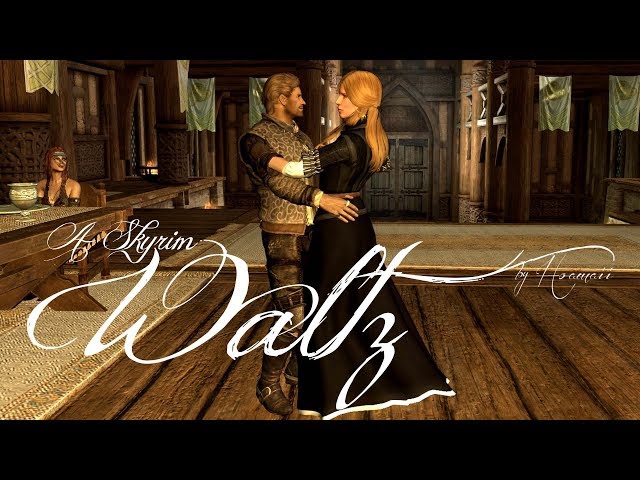 And third, the dance may actually not be a waltz (I don't think it's actually in three time which is the waltz requirement, but maybe I have been watching too much Strictly Come Dancing.) Thankfully it's close enough and you can't be upset at the Dovahkiin for trying his best.
Bethesda created one of the best open world RPGs of all time, and didn't even give you the opportunity to dance? It's a blessing that someone could fix this oversight, as this is surely a pivotal moment for the game. It's plie-sing we've at last got the chance to dance.