Sony has officially confirmed it is launching a rear button controller attachment for the Dualshock 4 controller. The aptly-named Back Button Attachment, which is supposedly real and not a goof, adds two programmable buttons to the rear of the controller along with an OLED display (yes, on the back). All to replicate a little of the high-end controller magic in the PlayStation corner.
PlayStation is officially touting the attachment for competitive players on the Sony PlayStation platform, and we'll have to wait a little longer for confirmation on whether this attachment will work across PC. If it does work, this attachment could be a quick and easy add-on for one of the best game controllers for PC going to replicate some of the Microsoft Elite Controller Series 2 functionality for cheap.
The Back Button Attachment will set players back $30 (€30), a far cry from the towering prices of Microsoft Elite or Scuf controllers. It's set to launch as a Valentine's treat in Europe, February 14, 2020, and will be available in the US and Canada from January 23, 2020
The announcement (via Nibel) could be seen to allude to some of the changes incoming with the next iteration of the Dualshock – likely the Dualshock 5 – alongside the PlayStation 5 next year. Or perhaps some backwards controller compatibility between console generations.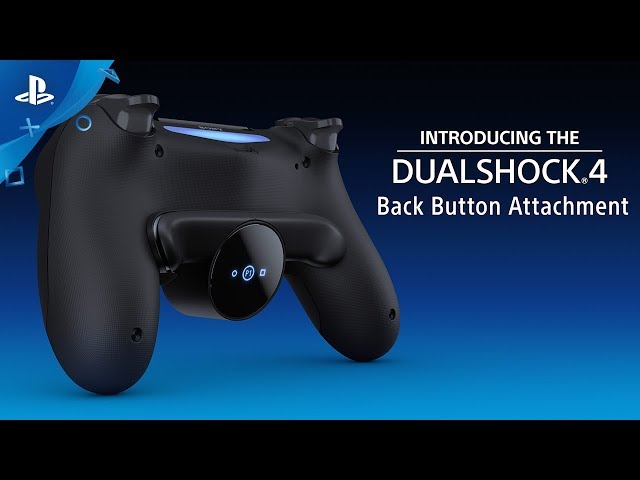 Or maybe it's just a couple extra buttons developed late in the console cycle… it's weird though, right?
The Back Button Attachment occupies the accessory port and 3.5mm jack on the underside of the Dualshock 4. Don't fret, the accessories own 3.5mm jack retains wired headphone support, and the USB port up top remains usable for wired connections, if required.
The screen on the rear displays the button configuration across three configurable profiles.
It's all popping off in the controller world. Scuf, a well-known high-end controller brand, was also recently acquired by Corsair, and Microsoft has announced some of the features from the Series 2 Elite Controller will be carried over to the Xbox Series-X pad.