I'm only just recovering from my escapades over at E3, but before I bailed out from LA I had one last appointment: Google Stadia. The tech giant was giving esteemed members of the press a taste of its streaming service just a few blocks from the convention, offering up a hands-on demo in Bethesda's latest hellscape shooter, Doom Eternal.
It's a bold move rolling out the early hands-on time with Stadia in a game like Doom Eternal. This shooter is no walk in the park. There's a miasma of satanic spawn crawling over every inch of habitable space within Doom's hellish world, with planetary explosions and sci-fi debris looming uncomfortably overhead. You've got to run, jump, hook, charge, smash, saw, and hack yourself through hordes of villainous foes in the demo alone.
It makes for a trying test of what Stadia is capable of. And Google's AMD-powered servers floating in the cloud (or rather 350 odd miles away in San Francisco) have to deliver frames in a timely fashion or risk game-breaking, stream destroying, lag. The bane of any streaming service.
Doom Eternal ran at 1080p and 60fps during the demo, via a wired connection. The service will initially be available only to those that opt for the 4K Pro subscription, included in the Founder's Edition package, but Google is reportedly yet to switch on that functionality over at its datacentres. For now, it's FHD or bust.
Controller wars: These are the best PC gaming controllers
But not to worry, Stadia managed to chomp through that resolution with relative ease. The demo ran within a Chrome browser window – which was seriously odd to witness – and managed to do so with minimal issues. Another little convenient oddity: Stadia demos and games can be shared across devices with no more than a simple URL. Neat.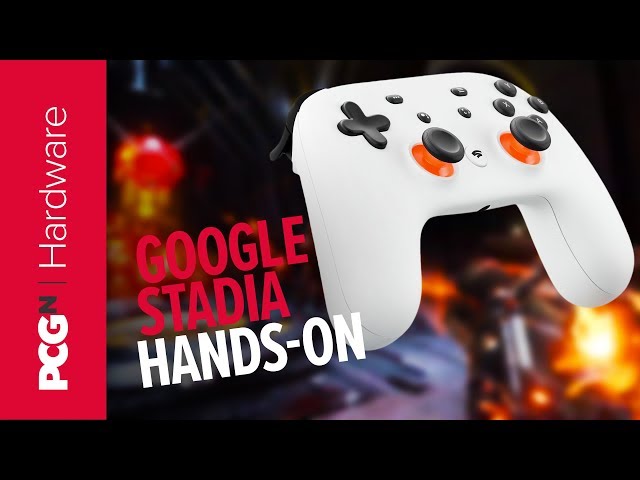 Latency ranged throughout my 45 minute session from imperceptible to near-enough so. While I found myself occasionally blaspheming the latency gods for ending my run early, I was so caught up in defeating the last horde of demonic spawn by the end of the demo that any concept of this game being streamed from hundreds of miles away was entirely lost on me.
There were a few stutters here or there. In nearly 45 minutes of gameplay I experienced at least three or four throughout. However, these were short-lived and, honestly, I'm not sure whether these originated from Stadia or Doom Eternal. Neither is exactly in tip-top release shape right now.
And that brings us onto the Stadia Controller, which is also only in its incipient stages. Perhaps more so than the service itself. But the foundations still seem strong here, nonetheless. There's a comfortable yet quality weight to the controller and the parallel thumbstick design is a tick for a Dualshock fan like myself. Yet the buttons felt a little on the cheap side, and I was slightly disappointed with the shoulder buttons.
The left thumbstick also featured a noticeable grind at certain points during its rotation, which I'm sure is down to heavy-handed gamers giving it their all in Doom Eternal during E3. It's a testing demo for unseasoned gamers, that's for sure. Either way, I'm sure this particular ailment will be rectified on final production models of the Stadia Controller, or you'd hope so for $69.
But what I suspect may stick around for at least the first-gen controller is the trigger design, which may be a little too close to the Dualshock 4 design for comfort. The rear triggers protrude beyond the controller's body, which makes them awfully easy to catch or press on accident on uneven surfaces.
Overall the controller experience was a pleasant enough one, however, and the core concept of a direct connection with the datacentre via the controller seemingly pays off. With only a slim Chromebook running Stadia via a TV, I wasn't able to test out the controller switching between devices. However, Google Stadia comms chief, Patrick Seybold, tells me the switch will be easily and swiftly done via an app.
As for mobile support, getting Stadia on your phone will be a question of waiting for updates on a device by device basis. That means you may be waiting a little while for support on ageing mobile phones.
Stadia is impressive. It's won over many who've tried it so far and I'm far from dismissing it myself. Latency, the question on everybody's lips when Stadia was announced, was largely a non-issue in my extended play time. And with only minor stutters here or there – an issue not all that unfamiliar to desktop gamers today – there's a promising future ahead for game streaming even with today's infrastructure.
Streaming or local: You're going to need the best gaming monitor
But it's not going to be a one size fits all affair. Connections change, they're inconsistent, and your ISP may rain on your parade. San Fran to LA isn't the greatest distance you're likely to be from a datacentre either, and ideally we would be able to test the service for ourselves away from a Google-controlled environment, or even on WiFi, to really give Stadia a run for its money.
And it's all about games. There's over 30 games on the platform as it stands today, with a few publishers – Rockstar Games, Capcom, and EA – yet to announce their plans for the platform. But Stadia is going to need to ramp up into triple-digits lightning fast to best competing platforms and coax anyone out of their current gaming biome. The humble gaming PC and Nintendo Switch combo remains undefeated when it comes to flexible, varied gaming, and I'm not going to be easily swayed elsewhere without similarly sweeping coverage – from triple-A titles to indies.
But for now, Stadia looks quick and consistent. And that makes for a service which – and this isn't usually a positive – is easily forgotten about while you game. Doom Eternal makes for a convincing test case, and, as Seybold tells me, a popular adage is "if Doom can run on your platform, anything can."