Google Stadia is the internet giant's long-awaited, oft-rumoured game streaming service. Google has finally confirmed the November 19, 2019 release date, and Rockstar has also finally confirmed that Red Dead Redemption 2 will, as teased, be a November launch title for the service.
The streaming concept is relatively simple: through the power of Google's tremendous and far-reaching server might, you will be able to stream a library of the latest and greatest games direct to any of your Google devices. Even a diddy Chromecast will be able to beam the very latest AAA games direct to your fingertips. Eventually.
Google isn't the first company to pursue game streaming, and it won't be the last either. But it's definitely the only one to launch with such pomp and circumstance that it's caught the public eye like nothing before it. Nvidia has been offering a similar service for years in its GeForce Now platform, but despite its 300,000 monthly users, and 1 million more apparently queuing up to join, it's never made the splash that Google Stadia suddenly has.
But when Nvidia believes that game streaming could be "a billion-gamer opportunity," you can see why Google, Microsoft, Sony, and hundreds of startups are all fighting for a piece of the pie. With an addressable market of at least two billion users (~62% of all web surfers use Chrome), Google is in a mighty advantageous position to hoover up that market share for itself. And that's going to put pressure on console manufacturers Microsoft and Sony most of all.
And that's because Stadia takes hardware out of gamers' hands and puts the onus on Google's datacentre to keep up with the latest tech advances. Packed into Google's server racks is custom AMD GPU and Intel x86 CPU tech, with the launch tech scaling up to 4K, 60fps . Google has even promised 8K, 120fps in the future… my poor internet connection.
Read more: Our interview with Google VP Phil Harrison on Stadia
But the Stadia platform is in a constant state of flux, and, according to VP and GM Phil Harrison, Google is "not declaring victory – we're just starting." With flexibility afforded to it by the cloud, we can expect Stadia's requirements, specs, and the gaming experience it offers to change and adapt over time. Watch this space.
VITAL STATS
Google Stadia release date
Google has confirmed the November 19 release date for Google Stadia after a leaked article already claimed the late year launch for the service. And the only way to play at launch will be by purchasing either the limited edition Founders Edition or Premiere bundles.
Google Stadia availability
At launch Stadia will only be available in 14 different countries, including the US, Canada, the UK, and select European countries.
Google Stadia specs
Stadia will scale up as and when more performance is required. But we do know that each instance will utilise a custom x86 Intel CPU running at 2.7GHz. This will be paired with custom AMD graphics silicon capable of 10.7 teraflops of raw compute, fitted with 56 compute units and HBM2 memory.
Google Stadia games
Red Dead Redemption 2 has finally been confirmed as a launch title after much speculation pre-announcement. Doom Eternal has already been confirmed for the streaming service, as has Cyberpunk 2077 and a litany of other major upcoming titles. Game support will inevitably make or break the Stadia service – so we're hoping for more big announcements on this front.
Google Stadia pricing
There are two bundles available to get you into Stadia day one: the Founders Edition or the Premiere bundle. The ongoing Stadia Pro subscription will be $10 US, or £10. That will be the only way to access at first, but in 2020 it will open up and offer a free Stadia Base sub.
Google Stadia performance
Google has made progress since Project Stream was first tested, and now Stadia is capable of 4K at 60fps. Down the line, Google has promised 8K and >120fps gaming. But streaming poses new challenges, and a stable internet connection will be required to make the most out of the tech on offer.
When is Google Stadia coming out?
The Google Stadia release date is tomorrow, November 19, 2019 – as confirmed by Google during its Made by Google event in New York.
The first people into the service will be those who pre-order the Founder's Edition kit for $129, followed by those who ordered the Premiere Edition later down the line. It's still possible to pre-order, although you'll be added to a waiting list and won't be able to play immediately at launch.
Players that have already pre-ordered can expect an email once the package has been shipped, and another with activation codes for the service and three months of Stadia Pro. Your included buddy pass will follow a few weeks after. Stadia kits will be dispatched in the order in which these orders were made – first to last.
Initially, Google promised it would be launching Stadia in the US, UK, Canada, and "most of" Europe sometime in 2019.
In 2020 Google will open up and allow for Stadia Base access – this is the lower-tier account for Stadia which doesn't offer any access to free games, only operates at 1080p/60fps, but doesn't cost a bean.
Where will Google Stadia be available?
The Stadia platform will only be available in 14 different countries at launch, thankfully with the US and the UK being among the first lucky nations to get in on the game streaming action.
Owners of the Founder's Edition in Canada, Ireland, France, Germany, Italy, Spain, Netherlands, Belgium, Denmark, Sweden, Norway, and Finland will also be part of the initial roll-out.
Google has promised that more regions will start getting access in 2020.
What are the Google Stadia specs?
While a hardware journalist like myself is dreadfully afraid of game streaming ruining my prospects, livelihood, and forcing me into a life of reviewing mobile phones, there's still plenty to be said about the silicon occupying Google's server racks. You hear that Google?! It'll take more than that to be rid of me.
Google has licensed the brilliant minds behind Radeon to create the physical graphics hardware necessary for its streaming platform. The company, headed by Dr. Lisa Su, has an unflappable reputation for delivering the best console tech, and its burgeoning semi-custom division is responsible for the graphics and processing power within both the Xbox One X and PS4 Pro.
| | | |
| --- | --- | --- |
| AMD GPU | Intel CPU | Memory |
| 10.7 teraflops | Custom x86 processor | 16GB RAM |
| 56 compute units | 2.7GHz | Up to 484GB/s transfer |
| HBM2 memory | Hyperthreaded | L2 + L3 cache of 9.5MB |
| | AVX2 | |
The GPU at the heart of Stadia is effectively just a modified version of the Vega 56 that's now doing the round for around $300 in most good stores. And in some dodgy ones too. That's not a huge surprise given the note in the Google presentation about the 56 compute units making up the graphics silicon, and the use of HBM2 as well.
But a dig into the Khronos Group's conformant products page for Vulkan by Tom's Hardware shows that the Google Games Platform Gen 1 (Stadia to you and I) is using AMD's GCN 1.5. That means it's running on the fifth gen version of the Graphics Core Next architecture, which is the same tech as powered the Vega 56.
But don't panic, despite getting on for being a mainstream GPU now its pricing has been slashed in the face of the imminent AMD Navi generation, the individual GPUs themselves aren't going to matter a huge amount. And that's because Google is using some serious multi-GPU gymnastics to get to the good streaming stuff.
While AMD Crossfire is holding onto relevance in the consumer GPU world by just its pinky finger, Google has touted the ability to dynamically shift GPUs to and fro within its datacentre to match a user's requirements. With no single GPU today capable of 8K at 60fps, it's crucial that Google can scale beyond today's hardware limitations if it's to make good on its promises – and it seems confident that its multi-GPU approach is up for the task.
Read more: This is the technology behind Google Stadia
AMD has confirmed the custom CPUs within Stadia aren't manufactured by the red team, however, and that realistically leaves just one x86 manufacturer in the running: Intel (sorry VIA fans.) The only trace of the company during Google's announcement was the mention of Hyperthreading, Intel's proprietary simultaneous multithreading feature. Aside from that tacit mention, Intel's name is notably missing from Google's partners.
Yet these specs will adapt to the ebbs and flows of the gaming industry and the hardware available.
"We fully expect further iteration in our platform," Phil Harrison says. "We're just talking about Gen 1 at the moment, but there will be iterations on that technology over time."
Over at Google I/O, the company detailed a little of the technology behind Stadia's streamer – the underlying tech that ensures all the necessary bits are transported to and fro across the web and displayed lag-free on your device.
While the company is still playing its card close, two Google engineers, Rob McCool and Guru Somadder, along with product manager Khaled Rahman, have offered insight into how the tech giant is working towards its goal of "imperceptible" latency and, what it calls, a high playability factor.
Google will be employing something awfully similar to the Bottleneck Bandwidth and Round-trip propagation time (BBR) congestion control algorithm (say that three times over) with Stadia. This attempts to reduce congestion from sender to receiver across the web, reducing blufferbloat, and ensuring that its gaming client does not lose any precious packages.
"Google is experienced designing algorithms modelling extremely complex situations and code," McCool says, "and working at scale with millisecond latency puts us in an ideal position to enable this experience for players.
"We tune at the millisecond, and sometimes microsecond, level and make timely informed choices to keep latency imperceptible while maximising quality. We blend many different signals models, feedback, active learning, sensors, and a tight feedback loop to produce a precisely tuned experience."
Google is also holding out for increased adoption of the very latest codecs, including VP9 and AV1, which it believes will increase quality and reduce latency of all game streaming services across the board.
On top of all of that, Google is aiming towards a goal of "negative latency," at which time it will be able to outperform local hardware in latency. This is achieved through rendering what it suspects, through machine learning, a player to do. It will, however, still be up to player input to decide upon the next action in-game.
The Stadia controller we know a little more about, as it was exposed in a patent application a while back. For the most part the design is a simple one. All the usual bells and whistles are present, but it's worth noting that it follows Sony's lead with thumbsticks parallel to one another, which may come as a bit of a shock to y'all that prefer Microsoft's offset ergonomics.
But, again borrowing some design notes from Sony, the Stadia controller features a capture button – similar to the Dualshock 4's 'Share' button. This button allows you to share your best gaming moments to YouTube, bypassing upload times or bitrates as Google's servers will offload all that direct from their top-notch network. Next to that, a button for Google Assistant so you can chat to the hivemind.
The main draw of the Stadia controller, however, is that it will utilise a direct WiFi connection to Google's cloud servers. It's essentially a streaming client like any other Google device, the benefit being the direct connection will minimise latency and make for hassle-free hot-swapping between devices.
A direct Wi-Fi connection between your Stadia Controller and Google's datacentres will be limited to the Chromecast Ultra at first, however. Google confirmed that this functionality is not yet ready to go for all devices in a recent how-to video. We do not yet have a confirmed date for when this functionality will reach laptops and mobile phones.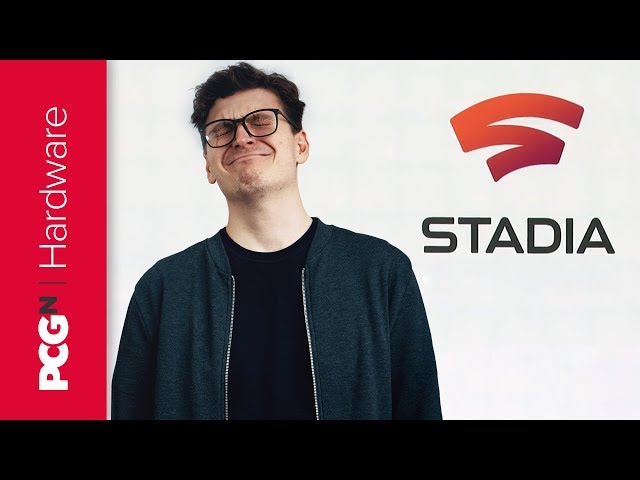 What games will be on Google Stadia?
There are 22 games available for Google Stadia to buy on the platform at launch – two of those, Destiny 2: The Collection and Samurai Shodown, will be included for free with the Stadia Pro subscription.
Here's a full list of the games available on Google Stadia at launch:
Assassin's Creed Odyssey
Destiny 2: The Collection
Gylt
Just Dance 2020
Kine
Mortal Kombat 11
Red Dead Redemption 2
Samurai Shodown
Thumper
Tomb Raider
Rise of the Tomb Raider
Shadow of the Tomb Raider
Attack on Titan: Final Battle 2
Farming Simulator 2019
Final Fantasy XV
Football Manager 2020
GRID
Metro Exodus
NBA 2K20
Rage 2
Trials Rising
Wolfenstein: Youngblood
As for upcoming games on the service, CD Projekt Red's highly-anticipated RPG, Cyberpunk 2077 will be one of the most notable titles to be beamed across the web to your devices when it launches next year. The CyberPunk 2077 streaming fun was announced during the company's August Stadia Connect stream moments prior to Gamescom's kickoff event.
Ubisoft will also be wholeheartedly embracing Stadia considering Yves Guillemot's guest appearance at the GDC announcement and Assassin's Creed Odyssey's role as streaming guinea pig. Developer Tequila Works – from Rime, Deadlight, and The Sexy Brutale fame – will also be backing the service.
These are all the games we know, and are rumoured to be coming to the Google Stadia streaming platform:
Red Dead Redemption 2
Destiny 2
Cyberpunk 2077
Destroy All Humans
Orcs Must Die! 3
Kine
SUPERHOT
Grid [2019]
Attack on Titan 2: Final Battle
Windjammers 2
Borderlands 3
NBA 2K
Tomb Raider: Definitive Edition
Rise of the Tomb Raider
Shadow of the Tomb Raider
Farming Simulator 19
Doom (2016)
Doom Eternal
The Crew 2
Get Packed
Football Manager 2020
The Elder Scrolls Online
Baldur's Gate 3
Assassin's Creed Odyssey
Dragon Ball Xenoverse 2
Tom Clancy's Ghost Recon Breakpoint
Rage 2
Thumper
Samurai Shodown
Metro Exodus
Tom Clancy's The Division 2
Final Fantasy XV
Thumper
Just Dance
Wolfenstein Youngblood
Trials Rising
Darksiders Genesis
Farming Simulator 19
Mortal Kombat 11
Power Rangers: Battle for the Grid
Grid
Get Packed
Gylt
Google has also setup Stadia Games and Entertainment: a first-party studio, headed by Jade Raymond, that aims to "reimagine the new generation of games." And conveniently netting itself some exclusives without twisting anyone's arm, too. We may even see demos make a triumphant return on the platform.
But Microsoft, who is keen to setup its own competing streaming service powered by Azure, has been critical of Google's game library. In an interview with The Telegraph, Xbox CMO Mike Nichols claimed its emerging competitors "don't have the content."
How much is Google Stadia going to cost?
The Founder's Edition kit, featuring a Chromecast Ultra, the limited edition Night Blue Stadia Controller, the full Destiny 2 experience, a three month subscription for you and a buddy, and the chance to pick you own Stadia gamertag before the multitude, will set you back a cool $129. That's reportedly around a $300 value for the full package.
You will also get the option to buy a second controller for $70, though standard PC-compatible controllers will still be supported. And we've all got one of them, right?
Google has also announced the Premiere Edition in countries that have sold out of the Founders Edition. Announced on Twitter, the Stadia Premiere Edition comes with the "Clearly White" Stadia Controller, a Google Chromecast Ultra, access to Destiny 2, and a three-month access code to Stadia Pro.
The Founder's Edition and Premiere Edition with Stadia Pro will reportedly be the only way to access Stadia at the November launch, but Google has promised to open the service up to any machine with a Chrome browser installation in 2020.
From the release date there will only be that $10/month Stadia Pro subscription available. That will be the eventual top-tier sub, offering 4K game streaming at 60fps, but there will also be a free Stadia Base tier, which Google has confirmed will only be available starting in 2020, which will also be restricted to 1080p gaming.
The other main difference is that the Pro sub will come with access to a limited catalogue of games the subscriber can play for free. The Stadia Base sub will only let you play the games that you buy for the platform, of which, at launch, there will be 31 of them.
Think Xbox Game Pass or PS Plus.
Google has stated that all existing control methods – yes, even keyboard and mouse – will eventually be supported. However, if you do want to seamlessly glide between devices without changing cables or resyncing, the general consensus is you'll be looking at a $50 – $80 price tag. That's roughly analogous to the cost of a Microsoft Xbox One Wireless pad or Sony's Dualshock 4.
How will Google Stadia work?
Stadia needs to offer convincing performance to persuade gamers to give up physical hardware in favour of a cloud streaming service. Project Stream was well-received back when it blazed the trail for Stadia, and we have reached a point, as proven by streaming services we've tested personally (such as Blade's Shadow), that streaming is a viable experience – if not a temperamental one.
But streaming is still yet to match local hardware in fidelity or latency, and Google's encoder reportedly still has some ways to go before it will match the very best graphics silicon on a local machine.
Latency is relatively on-par with that of an Xbox One X, if not a little greater, while a PC is far and away the lowest latency machine around at 1080p30 (via Digital Foundry). It's expected that the move to 60fps will lower latency, as will the controller's WiFi functionality.
Google's Majd Baker has said that "tests have shown that there is no difference in latency between Stadia and Xbox One S." That would make it all but seamless for the average gamer.
In terms of the connection you're going to need, for both subscriptions there will be a minimum download requirement of 10Mbps and with a necessary 1Mbps upload speed. The stream will adapt to the network it's running on, but to enjoy 4K streaming with 5.1 audio you're going to need a 35Mbps downstream connection.